Preparations
We got up early in the morning as we were going to leave Bessisahar at about 8 a.m. Szymon's tooth wasn't getting any better, hence we made a good decision to get back from trek. Crossing Thorang La Pass under such circumstances would be more than careless, and it wouldn't be fun.
We had the following plan. Two of us were going to travel to Pokhara by a jeep. We were able to do that thanks to Zosia – she had a conversation with guys from Sweden a day earlier during our ride to Bessisahar, and they were also interested in taking a jeep. The cost of the jeep ride was about 2000 rupees per person. In the meantime, Szymon was going to travel to Kathmandu. We hoped that he would have his tooth fixed there. If everything went as we planned we would be reunited within 48 hours.
Su was also traveling with us, and he was going to leave the jeep on the way. Szymon's departure was planned earlier, but there was some delay – I think he departed approximately at the same time as we had.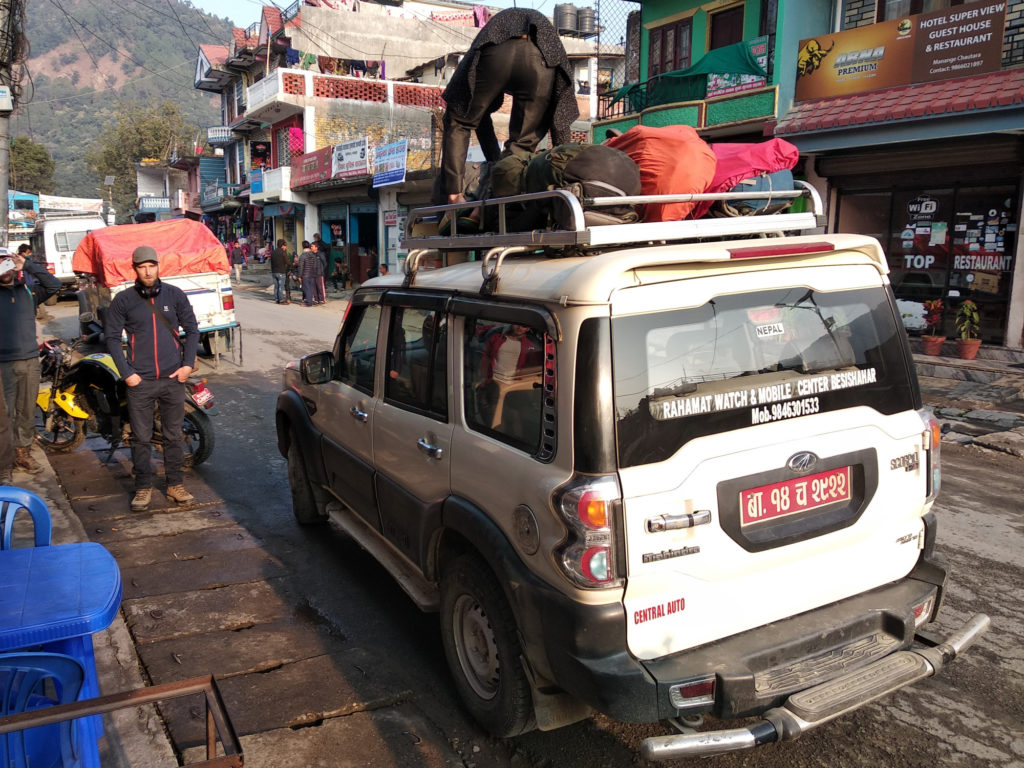 Before departure, we again put our rain covers on the backpacks to protect them from dust and possible rain. We also decided that Szymon should take a backpack that was used by Su during the trek. The idea was that he should leave it at the hotel  – we planned to get it back during our last day before the departure.
The ride
After loading the gear we entered the jeep. The two of us were seated in the last row, and Su was seating in the front. The legroom was little limited in the back, but, as there were three places and only two of us, hence we were able to travel comfortably.
The ride was pleasant, and the jeep was really comfortable in comparison to our previous means of transportation in Nepal. Also, the landscape that we saw from the jeep has changed dramatically, from mountain scenery to tropical rainforest.
When we finally arrived in Pokhara (after about 4 hours) the driver had a problem with the localizing hotel of Swedish guys. Fortunately, I was able to help them as I had downloaded an offline map of the area (MapsME) before our departure to Nepal.
Pokhara
When the jeep stopped to drop them, we also decided to get out of the jeep and take a short walk. We wished other guys a great stay in Pokhara and we headed to our hotel – Rossmary Kitchen. After 10 minutes we reached a hotel under a quite similar name, but the receptionist redirected us to the right place. After another 5 minutes, we reached our destination. The hotel looked really promising, It had a nice restaurant and a garden. We checked in and we were escorted to our room.
After some time, we had dinner at the hotel's restaurant which was great – we finally had a chance to eat some non-Nepalese dishes after two weeks.  After the diner, we left the hotel and we took a long walk through the tourist area of Pokhara. We spent the most time at the shore of Phewa Lake.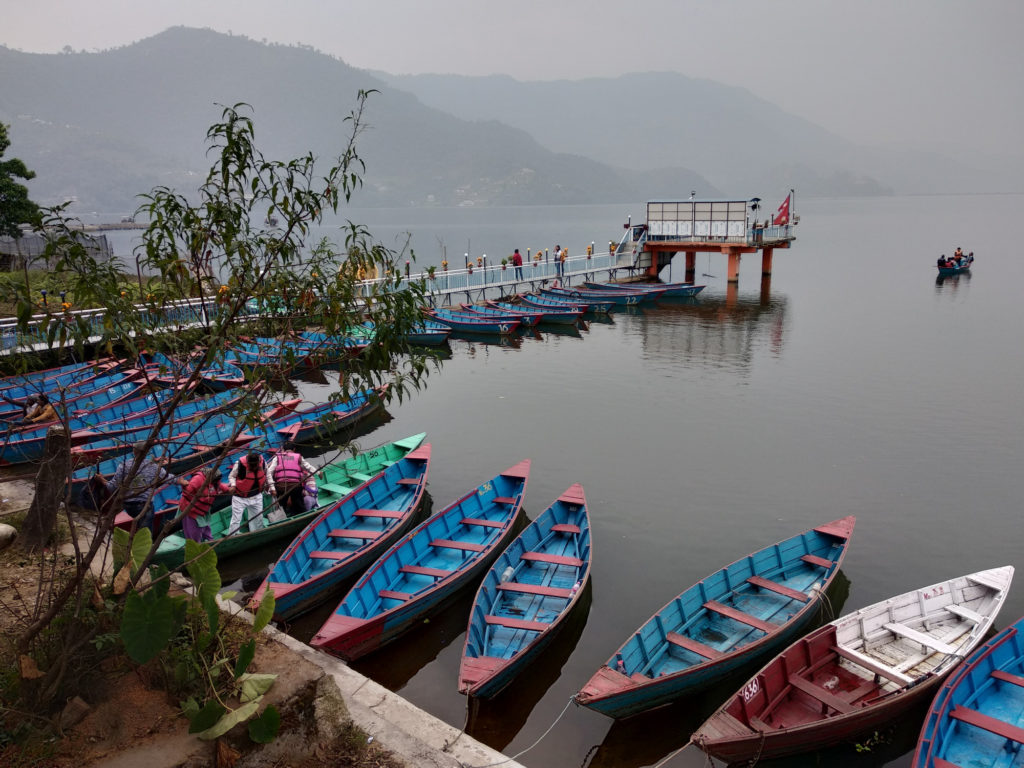 The walk ended in one of the nearby restaurants. The service was really poor there, as we waited over 20 minutes for a waiter to take our order (and it wasn't a busy place). Later we continued our walk through the area, which ended with supper at the restaurant located on the other side of the street from our Hotel. We finished the meal with one Ghorka beer and we returned to our room.
Sad news
From the room we called Szymon who had bad news – he visited the dentist and the conclusion from this visit was that he can get his tooth fixed, but he would have to stay in Kathmandu till the end of the trip. Therefore Szymon made a decision to go back to Poland. This was a sad moment as two of us were having a great time, and the third one got his vacations screwed by bad luck :/.
Phewa Lake
The next day we woke up at about 8 am and we went to the hotel restaurant for breakfast. The breakfast was included in hotel prices, and we were allowed to choose one of the menu's breakfast sets and one of the beverages. The food looked good and tasted even better.
When we finished breakfast we went back to our room to prepare for sightseeing. Our plan was to take a boat to a temple located on the island and then to hike up to the World Peace Pagoda.
We left our hotel and we walked south to the boat departure point. There we purchased two tickets to world peace pagoda with a stop on the temple island. With the tickets, we were given life vests. After waiting for a few minutes we were in a small boat. Zosia was seating in the front, I was in the middle, and paddling guy was in the back.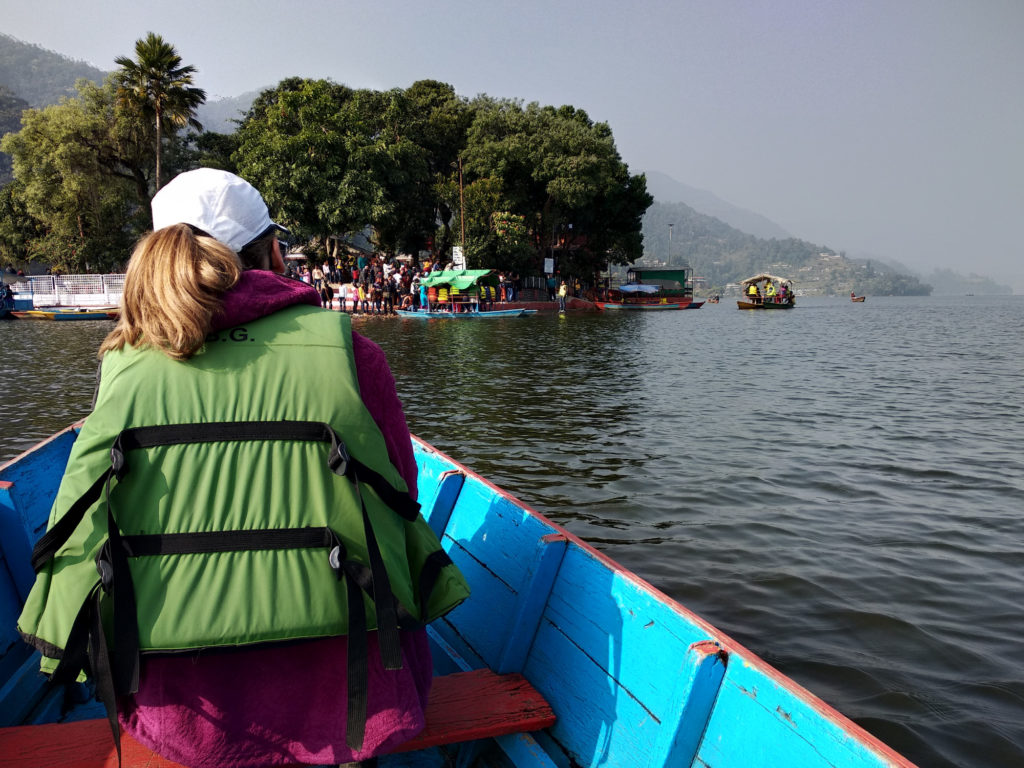 After a few minutes, we were on the temple island. The captain of our vessel has told us, that we have 15 minutes before a departure to the other side of the lake. Island was nice but crowded and it surely worth visiting it.
After another short cruise, we landed on the shore. There was a small restaurant,  and also the beginning of the trail to World Peace Pagoda. After drinking some water we started our hike to the top.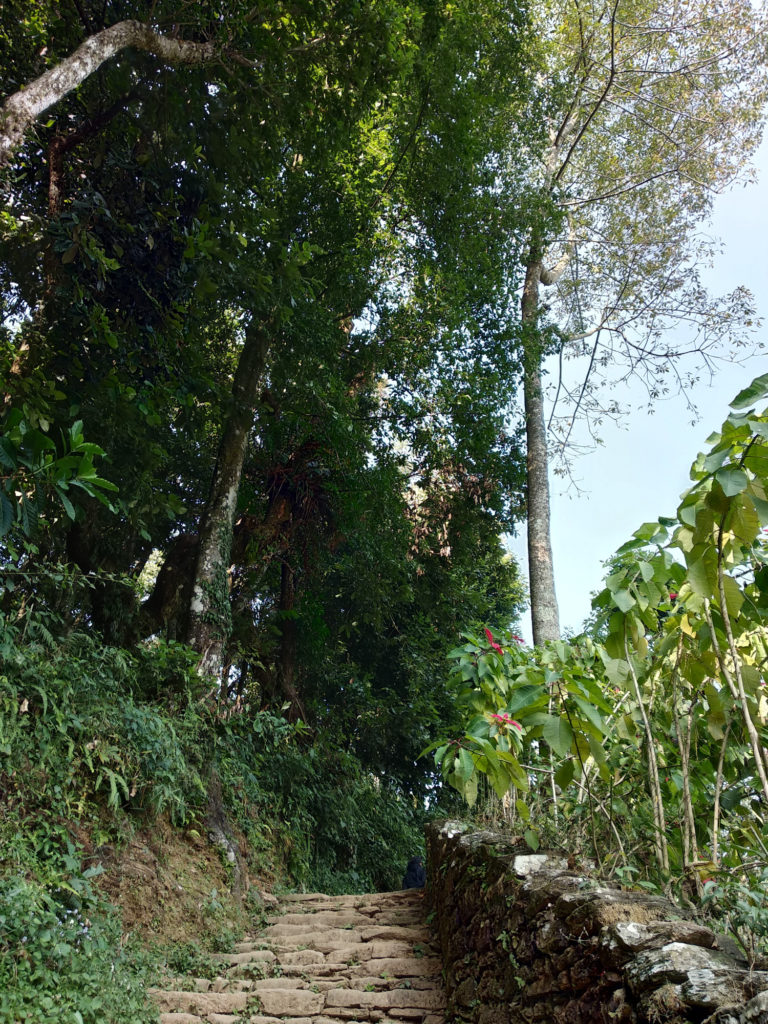 We were walking through a green, tropical rainforest and we were seeing banana trees on our way.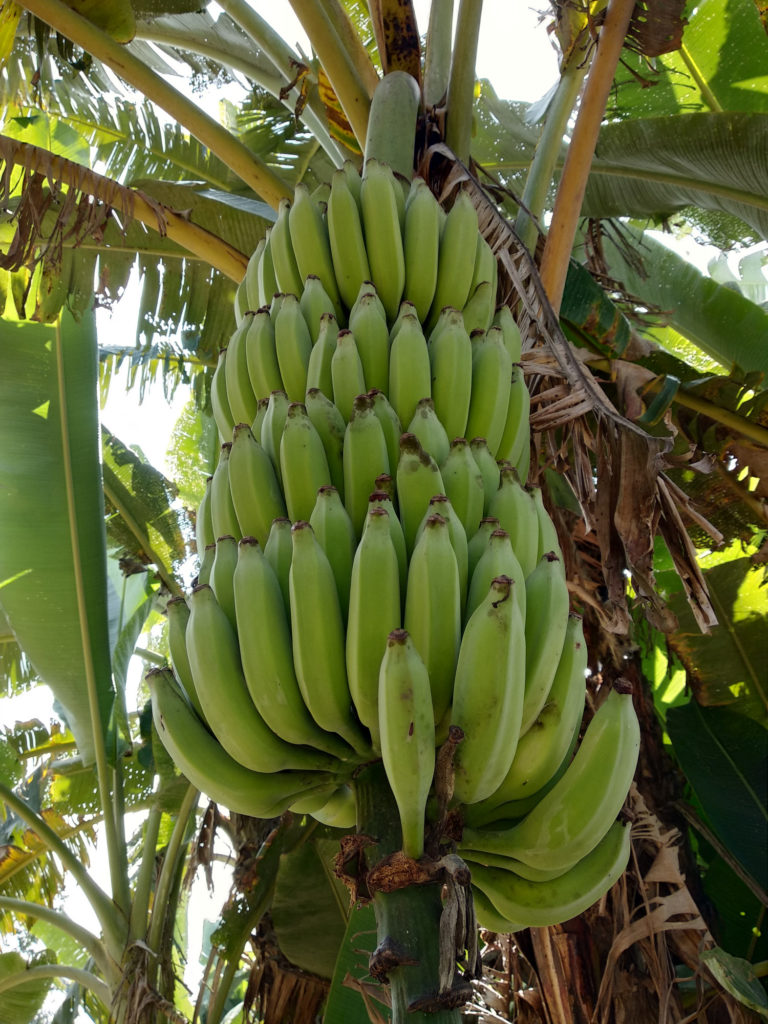 During the hike, I still had a problem with my feet, as I was not able to fully heal them after the Himalayas trekking. This was a great occasion for Zosia to make a joke, that we were walking slower than retired people. After hearing this, I decided that I should have quick revenge. I told Zosia that we are having a running competition, the one who first gets to the top wins. In reality, I did not care about getting to the top, my plan was to show that I will be able to run much faster even with my wounded feet.
After a few minutes, we gave up on running up the hill. We stopped at a small bar to take a picture as there was a nice view of Pokhara from there. Next, we continued our climb, before getting to the top we had another stop at a viewpoint. From there we were able to see a whole Annapurna Massif.
Finally, we reached the World Peace Pagoda, from there we could see a great view of Pokhara Lake with the Himalayas in the background. We spent some time there and next we decided that we need to have sth to drink in the nearby bar.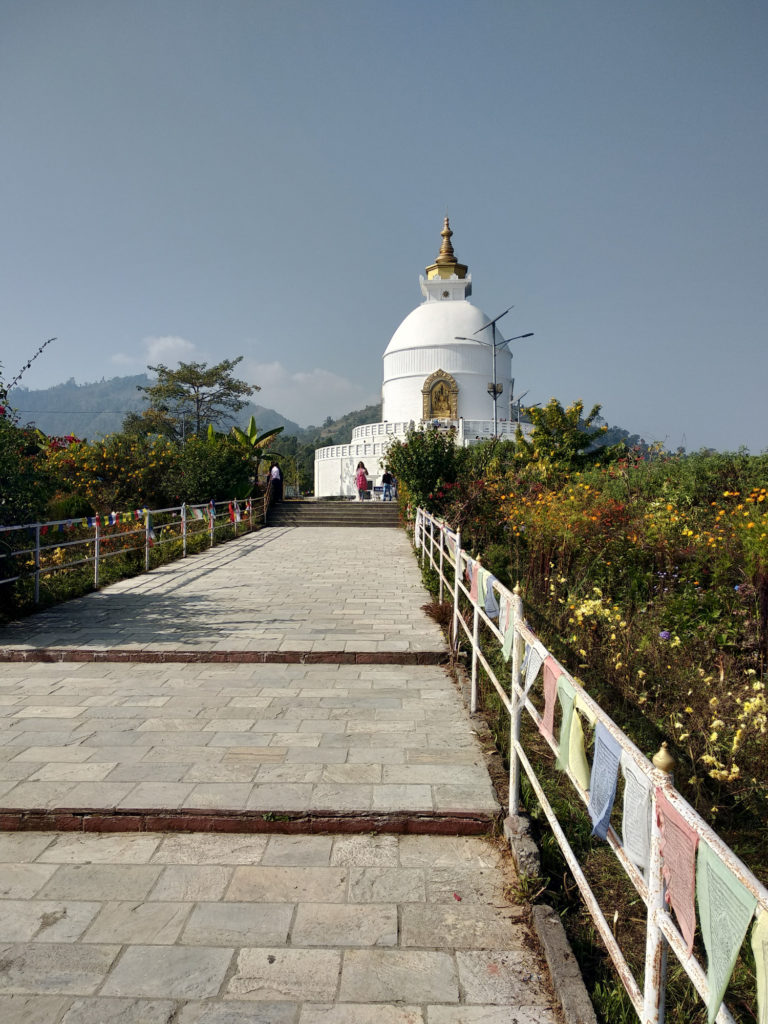 We ordered two Somersby ciders and we spent some time thinking about having lunch there. But the final decision was, that we would eat food from our backpacks on the way. After finishing beverages we left the bar and we headed south.
Gupteshwor Mahadev Cave
Just after a few minutes, we started to descend south towards our destination point – Gupteshwor Mahadev Cave. Shortly we reached south outskirts of Pokhara. It was a rural area with many cows walking on the dirt roads and people working in the fields. We passed some newly constructed houses and we met some children asking as if we have any sweets or money.
Soon we reached a high traffic road. The GPS was telling me, that the cave entrance was located on the other side.  We crossed the street, we walked through a small bazaar, and we reached the ticket office. Again tickets for foreigners were more expensive than for locals. After making a purchase we entered the cave. The interior was crowded and humid. At the end of the cave, we could hear a waterfall, but due to lack of illumination, it was completely invisible.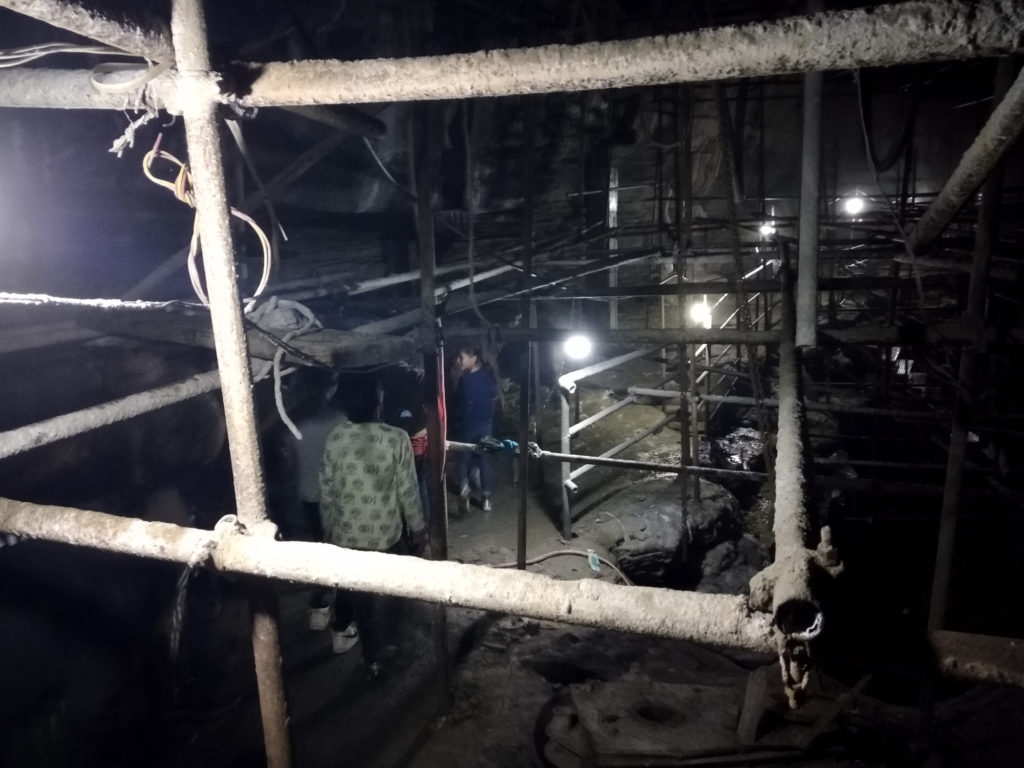 When we were going back to the exit, we saw a small entrance, which I think lead to another chamber. Zosia decided to follow this corridor, and I decided to head to leave.
After leaving the cave I was seating on a bench outside and Zosia joined me within few minutes. She told me that the corridor was overcrowded and that she decided to head back without reaching the end.
Going back to the hotel
We left the place not being too impressed and we decided to walk to our hotel. We again walked through some rural areas before reaching the main road.
Soon we spotted a small local restaurant. As I was starving we decided to stop for dinner. The food was generally tasty, but we could tell that it probably wasn't a restaurant aimed at tourists because the meat had many bones and was hard to chew.
After the meal, we continued our walk in the direction of the Lakeside district. We passed some children playing football in the yard and we reached a small bridge. Below the bridge, we could see women who were washing clothes. We also saw a group of people having fun with a DJI drone.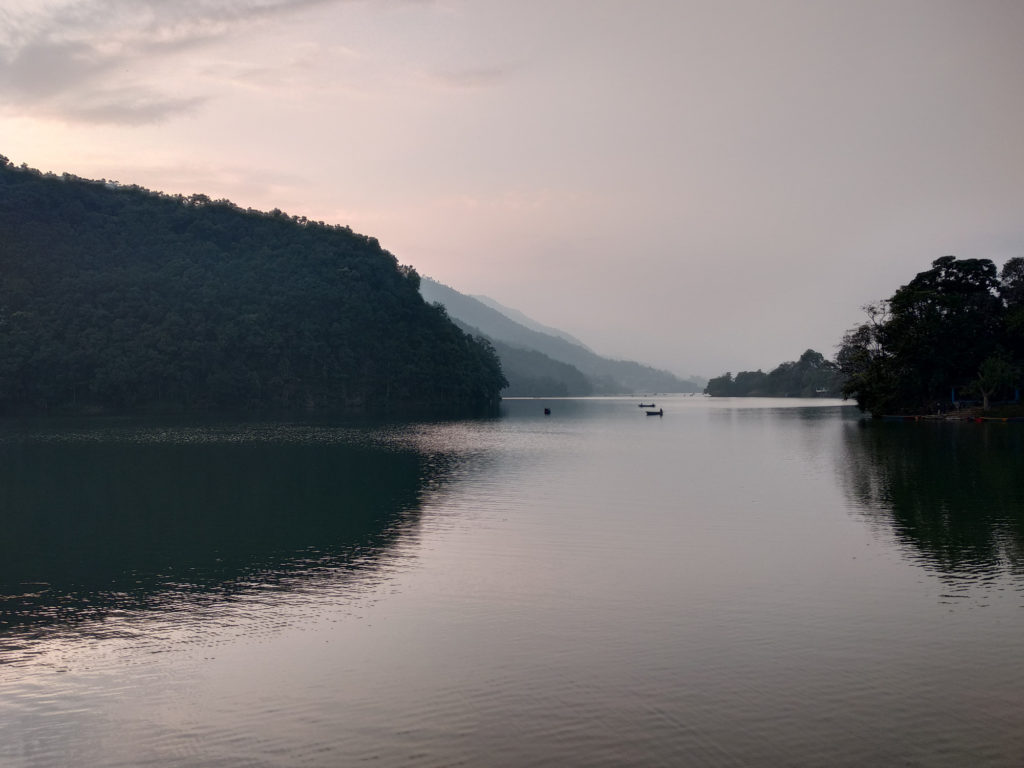 We reached our hotel before 6 pm. There we had awesome supper accompanied by Belgian beer. It defintely was brilliant day :).