Beautiful morning
When I opened my eyes, the morning seemed beautiful. I could see the clear sky through the window. I also felt perfect, I had completely no symptoms of high altitude sickness, even though we spent the night in Yak Kharka, which is located at about 4050m.
My morale was also really high, as the next morning, we planned to reach the Thorong La Pass (5,416m) which is the highest point of the Annapurna Circuit. It seemed that nothing was going to stop us from successfully finishing the trek.
Disaster
We went to the dining room where we were given breakfast which we had ordered the day before. After breakfast, Szymon told us that he is having issues with his tooth. And I have to tell you, It looked really bad, one side of his face looked larger than another. He took general purpose antibiotics and we decided we were not going to the High Camp on that day. Next, we discussed our options and we decided that till noon we had to choose between waiting till the next day in Yak Kharka in hope that Szymon would get better, or taking a fast trip back to Manang.
Difficult Decision
When our discussion ended, I took a two-hour nap to clear my mind. Szymon also went to sleep.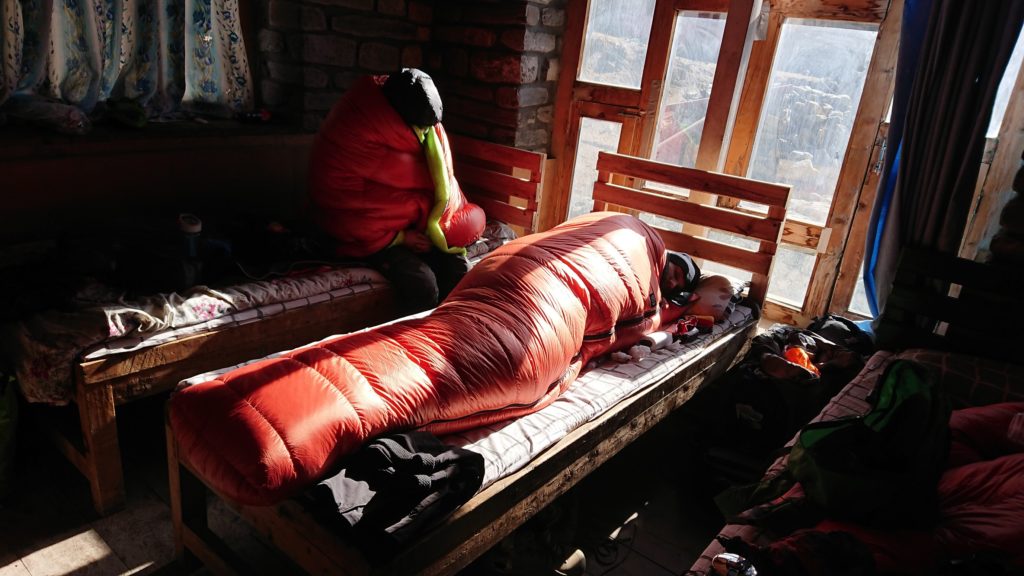 At about 11 a.m. we made a hard but definitely right decision – we decided to go back to Manang.
Szymon and Su departed first, and we told them to not wait for us. They had a much faster pace, and it was the best for Szymon to reach Manang as fast as possible.
We finished packing our gear after their departure and we left the tea house. I felt strange, as I was not excepting to be walking this trail again.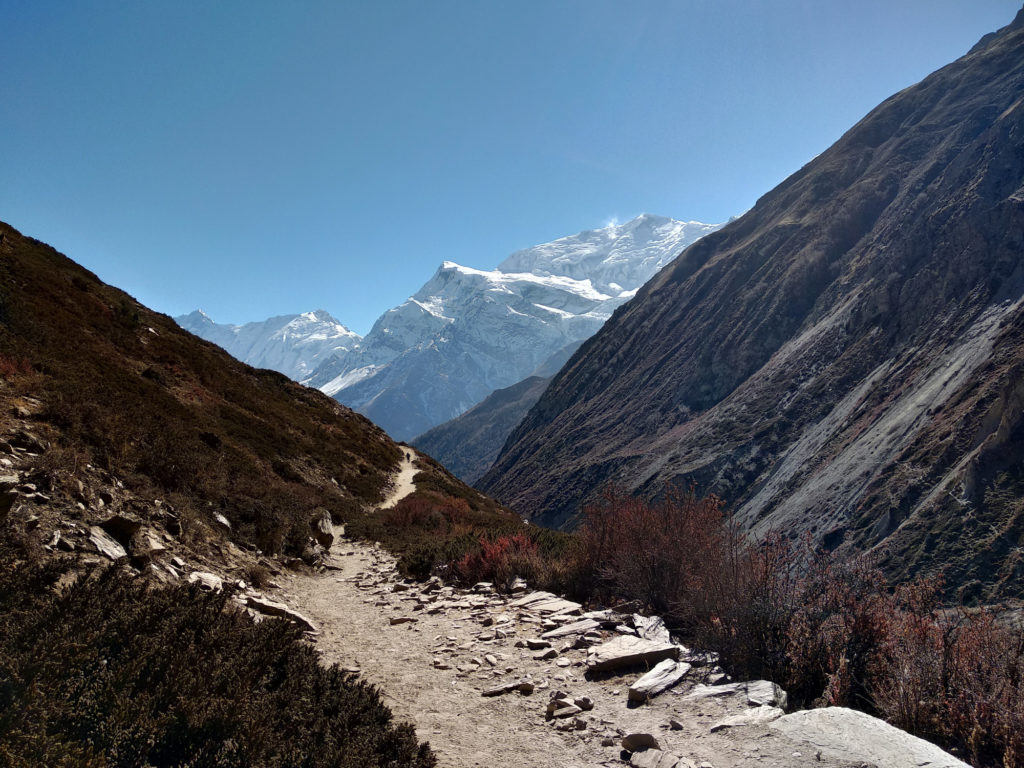 Soon we left Yak Kharka, during our walk we saw a lot of trekkers going in the opposite direction. We also saw a small herd of bharals (blue sheep) running across the trail.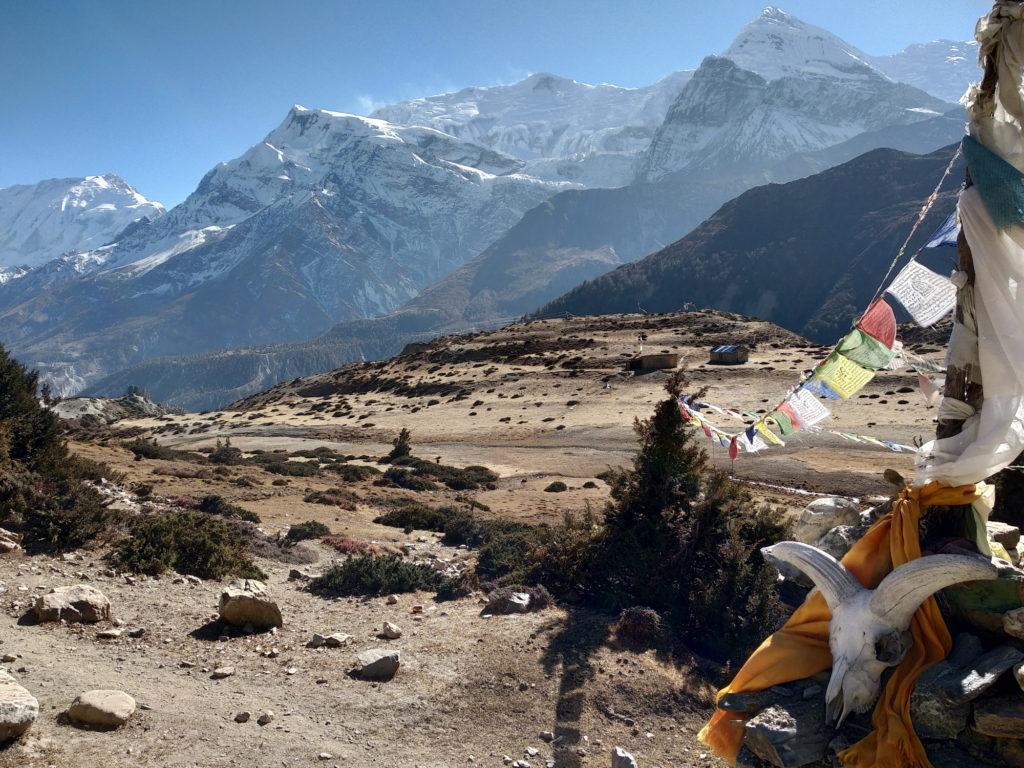 Best Coffee Ever
During our walk, we had a longer stop in Gunsang where we had the first coffee since our stop in Istanbul. The coffee tasted great and the view from the Hotel's roof was breathtaking. I would never change this experience for any Starbucks…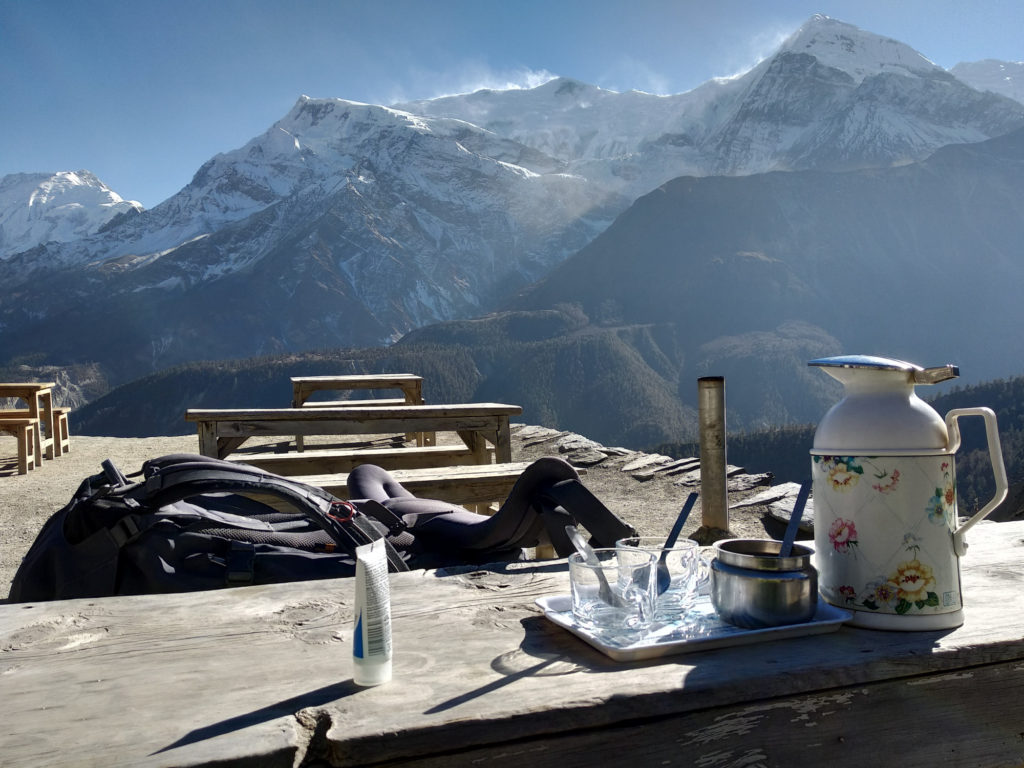 Back In Manang
Finally, at about 4pm we reached Manang. Sue was waiting for us outside the tea house building. This tea house was much larger than the one in which we stayed during our first visit to Manang. Szymon was waiting for us in the dining room, and to get there, we had to climb the staircase to the second floor.
He was still on pain killers, and we decided that we were going to take a jeep back to Bessisahar in the morning. Sue made a call and he arranged everything. Our departure was planed at 8am.
We had dinner and we went back to our room which was located on the second floor. The room walls were covered with a blue fabric, and it had a private toilet and a shower.
Fortunately, we were able to get showers before water frozen in the pipes. Later we completely repacked our gear as we were going back to warmer areas of Nepal.
Though we had failed to finish the trek, the mood wasn't completely bad. We hopped that Szymon would get his tooth fixed in Kathmandu and we would visit Pokhara and Chitwan in the following days.