Sunny Morning
We woke up at about 7 a.m., and for the first time during last days we were not in a hurry. Our plan was to spend a day in Manang area and take a short hike, which would help with our acclimatization. The weather outside was incredible, the sky was clear and the visibility seemed unlimited.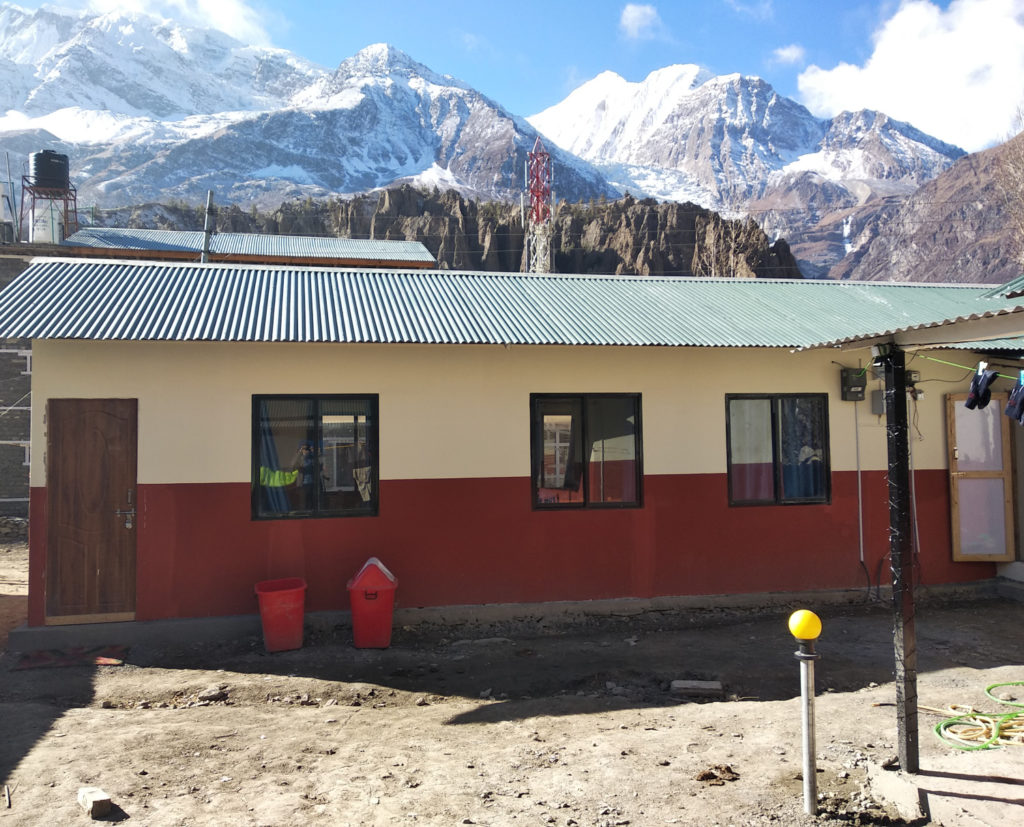 Such conditions allowed us to dry our sleeping bags from moisture which had been accumulating inside them during previous days. As we had down-filled sleeping bags, this moisture was decreasing the thermal properties of dawn. It wasn't a problem at that moment, but it could become an issue in the following days.
After hanging our sleeping bags outside the room we headed for breakfast. Next, we started packing our small backpacks to prepare for the hike. Unfortunately, Szymon was not feeling too well and he decided that he was not going to join us. It's hard to say what caused his condition, and we don't know if it was a cold or high altitude (Manang is located at about 3500m above sea level).
Hike to Praken Gompa
For the acclimatization hike, we decided to go to Praken Gompa, which is located at the altitude of 3945m. We left our tea house and after a few seconds, we spotted a small shop. There we bought some sweets and toilet paper. In addition to that, Zosia bought a thermal bottle there – she was convinced by the fact that my thermal bottle was really useful during previous days.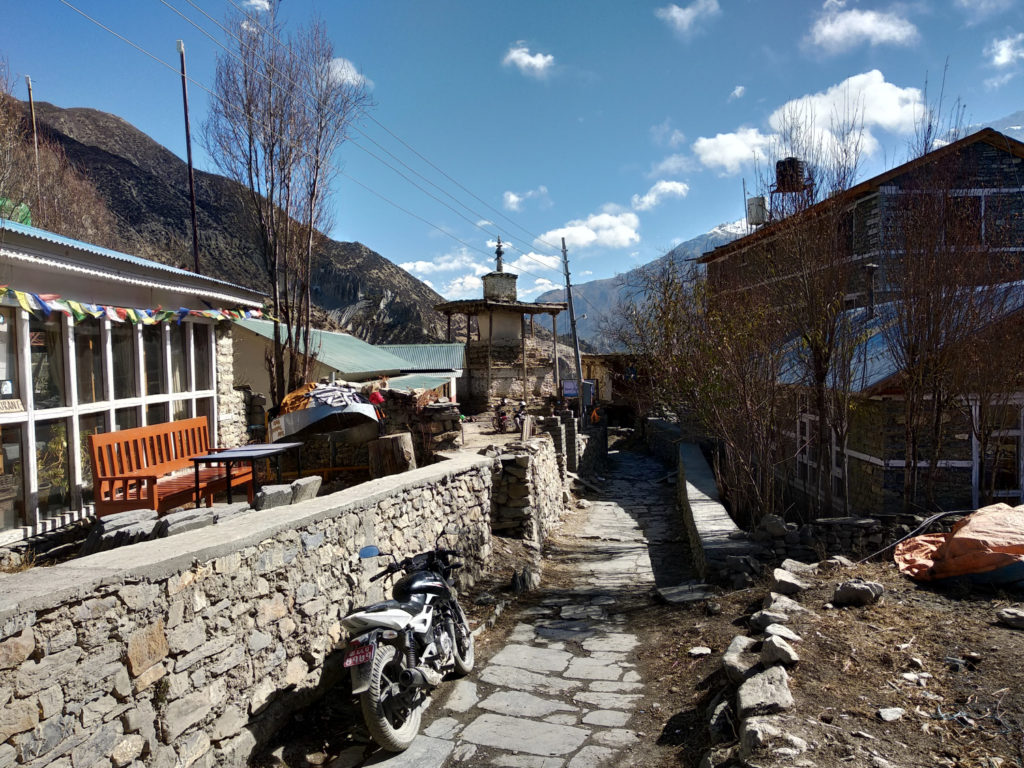 We returned to our room for a moment to leave some of the items there. After leaving the tea house for the second time we turned right and we started our walk along Manang's main road. Soon we passed by ACAP permit checkpoint and a stupa. We continued our walk along the main road and soon we turned left and then right. From there we started climbing. Shortly we could see the town of Manang below us with Annapurna Massif in the background. Besides the  Annapurna Masiff, we could also see the Gangapurna Lake and Gangapurna Icefall. Both are named after Gangapurne (7455m), one of the prominent peaks of the Massif.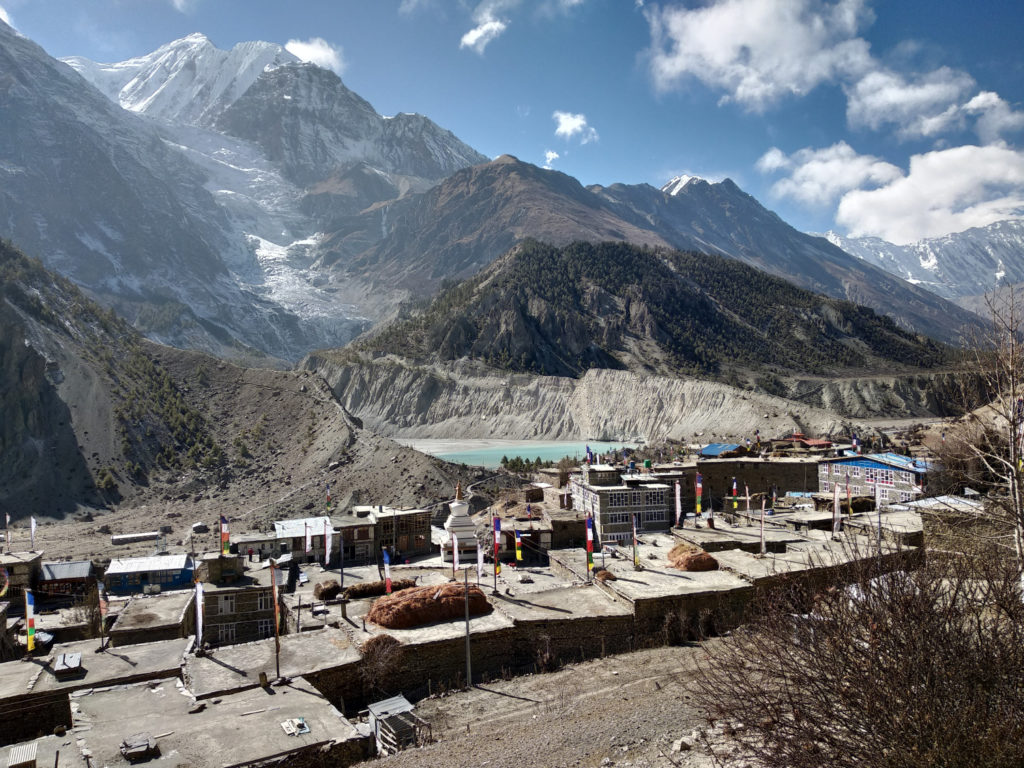 The weather was still incredible, it was sunny and visibility seemed unlimited. The strong, cold winds were the only downside of that day, but we were slowly getting used to them. Looking west we could see the Tilicho Peak, which foot we planned to reach within two days.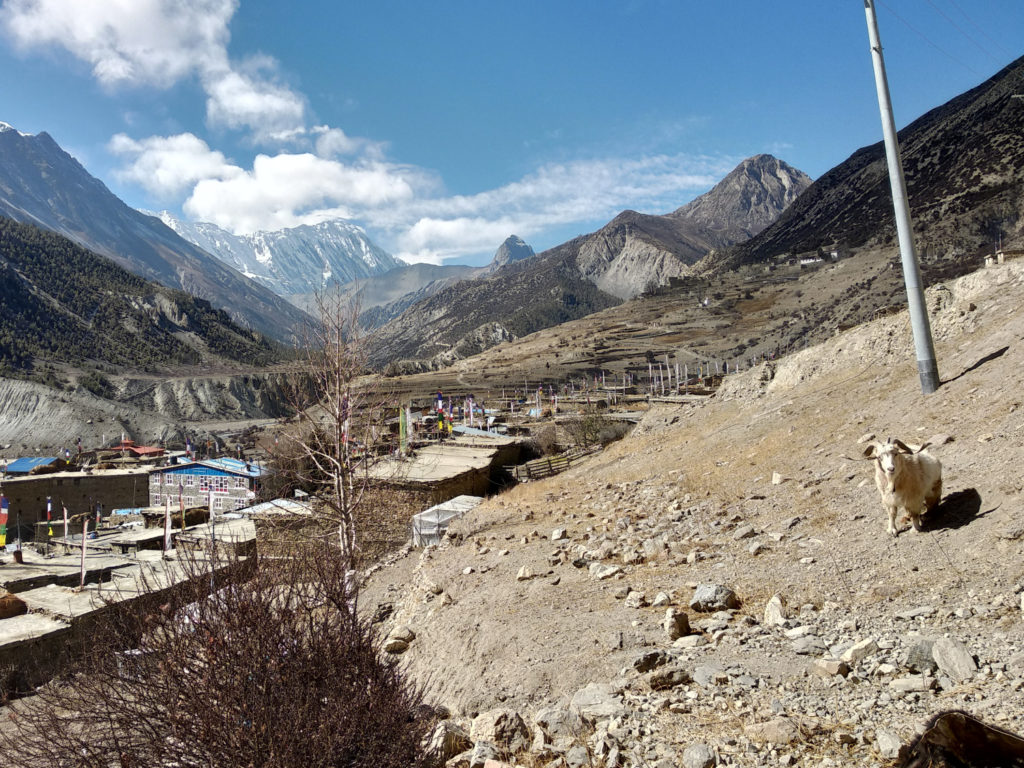 When we got even higher, we encountered a herd of Himalayan ponies and we saw multiple prayer flags. These allowed us to take one of the best photos of our trip.
Later we reached a small tea house which was closed. We continued our walk up until we had a lunch break. For our meal, we had a bag of sausages which we brought from Poland (Zosia had) and sweets that we obtained earlier at the store. The bag of sausages looked like a balloon due to low air pressure at nearly 4000m.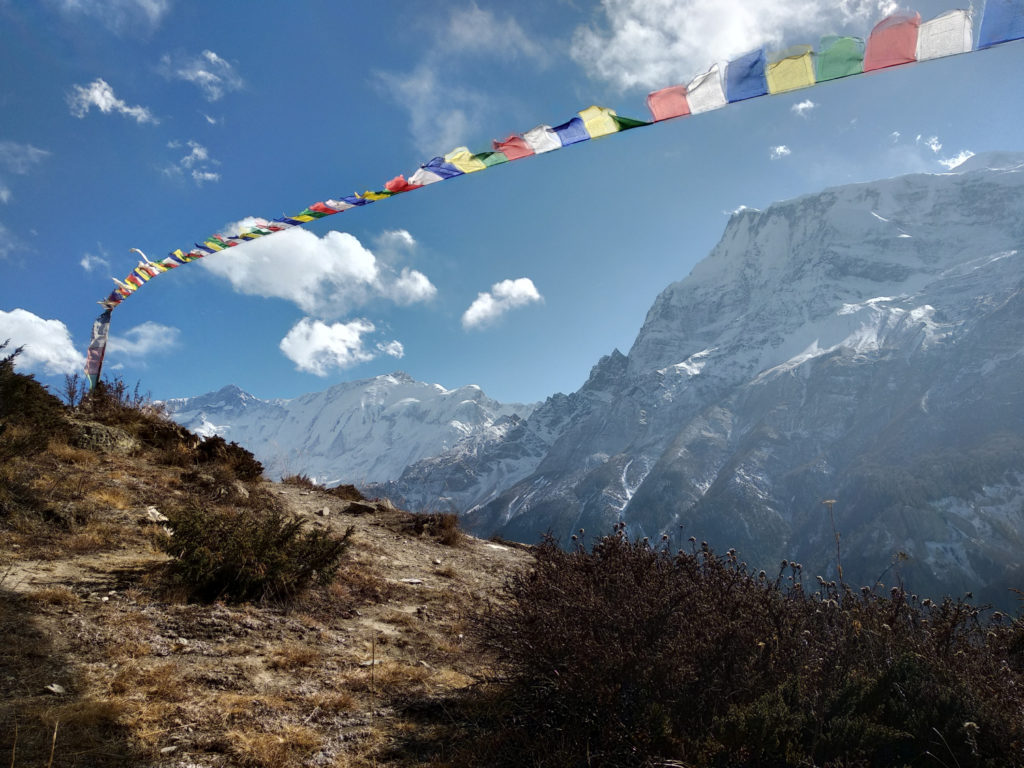 After reaching the Praken Gompa, I had a break and Zosia scouted the area.
We spent about 15 minutes there and we decided to start our descent to Manang. We followed the same path until getting to the city where we tried to find a shortcut.
When we got to the city we spotted a bakery. We entered it without any hesitation. The interior looked like a good quality European coffee (I would not expect that somewhere in the middle of Himalayas). We bought some cookies there and we continued our walk towards the tea house.
When we entered our room I decided that I need a break. I could not walk more due to the blisters on my feet. We had a short talk and Zosia bravely went for a walk to the Village of Braha (alone!!!). When she left I fell asleep and I was sleeping for about 2h. I had woke up just before she came back. Then together with Szymon (who was fortunately still alive :D) we went to the dining room for supper.