The morning
We woke up early in the morning, in a tea house located in the village of Thaleku. Through our room windows, we could see a blue sky. When we left the room, we could see beautiful snow-covered mountains. This landscape was hidden in the clouds the day before, but on that morning the view was completely breathtaking,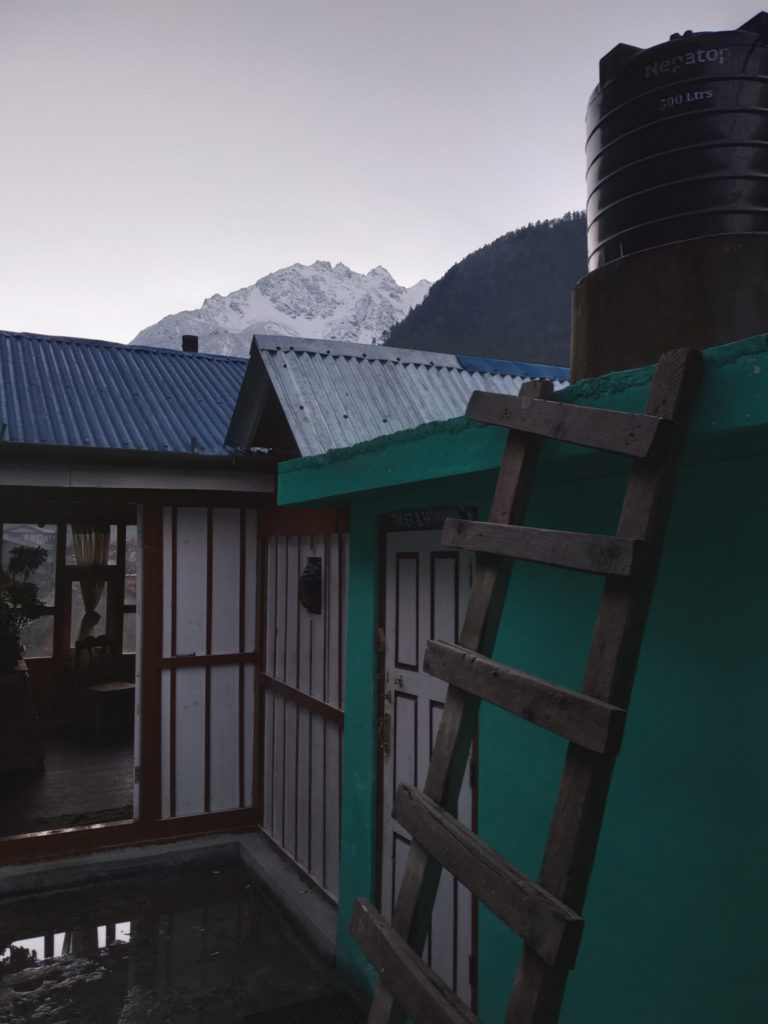 After looking at the mountains for some time, we entered the dining room, where we had our standard breakfast consisting mostly of some eggs, porridge, and omelet. While eating we again had an opportunity to admire the mountains outside.
A good breakfast was really important on that day. We were one day behind the schedule of our trip due to visit to the school in Chamje and bad weather. Our plan was to get to Manang which is located about 30km from Thaleku.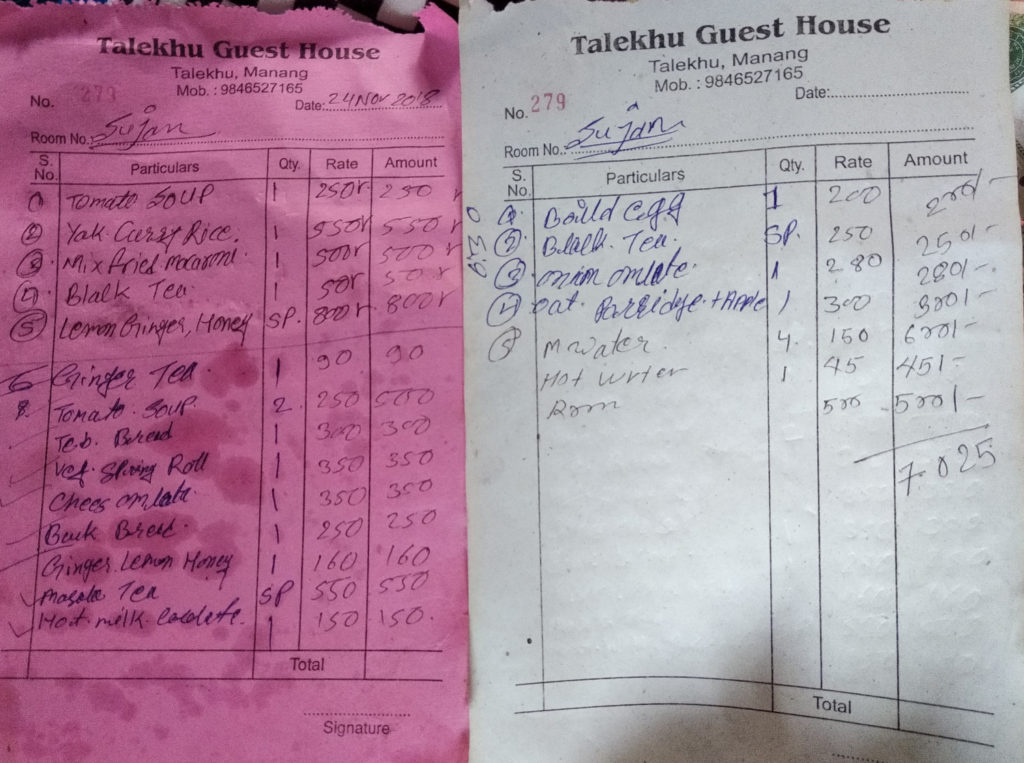 Annapurna Massif
After breakfast, we paid for food and our stay and we returned to our room to get the gear. We left our hostel and just outside it we spotted a Domestic Yak. The animal horns were impressive, and so was its dense fur.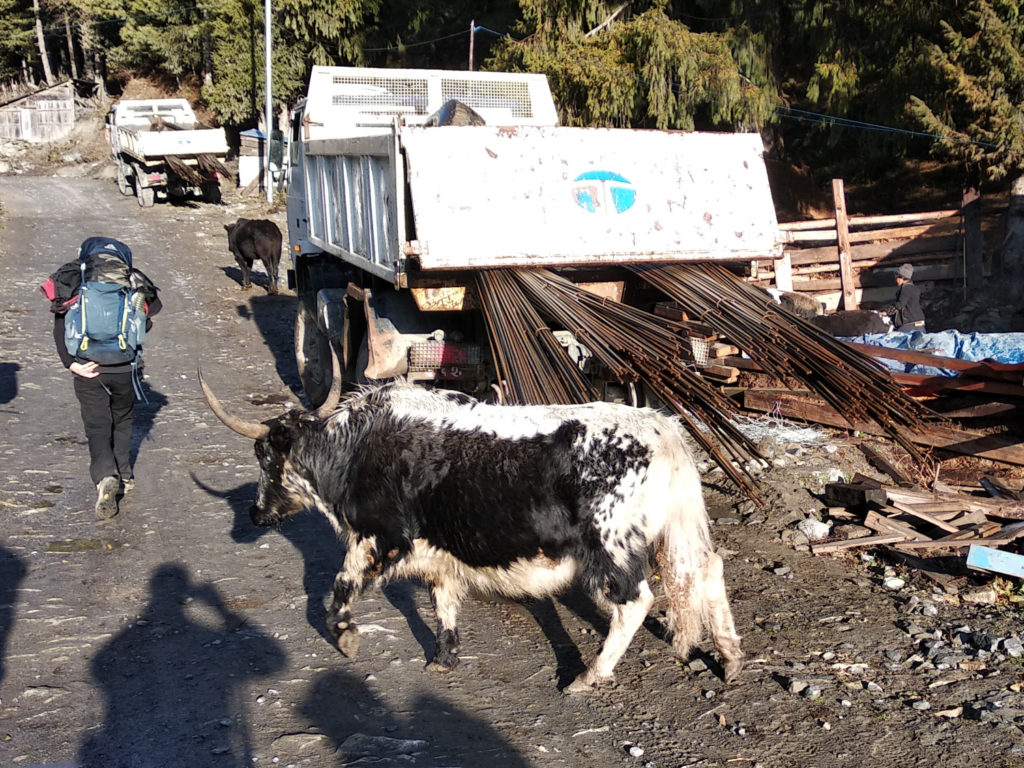 We left the village of Thaleku and we started our walk to Bratang. We followed the road which was carved in the rocks, and we could see a small river far below us, at the bottom of the valley
Soon the majestic Annapurna Massif appeared in front of our eyes, and this view left me speechless.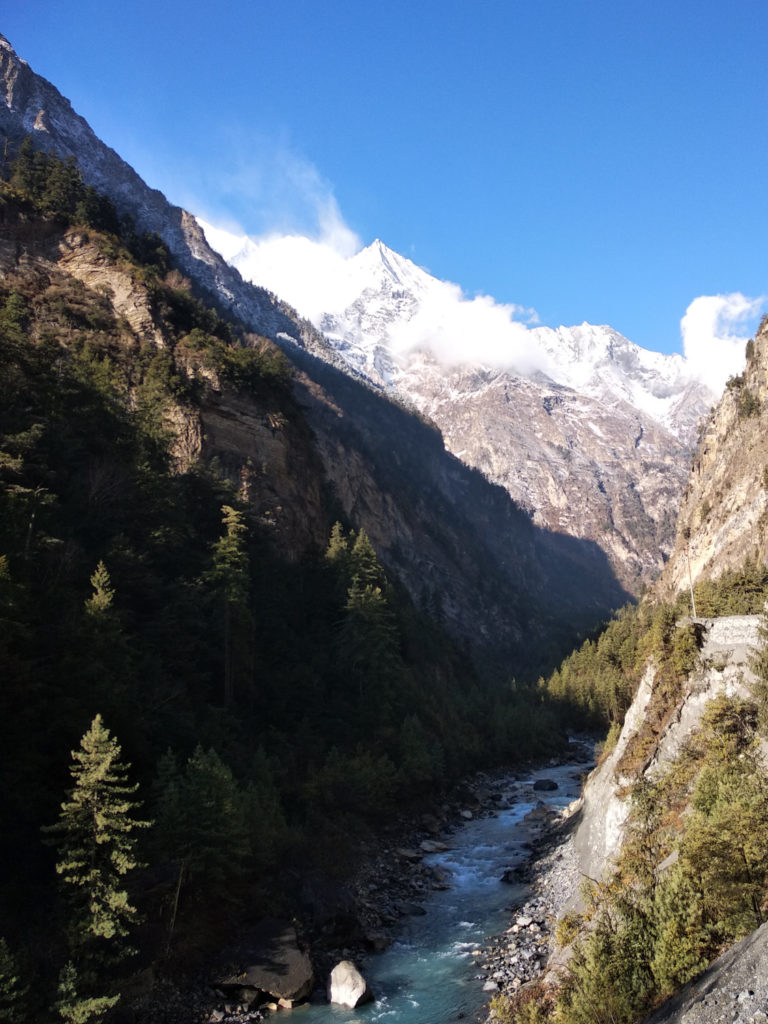 The high peaks were covered in snow, which was blown away by strong winds. For a moment I wondered how some people can be so insane to even think about getting to the top of such mountains. But in reality, I really admire ones who are brave enough to give it a try. Especially in the case of the highest peak of Annapurna Massif – Annapurna I which is really deadly:
"By March 2012, there had been 191 summit ascents of Annapurna I Main, and 61 climbing fatalities on the mountain. This fatality-to-summit ratio (32%) is the highest of any of the eight-thousanders." [1]
Apple juice and doughnuts
We continued our walk and we reached Bratang. There a large surprise was waiting for us – apple trees. I had never expected to see an Apple Farm somewhere in the middle of Himalayas, at the altitude of 3000m above sea level.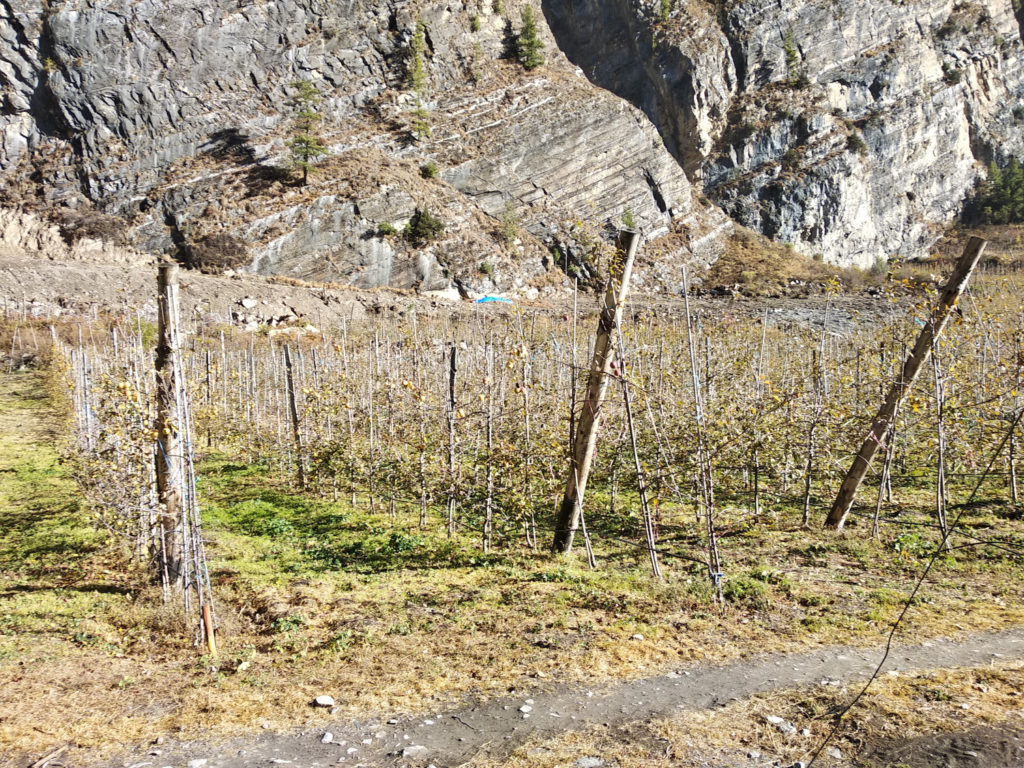 The sources which I have found say, that it's the largest apple farm in whole Nepal. For more information, you can visit the farm's website.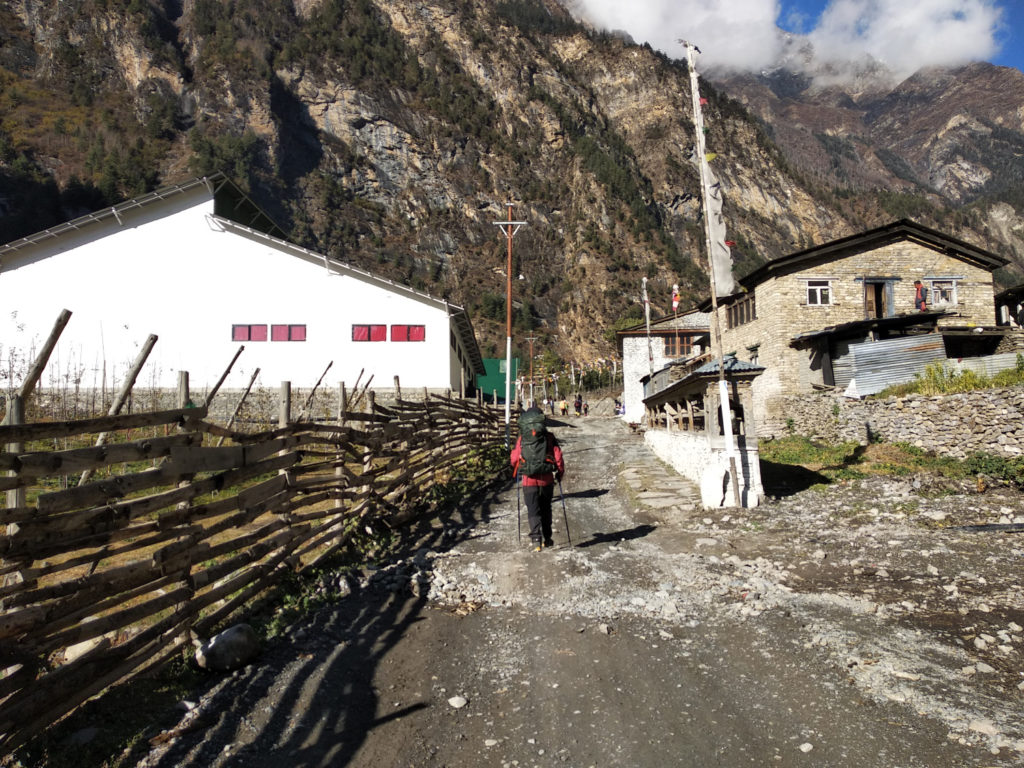 Besides apple farm, there was also a small restaurant which served apple juice and doughnuts. We had a short stop there, before continuing our trek to Manang.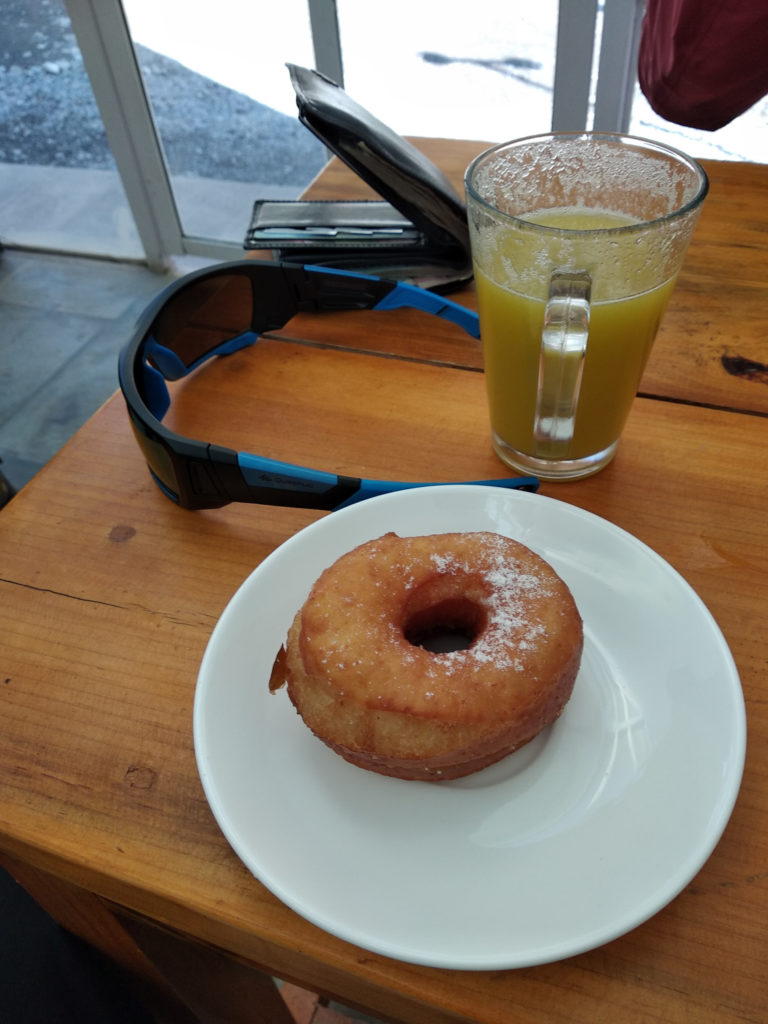 More walking and even move breathtaking views
We again walked in the beautiful scenery, with the river below us, and incredible mountain peaks above. Soon we reached a bridge hanging over the valley. We used that bridge to leave the route and enter the hiking trail.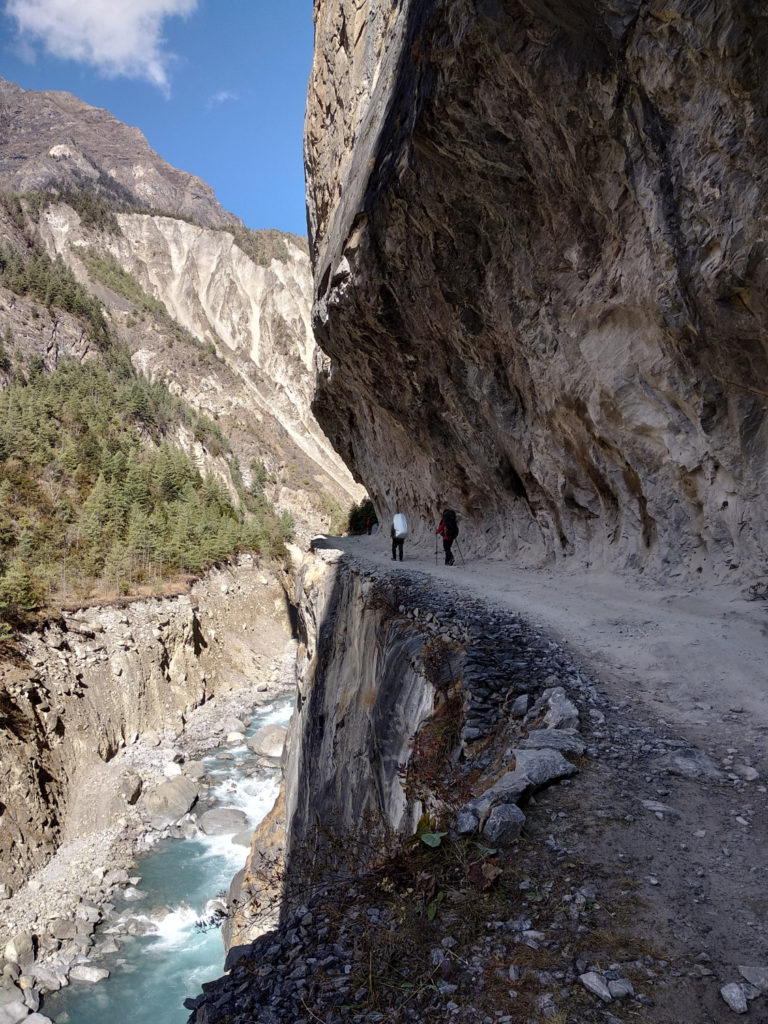 After crossing to the other side, we started a short ascent through the forest. In the middle of it, we had a short break nearby small store with beverages and snacks. We continued for some time until we again rejoined the route.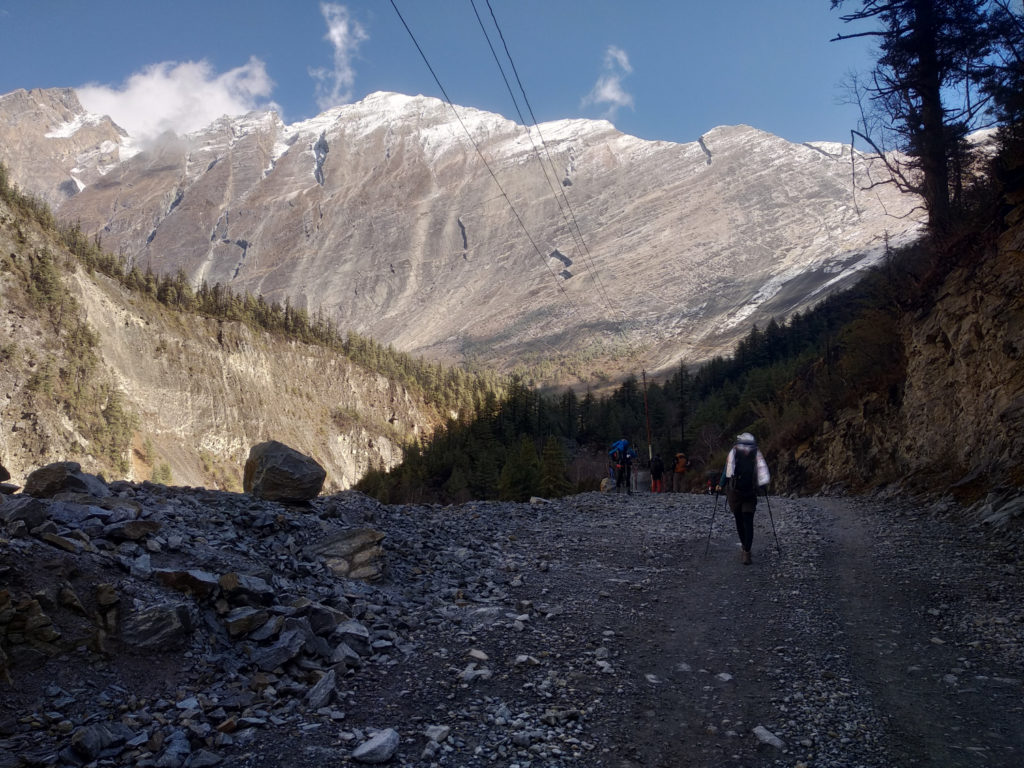 From the route, we could see a really beautiful and extraordinary mountain. I have never seen anything similar to it before (see picture below). It looked like one huge rock. We took a group photo with it in the background before proceeding with our journey.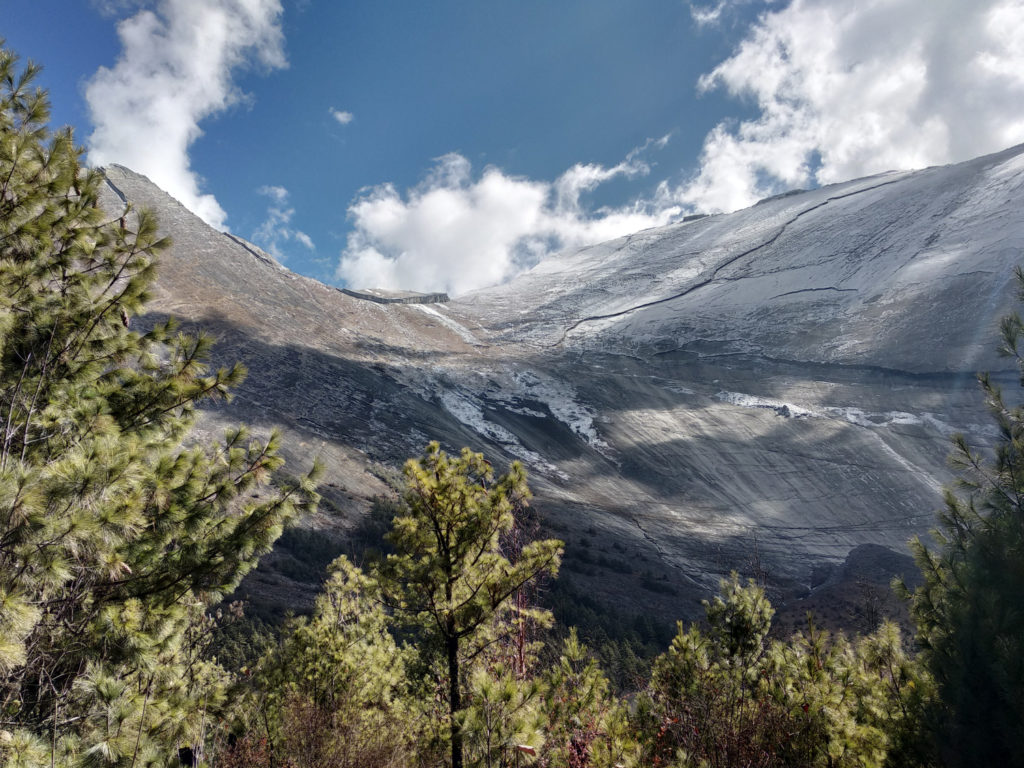 Later we reached the village of Dhikur Pokhari which is located at an altitude of about 3050m. It's a small village, which at the moment is not even present on Google Maps (check Open Street Map instead).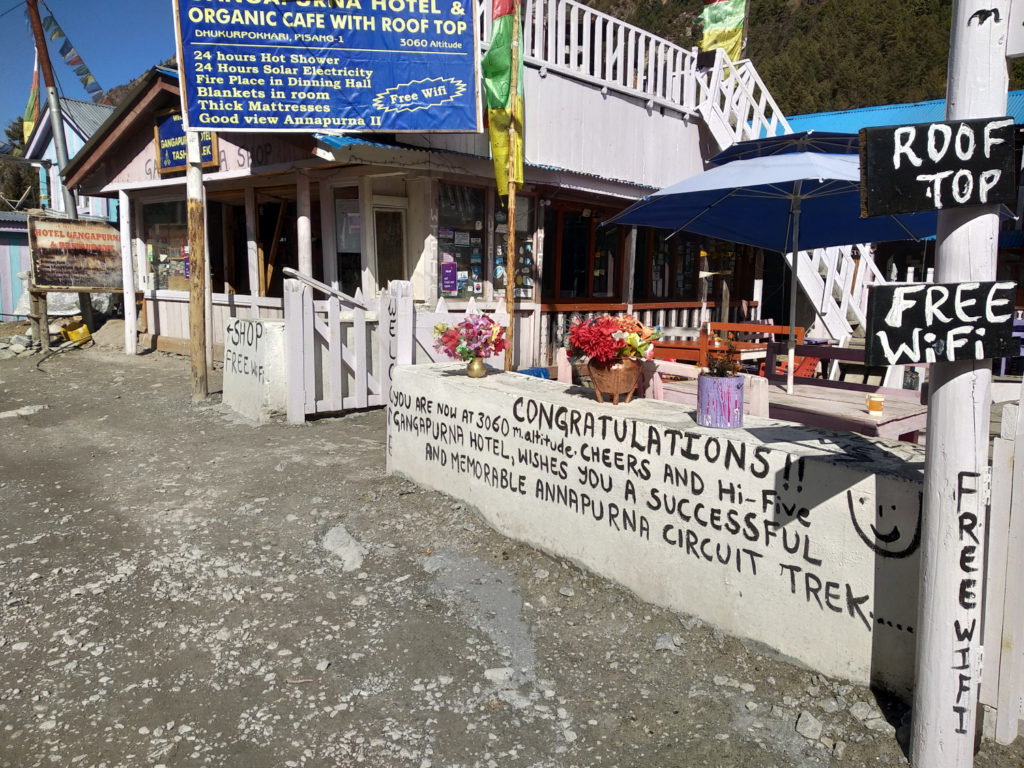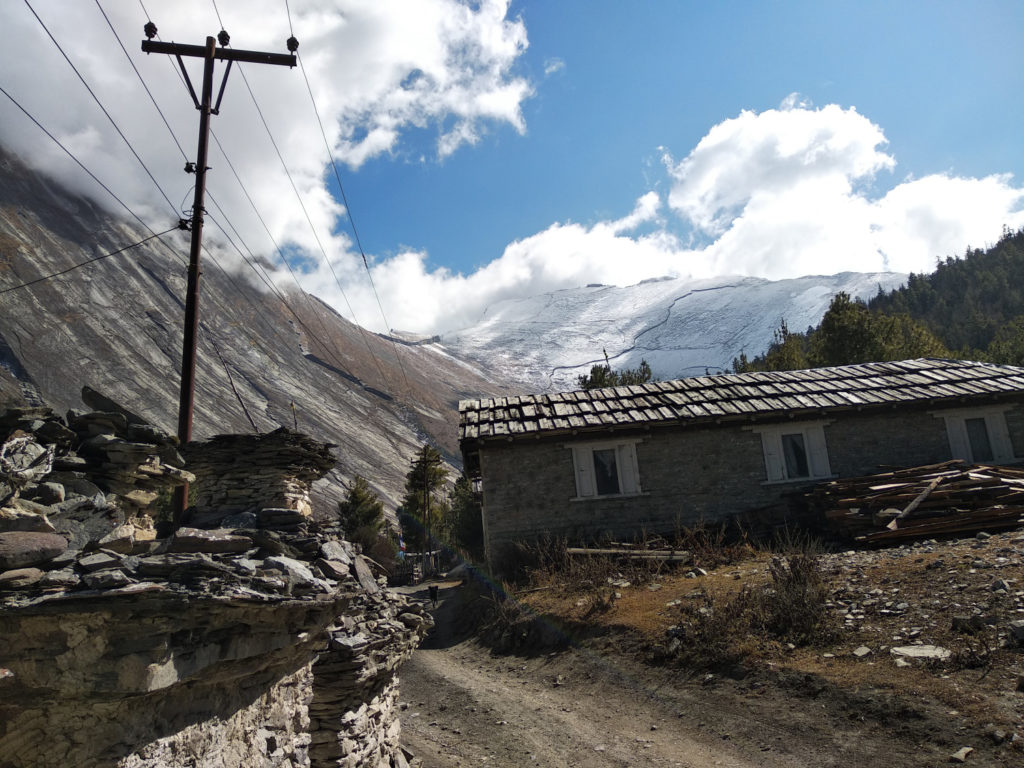 Small accident
We continued walking through an incredible valley and we were getting closer to our lunch destination – Lower Pisang. The weather was great, it was sunny and visibility was far beyond my eyes limits. There was only one small drawback to all these positives,  a strong and cold wind, but it was not spoiling this incredible day.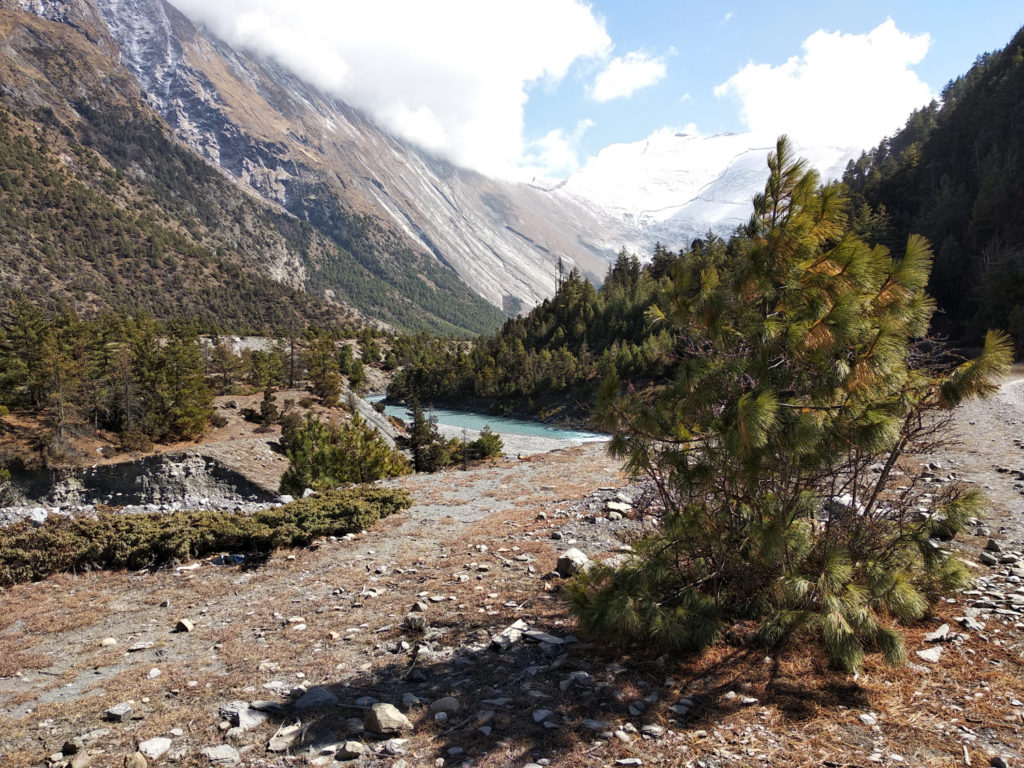 We passed some small buildings and a large black Domestic Yak before getting to our spot. I also have to mention, that we choose Lower Pisang due to delay in our schedule. Usually going through Upper Pisang and taking the higher trail is much more recommended due to even better views (but it's also much more demanding trail).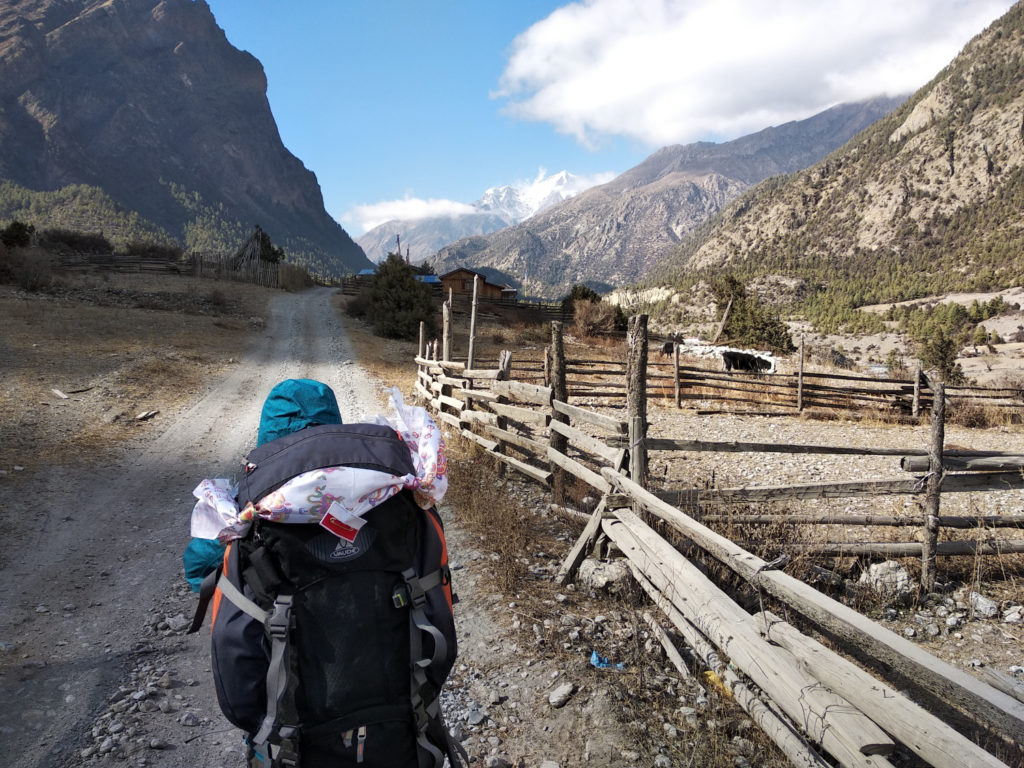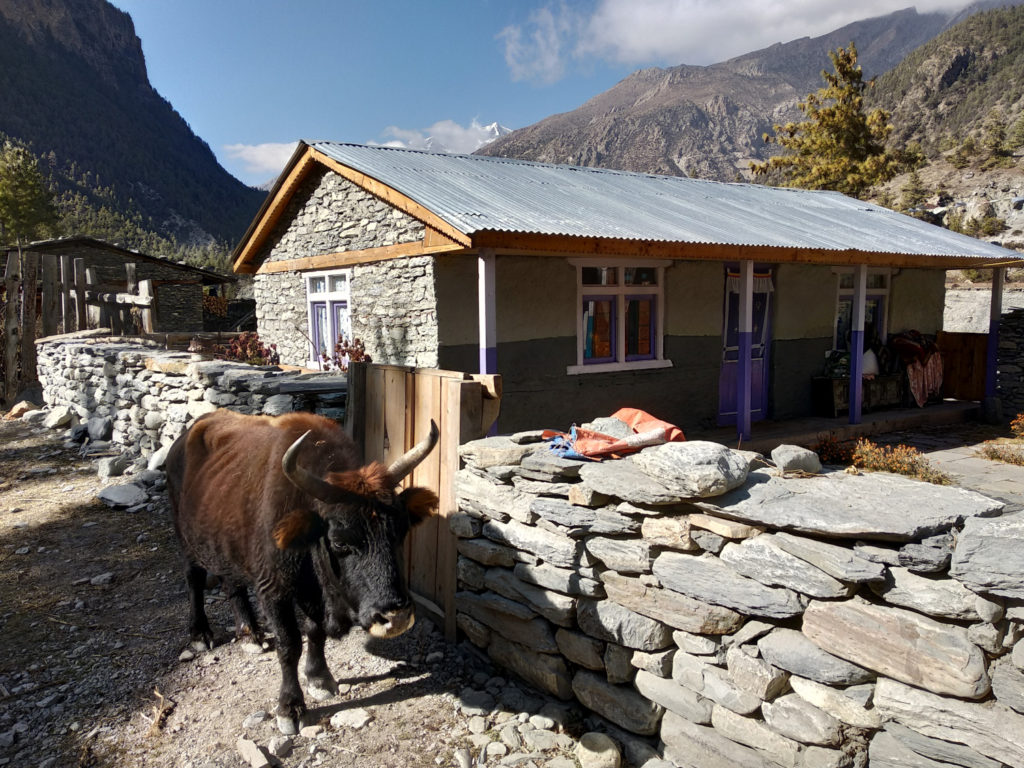 When we entered the teahouse we put our order, which consisted of some food and hot tea with lemon,  honey, and ginger. I took the thermal bottle with the tea and I have filled Zosia's glass with it. Next, I started filling my glass, in the middle of it the glass has literally exploded. All hot tea from the glass has ended on my trekking pants.
Fortunately, nothing has happened to me, as the material was dense and has stopped hot water from burning my skin. The problem was, that I had to put on a different, less windproof pants.
I laugh at this at the moment, but If I had a different pair of pants, this could have been the end of our trek…
Snow on the road
After the dinner, we left Lower Pisang and we continued our walk towards Manang. Soon we started gaining altitude and we reached part of the road which was covered with a thin layer of snow. We continued climbing for some time before we reached a small Stupa, from its location we were able to see a Manang airport.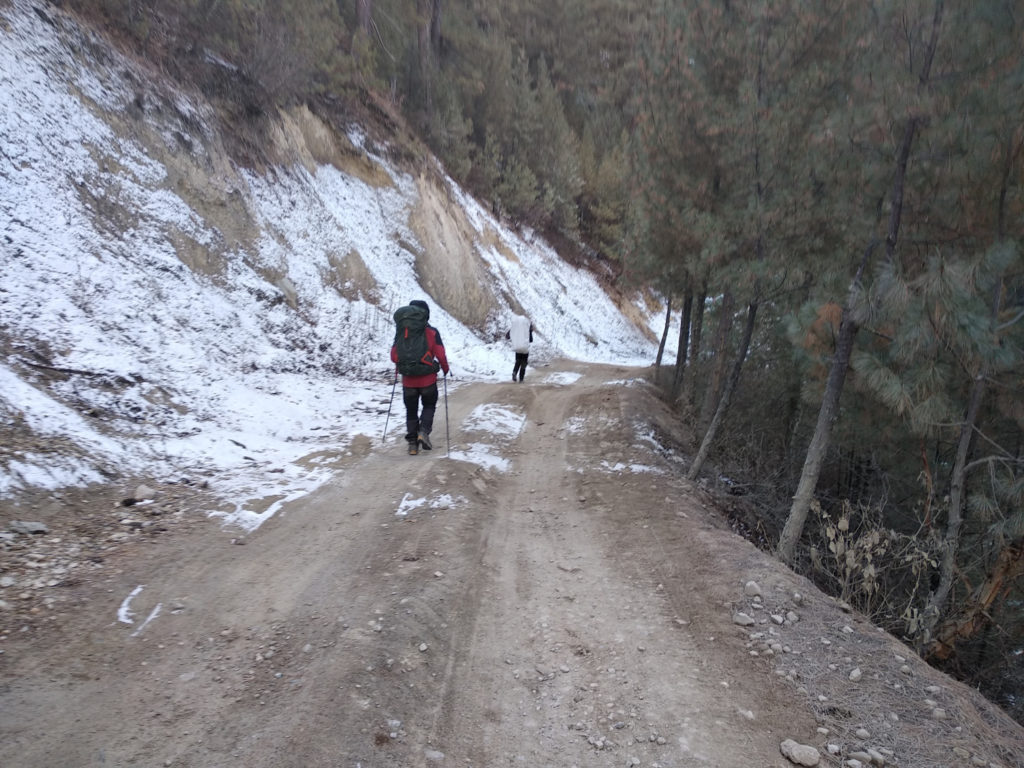 This was probably the highest altitude reached by us on that day. From there we started the descent towards the Manang airport. When we were close to the airport, we had a short tea stop in the Village of Humde. The teahouse, in which we had this break was located in the first building of the village and it had a really dark dining room with a nice wood-burning stove.
Sun Set
The sunset was approaching, hence after drinking hot tea, we were back on the trail. As the sun was low above the horizon, the sky became red. Szymon and Su were walking far ahead of us as usual. At some point, Zosia wanted to take some pictures of one furry Yak, but the animal didn't like it and we had to retreat.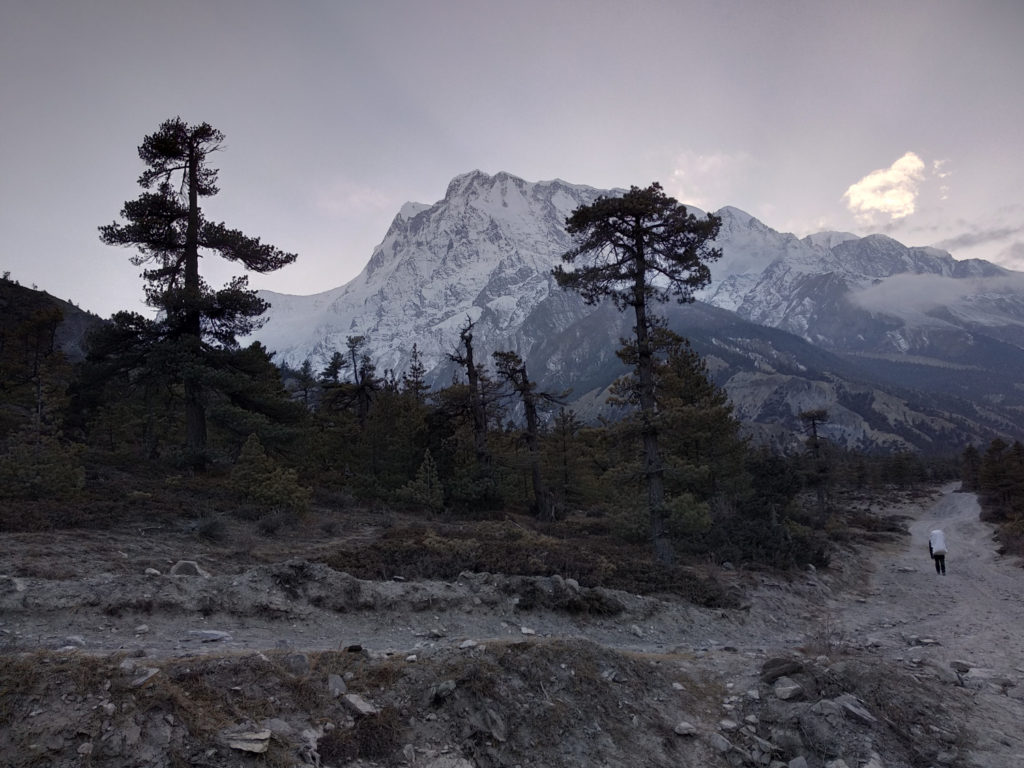 Soon we crossed the river and we reached the village of Braha (Braga) which is said to be beautiful. Unfortunately, it was already dark, hence we haven't seen too much. We hoped to return there on the following day.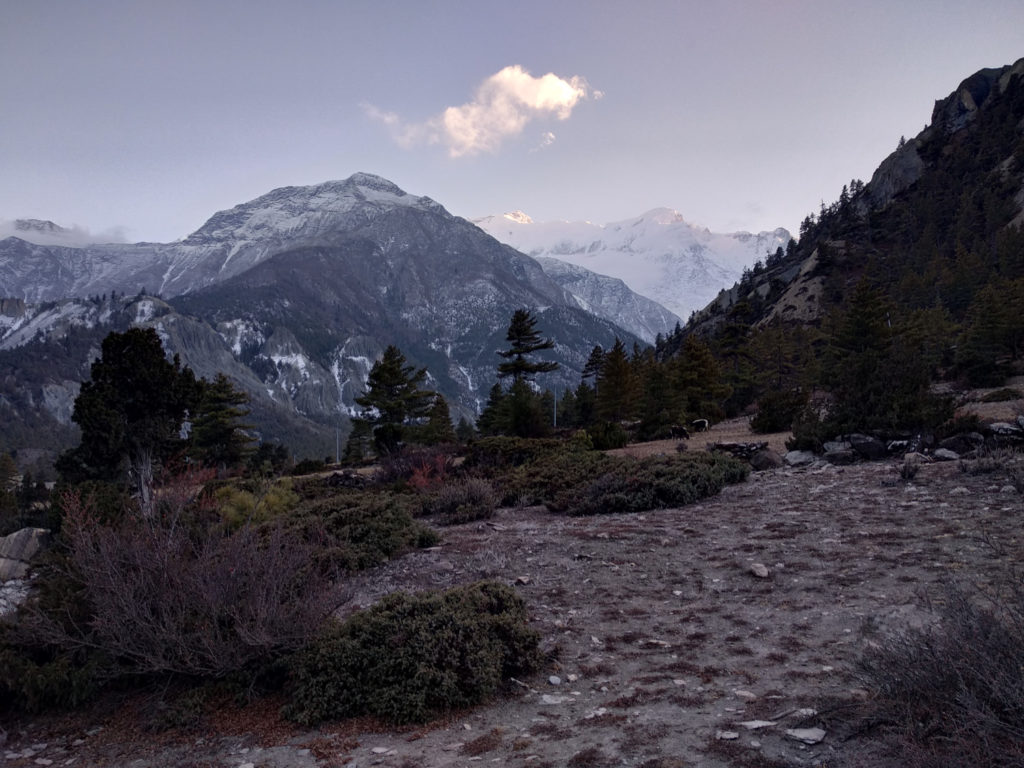 Walking in the darkness
After we left Bhraga, it got really dark. We could barely see anything. I decided to take out my headlamp to light the way. While we were walking we could see animals eyes glowing in the dark.
Also, blisters on my feet got really painful after a whole day of walking. Fortunately, we reached the gate of Manang soon.
The evening
After we got to the room, the normal procedure started. I tried to fix my feet and we ordered a supper. Szymon went to the dining room as it was much warmer there (due to a gas heater) and I decided to take a shower as we were supposed to have warm water.
When I tried to take the warm shower, there was an issue with the water heater. Zosia brought teahouse owner and he was able to get warm water running. He explained that it often happens as the gas freezes in the pipes. Before he left, he also told us that we should open the window as the fumes from the water heater are directed into the bathroom.
Later we joined Szymon in the dining room, we spent some time there before going to bed. When we returned to the room Szymon went to sleep quickly and we tried to plan our acclimatization hikes for the next day,
We also took some medicine to decrease the probability of high altitude sickness. On that night Zosia also decided to use chemical feet warmers for the first time during our trip.