Leaving Kathmandu
We woke up before 6 a.m., to prepare for our departure to the start point of our Annapurna Circuit trek. My excitement was huge, as I knew that I was starting a journey which without any doubts was going to be one of the best vacations that I ever had. I also knew that it was going to be the most demanding trips for all of us. We were going to carry our gear (especially me, as I wasn't using a porter) at altitudes up to over 5000m, where there is only half of the air in comparison to sea level. This lack of oxygen was going to make us weaker. There was a high probability of high altitude sickness, which could cause a headache, dizziness and other even worse life-threatening conditions. In addition to limited air, we were going to sleep in facilities without heating and hot showers. Where temperatures inside the rooms could drop below zero Celsius. Also, there was a high probability of problems with the digestive system, which often happens to people visiting Nepal.
Just before 6:30 a.m. our porter/guide has arrived at the hotel. He introduced himself as Su. He was about 1.7m tall, wearing circular glasses and a leather jacket. Su also had a really small bag with personal items.
Bus Ride to Besisahar
Su ordered a taxi, which took us to the nearby bus station. There we caught a minibus to Besisahar. The bus had about 12 seats and was quite old. All our gear was loaded into rooftop baggage rack. As the trip was going to take about 8 hours, and there was a lot of dust, we put our rain covers on the backpacks to add some protection.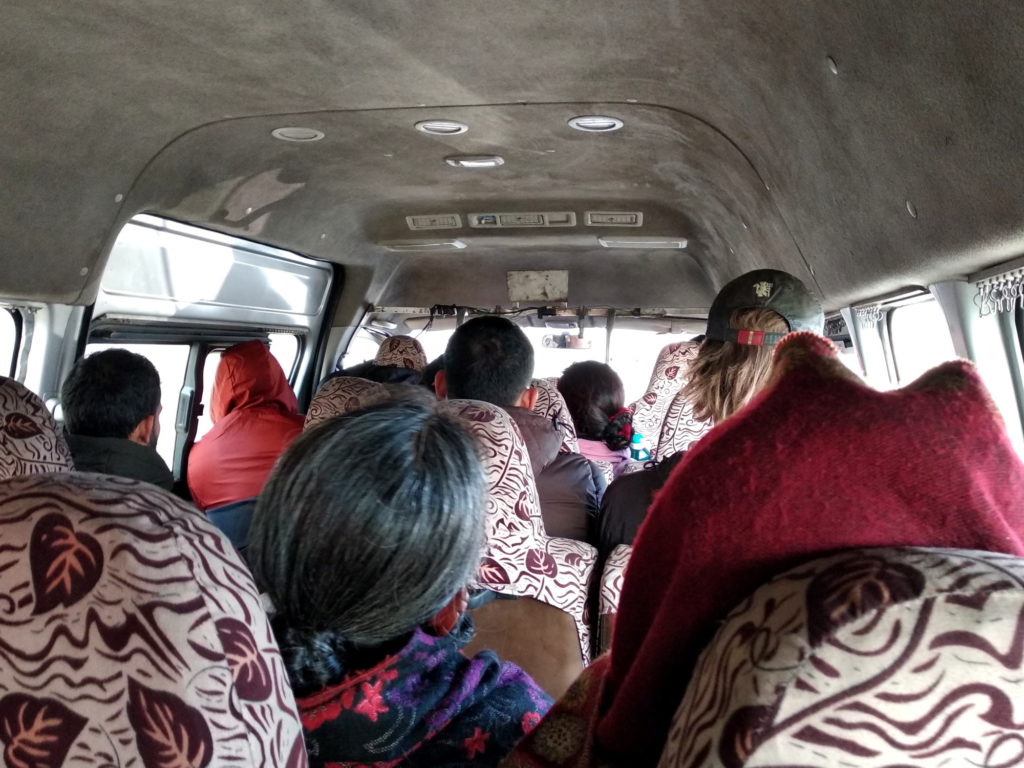 After about 30 minutes we departed from the bus station. On our way through streets of Kathmandu, we saw even more chaos than before. Including cows which crossed high traffic streets. The bus stopped on multiple occasions to grab even more passengers.
We were seated at the last row, in the following configuration: me, Zosia, Su, Szymon. The ride was really bumpy, but Szymon and Su had no problems with falling asleep.
Why lucky ones were sleeping, I was having some snacks together with Zosia. We also discussed multiple topics, starting from her fear of rafting and my rafting experiences from the USA, through surfing and windsurfing, and much more.  I was also trying to help Zosia in preparations for her lecture in Nepali school, but I also started falling asleep.
I haven't mentioned that earlier, but through some connections, Zosia arranged a visit to a school in the village of Chamje (Chyamche). She was going to give a short talk about a light to the students. Additionally, we're going to bring some small gifts for the children (the reasons for 40 pencils in my backpack, that interested the security at Chopin Airport).
Will it end?
Our ride was going and going. I checked the map on multiple occasions, we're getting closer, but the distance was always larger than what I was hoping it to be. We had two longer stops, to buy some snacks and use a toilet. Also on some occasions, new passengers hopped on the bus. At some point, one person was sitting on a bucket and another one was sitting on a plank lying between two seats.
Finally, we arrived at Besisahar. From there we were going to travel by Jeep to Jagat to save some time for our visit to the school.
During our break in Besisahar Su visited ACAP office with our hiking permits. Zosia rushed to a grocery to buy some sweets, which we were going to give to children at school. Next, We had a masala tea (a tea with milk and a special mix of spices). As we were in hurry, we put the remaining tea in my thermal bottle.
Jeep trip to Jagat
Finally, the Jeep was loaded with our gear and ready for departure. Three of us were sitting in the back. The ride was even bumpier than before, I was close to hitting the car roof with my head on multiple occasions.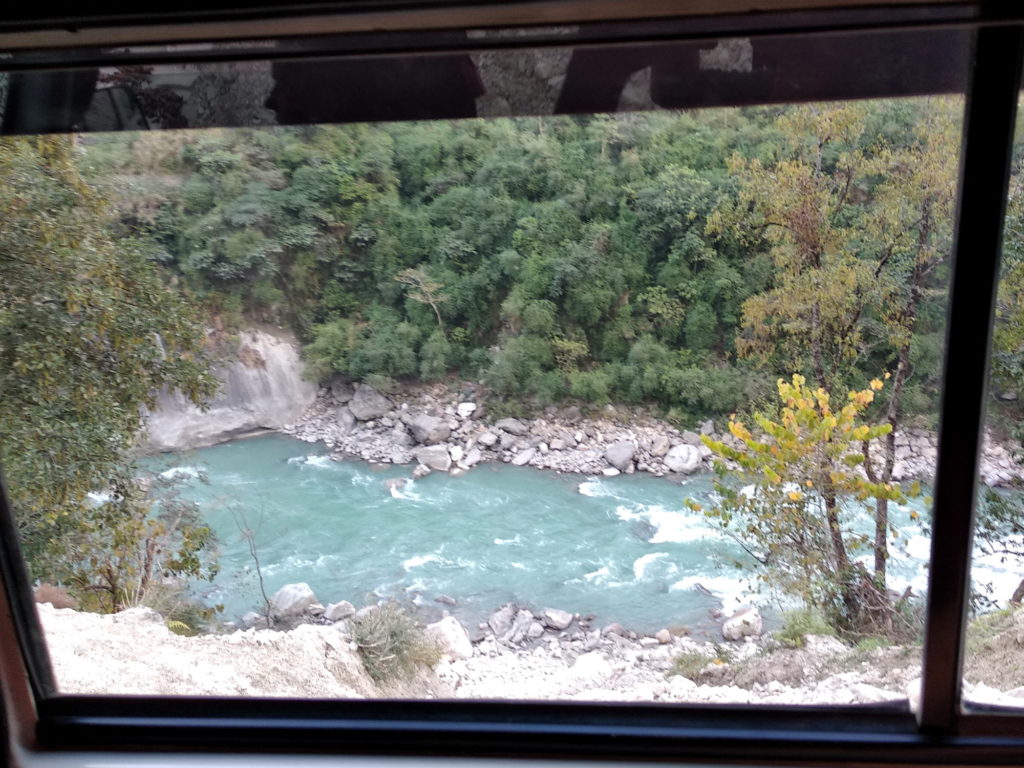 At some point, we passed another ACAP control point and a power plant. The drivers switched a few times. Also, the part of the steering wheel came off during our ride. Fortunately, Zosia had a tape which helped with mending the car.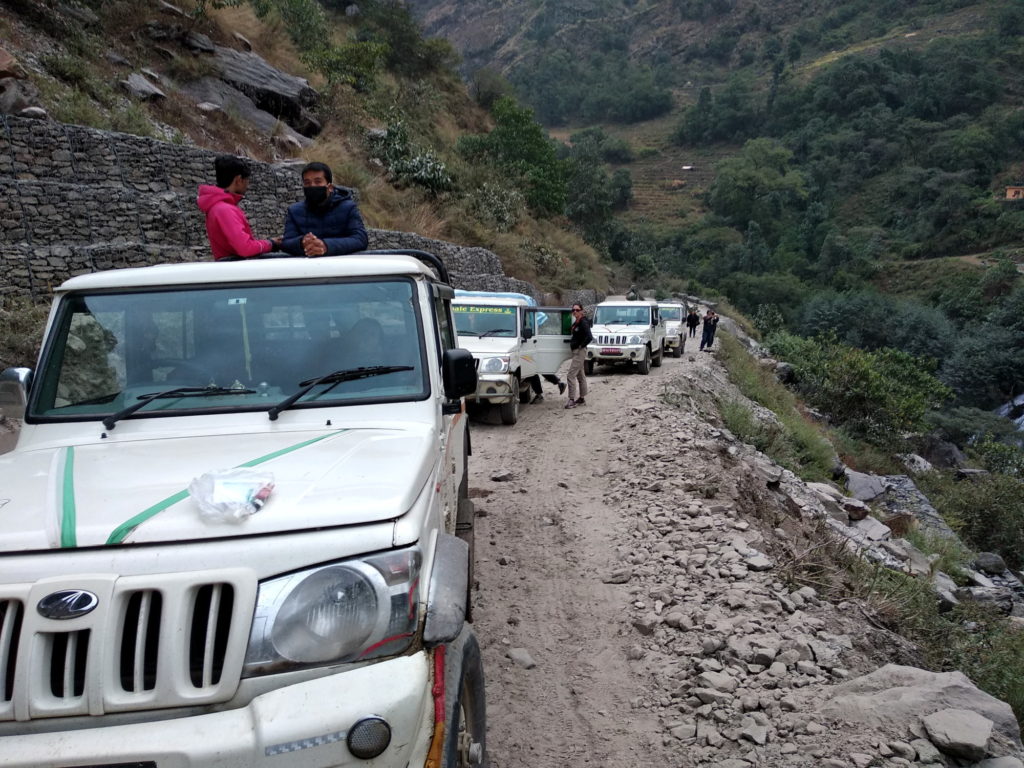 After over 3 hours of the bumpy but really funny ride, which included spectacular but scary views, waiting caused by a landslide which blocked the road, we arrived at Jagat. We wanted to travel further to Chamje, hence we wouldn't be in rush next morning to get to school on time. But it was not possible. It was already getting dark and the driver wasn't too interested even for an additional fee.
As we had no choice we unloaded our gear from the jeep and we walked to our first tea house. Our room was on the third floor, and it had windows on three sides.
Unexpected guest
After a short break, we went to the tea houses' restaurant where we ordered our supper. As all the meals in tea houses are prepared when ordered, therefore waiting time can be quite long (often reaching over an hour).
During our wait for the meal we were informed that the teacher from a school in Chamje was going to join us – the tea house owner had informed him about our arrival and he had asked him to come.
The teacher has arrived at the same time as our meal (we all ordered momo – Nepali dumplings). Zosia discussed the details of our incoming visit with him, and we were trying to support her in some way.
Inside the room
When the meal and discussion were finished, we put an order for the breakfast to reduce the wait time in the morning. Next, we returned to our room. There we had some chat about the next day. Zosia tried our headlamps, to check which can be used as a light source in her demonstrations.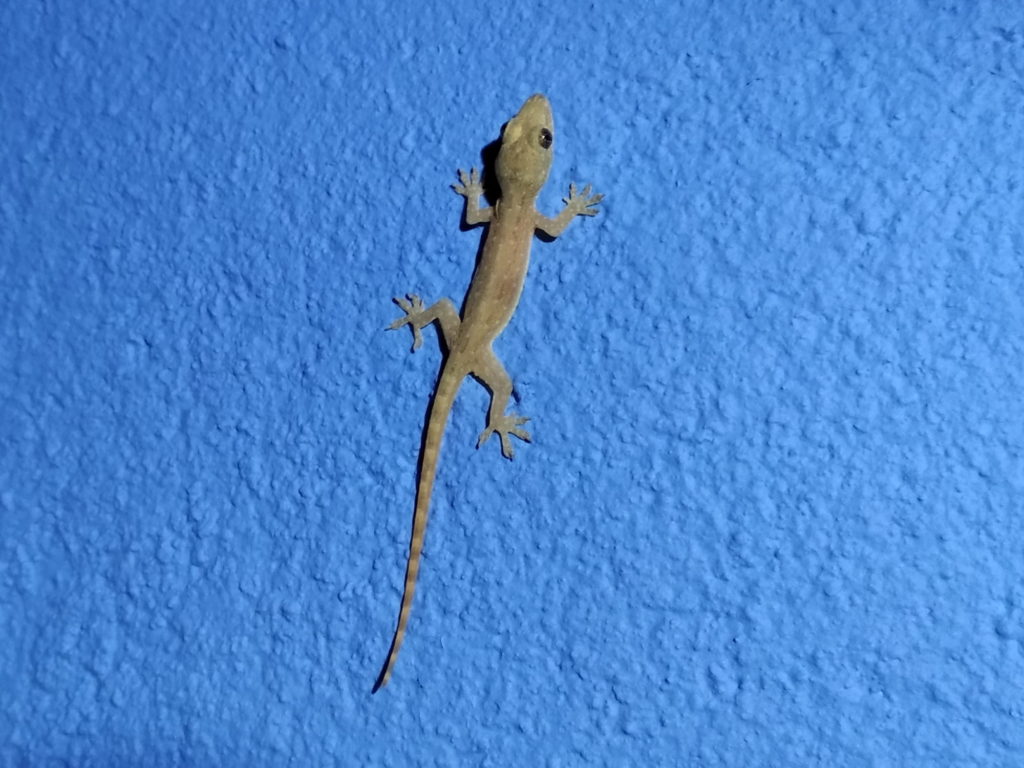 When she was experimenting we spotted a green lizard on the wall over her bed. We took some pictures of it and we went to sleep as we had to get up early again to start the trek.