Trekking begins
We got up at about 5 a.m. to get on time to the school in Chamje. and we started packing our gear. As we ordered our breakfast a day earlier in the evening,  the waiting time was reduced to just a few minutes. While eating we had a discussion with a couple from Germany about our and their experiences from the first days of visit to Nepal.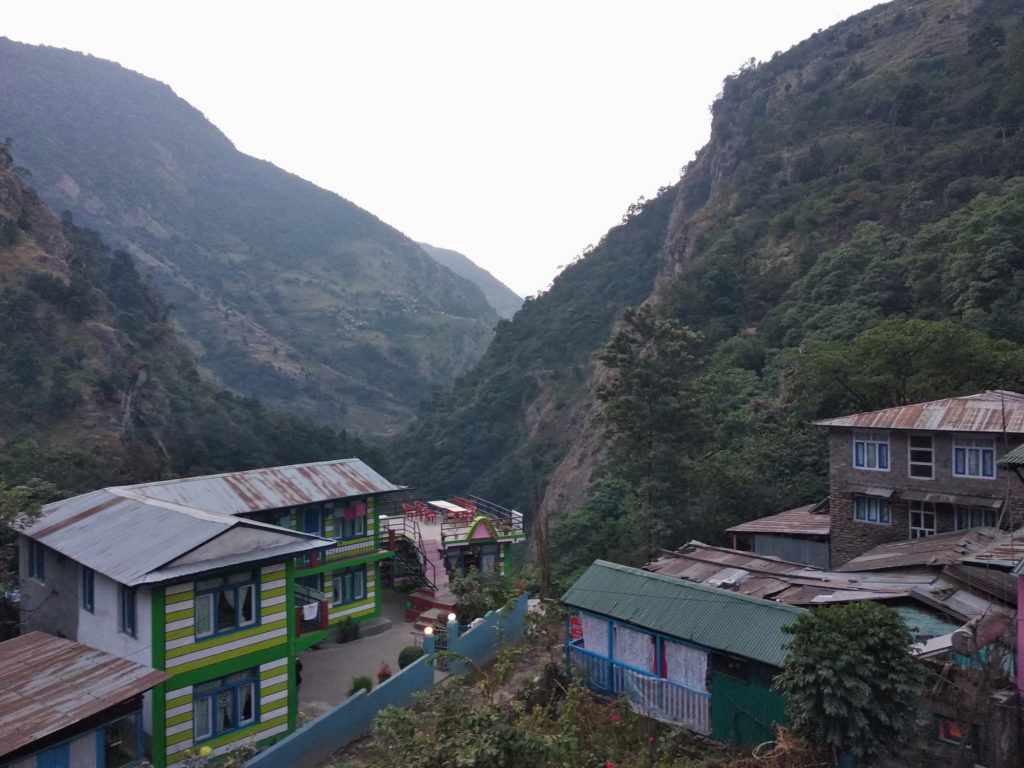 When we finished breakfast we bought bottled water and we returned to the room to get our gear. Few minutes after 7 a.m. we started our walk towards the village of Chamje.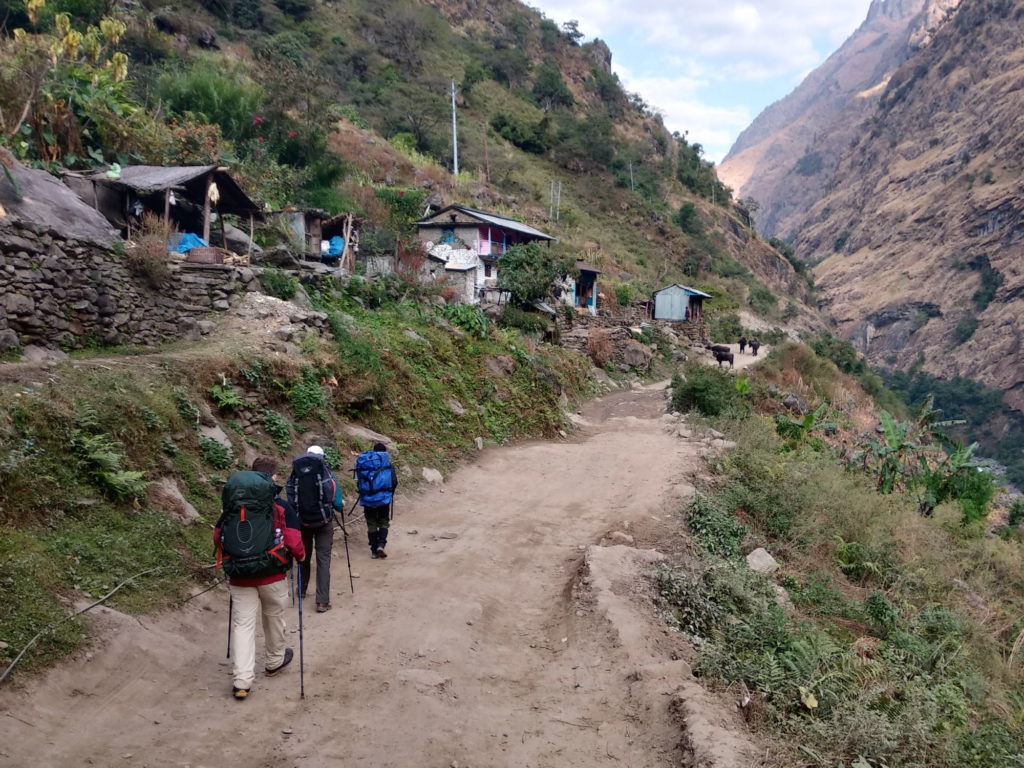 We planned to be at school as early as possible. Especially Zosia was in hurry, as she was the one who organized the whole visit. I was little less stressed, hence I tried to take some photos, and shoot some videos on the way. While walking, we passed a beautiful large waterfall, and we, unfortunately, saw some signs of ongoing road construction.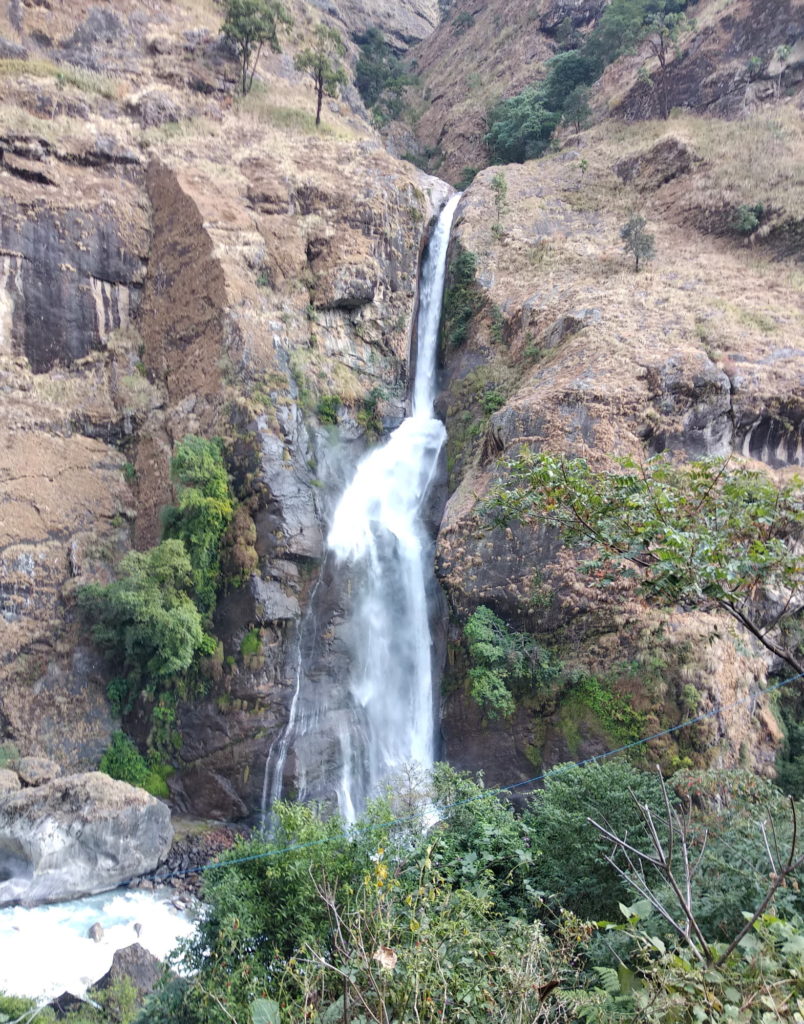 At the School
We reached the school in Chamje faster than expected, and we had about an hour of time before Zosia's presentation. After our arrival, we were welcomed by the teacher who also visited us a day earlier in Jagat. Later we were also welcomed by other personnel and school headmaster.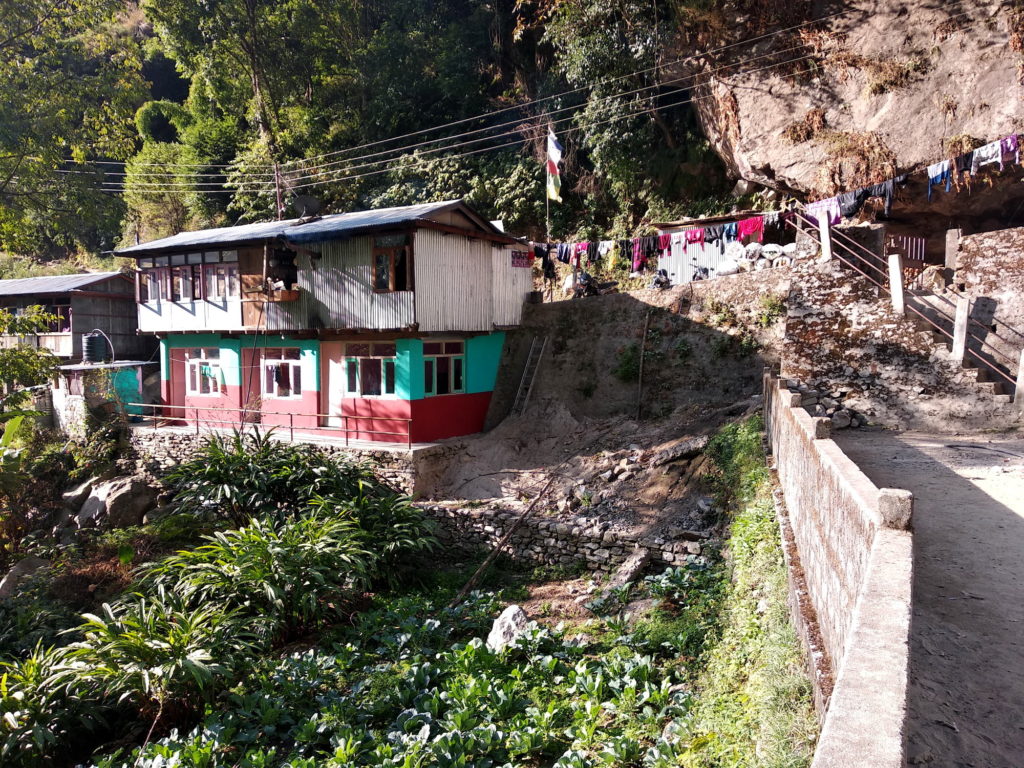 When the official hour of our arrival was getting closer, the children started gathering at the schoolyard. The most outstanding thing for me was, that the large group of students came to see us, even though it was a holiday time in Nepal.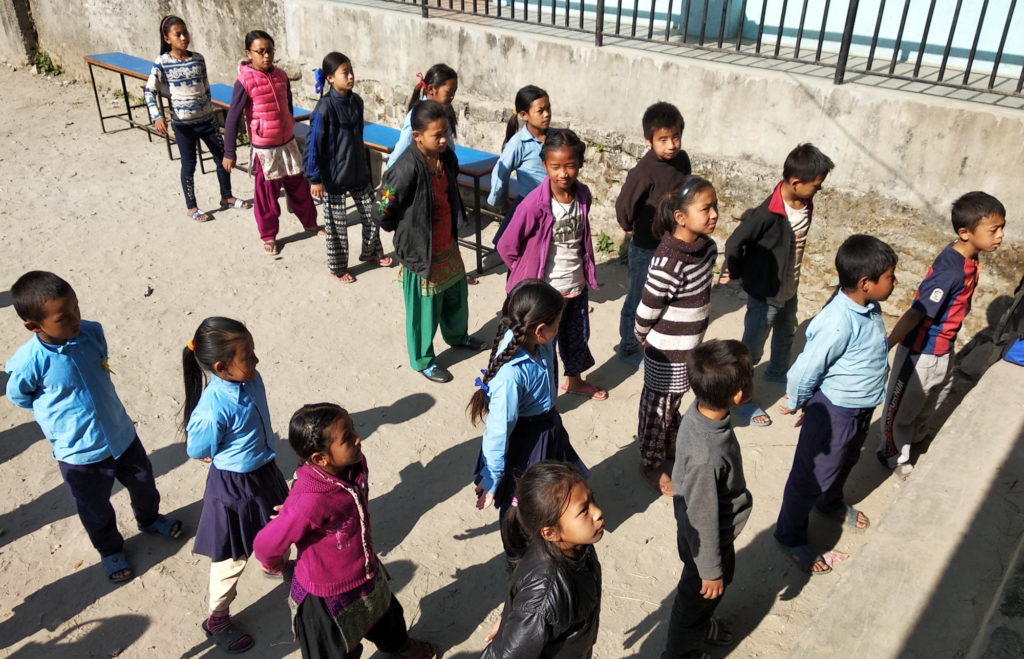 When our visit officially started, children sang an anthem. Next, we introduced ourselves with some help from the teacher who translated our words into Nepalese. After the introduction, we gave small gifts to the children and we headed to the classroom.
There Zosia gave a nice presentation about mixing and separating different colors (wavelengths) of light. She did it in a proper way, without boring children to death ;). In the meantime, we tried to document as much as possible by taking photos. During our visit, we also got a huge help from Su, especially in conducting experiments and in translations from English to Nepalese. After the presentation, we took a group photo :).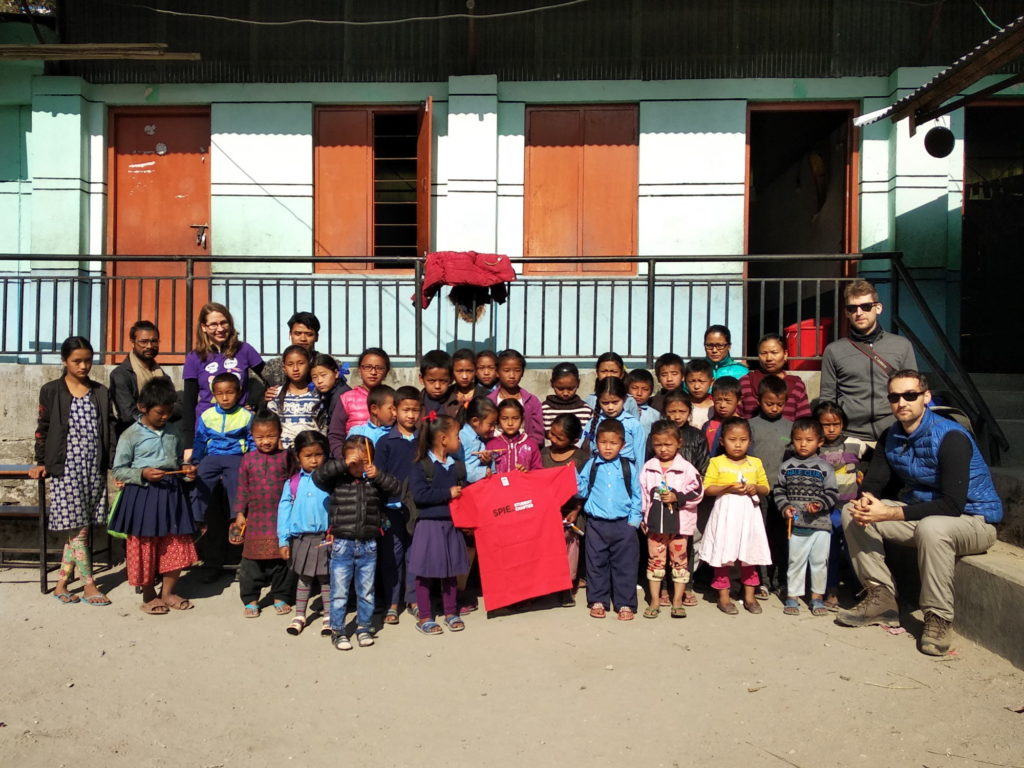 Later Zosia played with the kids,  while Szymon and I were trying to fix a school laptop. The issue was much more complicated than what we expected at the beginning. After about an hour of trying, we decided that the reinstallation of the windows was required. After we started the recovery process, I took a short walk through the village of Chamje.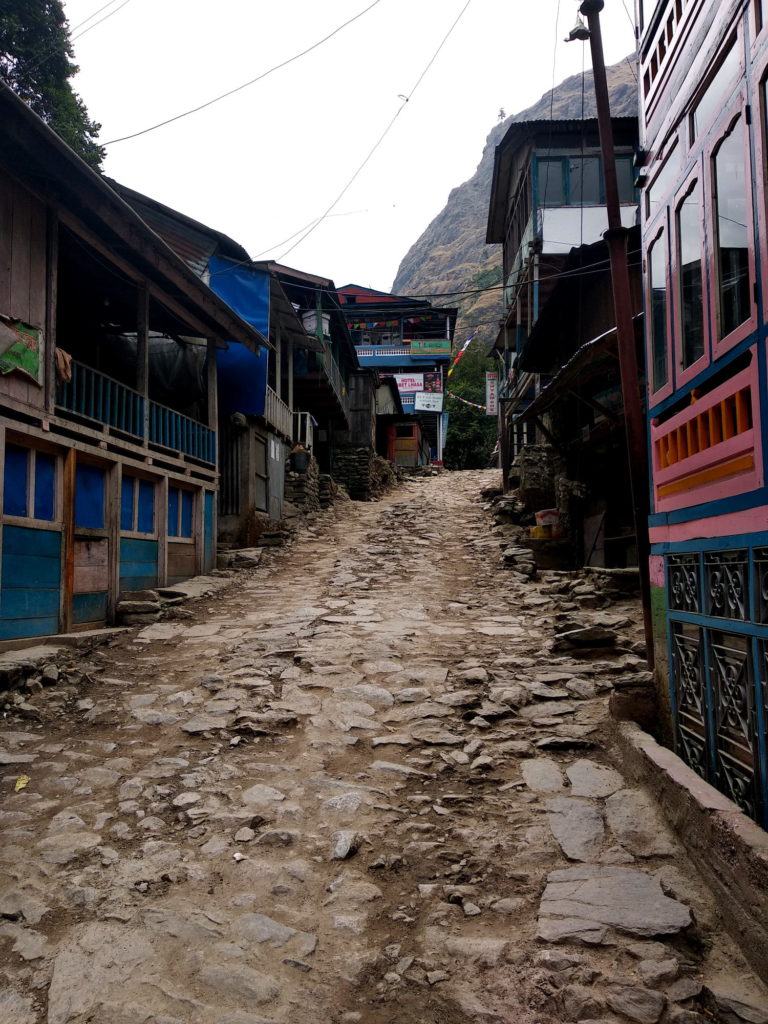 Later we headed to the tea house which was located close to the school. We asked Su for help in selecting traditional Nepalese dishes from the menu. He suggested us to order the Dal Bhat and we followed his advice.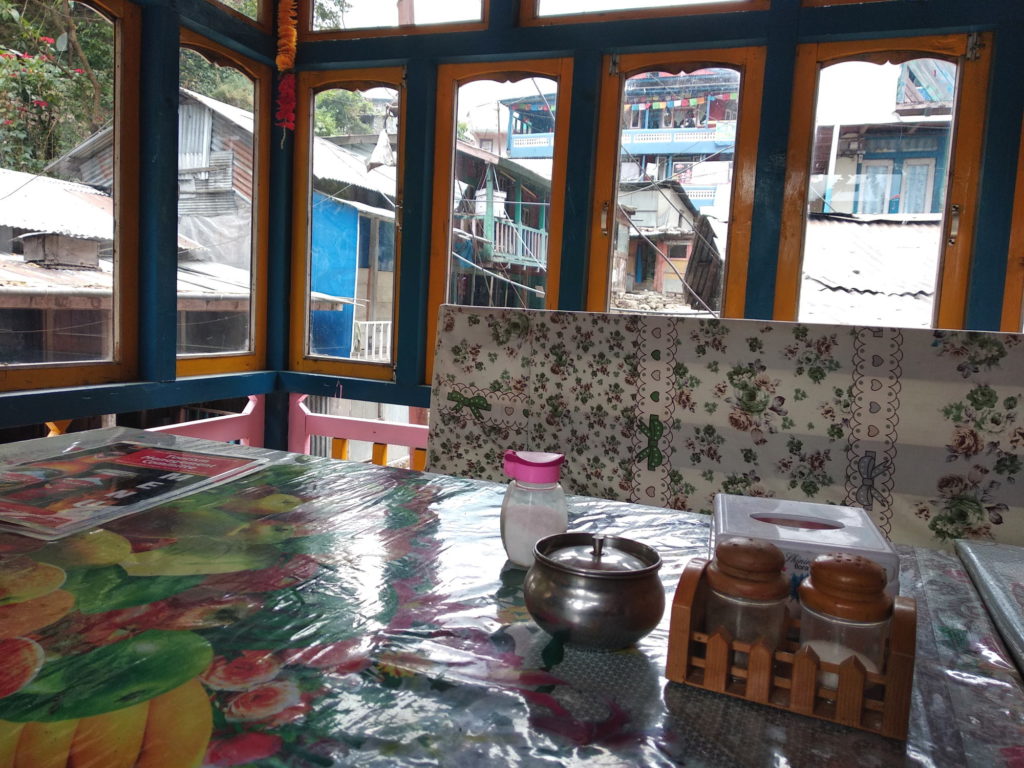 After lunch and repairing the computer, we were ready to leave the Chamje. On our departure, we also received some gifts. We were given scarfs with prayers and flower wreaths.
The Village of Tal
Our next destination was the village of Tal. On our way there we saw another sign of road construction. We also passed by a wonderful waterfall.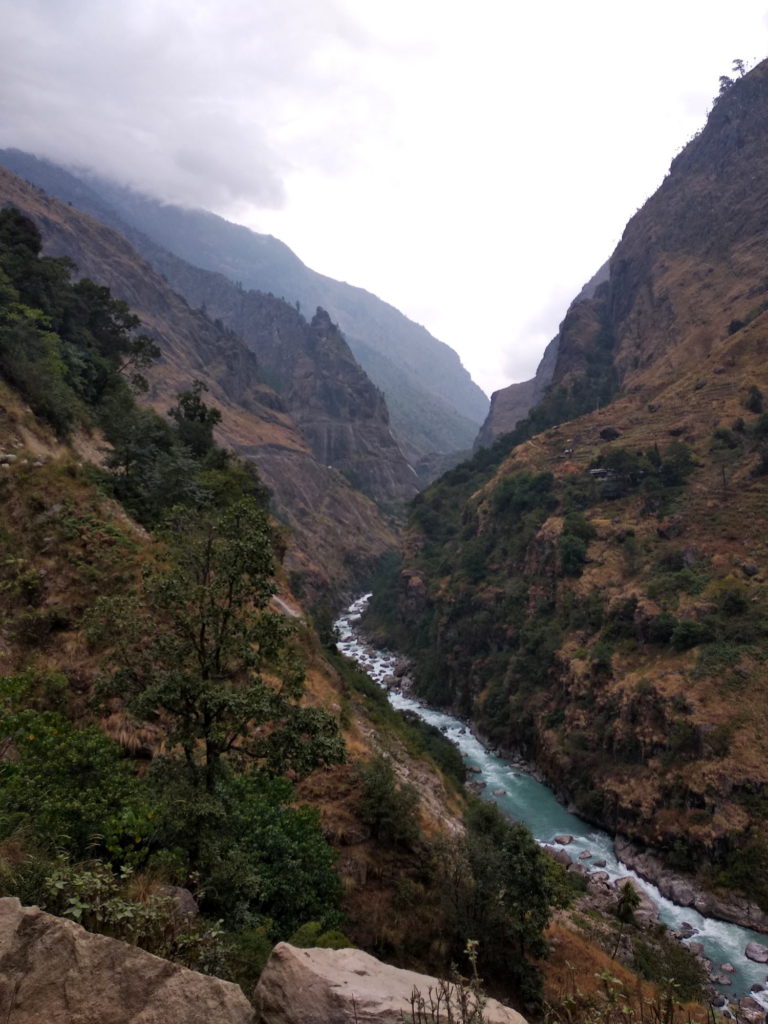 After a few hours, we finally reached the entrance to the village of Tal, in which we were going to spend the night.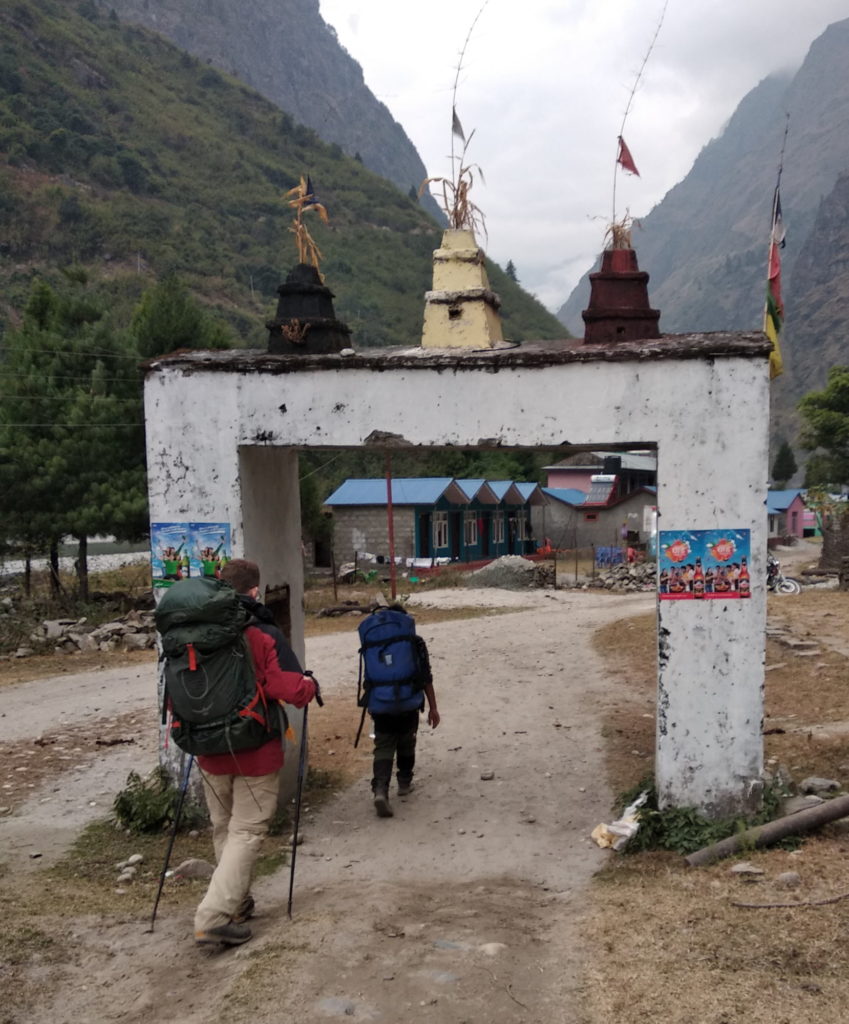 Su booked us a room in a colorful tea house. The room was located on the second floor, and through its windows, we could see a river. It also had an attached toilet, a thing which we were going to see less and less in the upcoming days.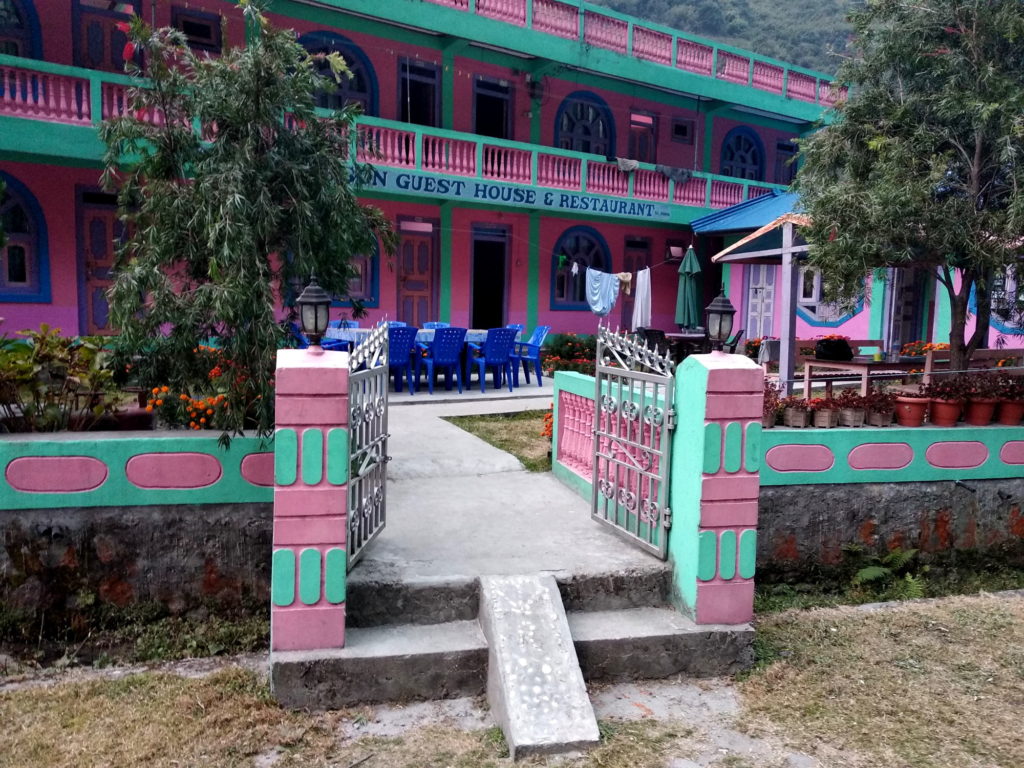 Next, I had some unpleasant experiences. First, I took off my shoes and while doing it I already knew what I was going to see. There were multiple clavuses and blisters on my both feet. While Szymon and Zosia went to order a supper and have something to drink, I stayed in the room and I tried to prepare my feet for the next day.
When I was finally able to walk, I went outside to join the others. What happened next was more than weird or odd…
At the end of the day, we had a supper and we played the card game that Zosia took with her (I was carrying it in my backpack). We still had some problems with the rules, and the Szymon was the one that won on that day.