Our arrival
Our descent to Kathmandu airport began at about 11 a.m. local time. From the plane, we were able to see villages located on the hills surrounding the city. While looking at this landscape we filled Nepalese arrival form that was given to us by the cabin crew.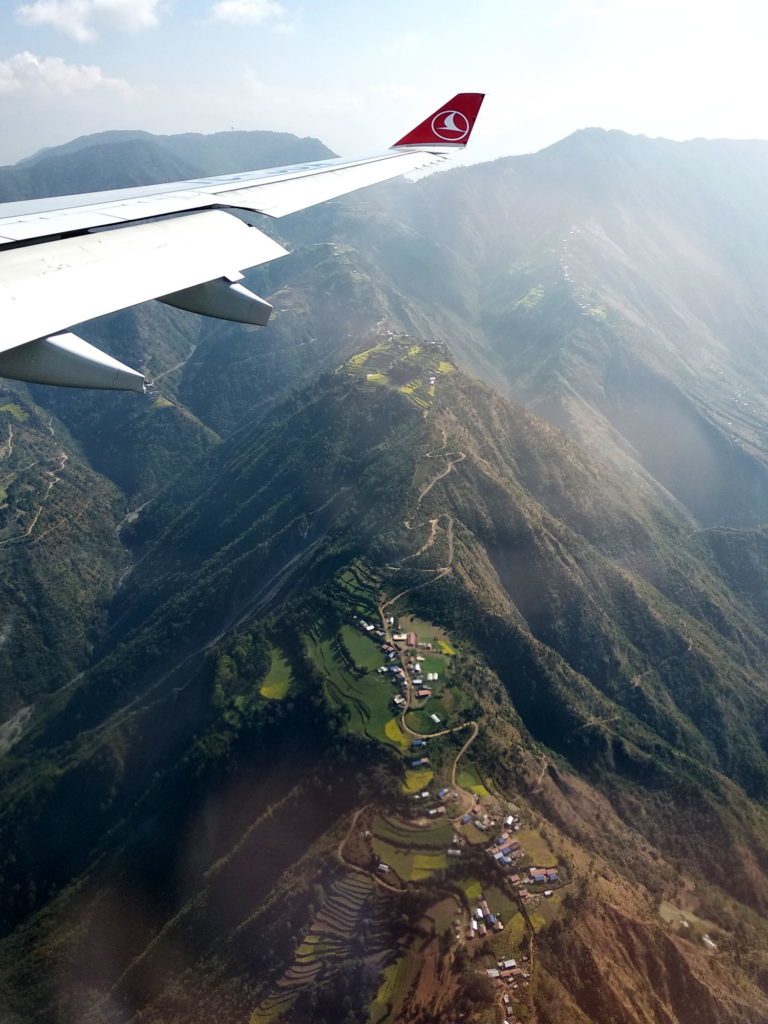 After leaving the plane we walked into a small airport terminal. There we had to stand in line to pay for our visa. The officer at the window has directed us to the other queue where we waited to obtain our visas. I had some doubts about this, as I thought that there was a possibility that we had to fill another form. But as we were directed there, I hadn't put too many worries into this.
Unfortunately, after over 30 minutes of waiting, the immigration officer had agreed with my concerns and he directed us to the side, where we had to fill another form. When we filled that form, we wanted to enter back into the line, but people didn't want to let us in, even though they saw us leaving the line three minutes earlier. It seems that if you are a**h** you will stay one, and it doesn't matter if you travel to a five-star resort in the Carribean or to trek in the Himalayas (special greetings to a group of people from Finland).
After waiting again, we finally obtained our visas, then we walked to the baggage claim area. Before getting there we had to wait in another line to have our carry on luggage screened – I've never seen sth. like this before.
Traveling to our Hotel
We exited the airport terminal to catch a taxi that would take us to our hotel and we were approached by some guy that told us that the taxi can be ordered in the terminal. We returned there and we ordered the taxi. The cost of the trip to Thamel district was 7$ and it took us approximately 30 minutes to get there. Before our departure, the guy asked if we need a guide for our trip. As Szymon and Zosia wanted to hire a porter, we decided to go with him to the travel agency that he suggested. If I'm not mistaken, the agency was operated by his brother.
Festival
On our way, we found out that there was a multiday festival taking place in Nepal and many places might be closed in the following two days. Also, the traffic rules seemed nonexistent.
After reaching travel agency we spent about an hour negotiating itinerary and cost. The agency was also going to obtain our permits. This was convenient for us. At the end of negotiations, we have decided to start the trek a day later due to the festival.
Problem with the hotel
From the travel agency, we walked for about five minutes and we reached the hotel. An unpleasant surprise was waiting for us there. We were given a room with a much lower standard than expected. Fortunately, we were able to negotiate a new lower price, and we were given a new, better room next night.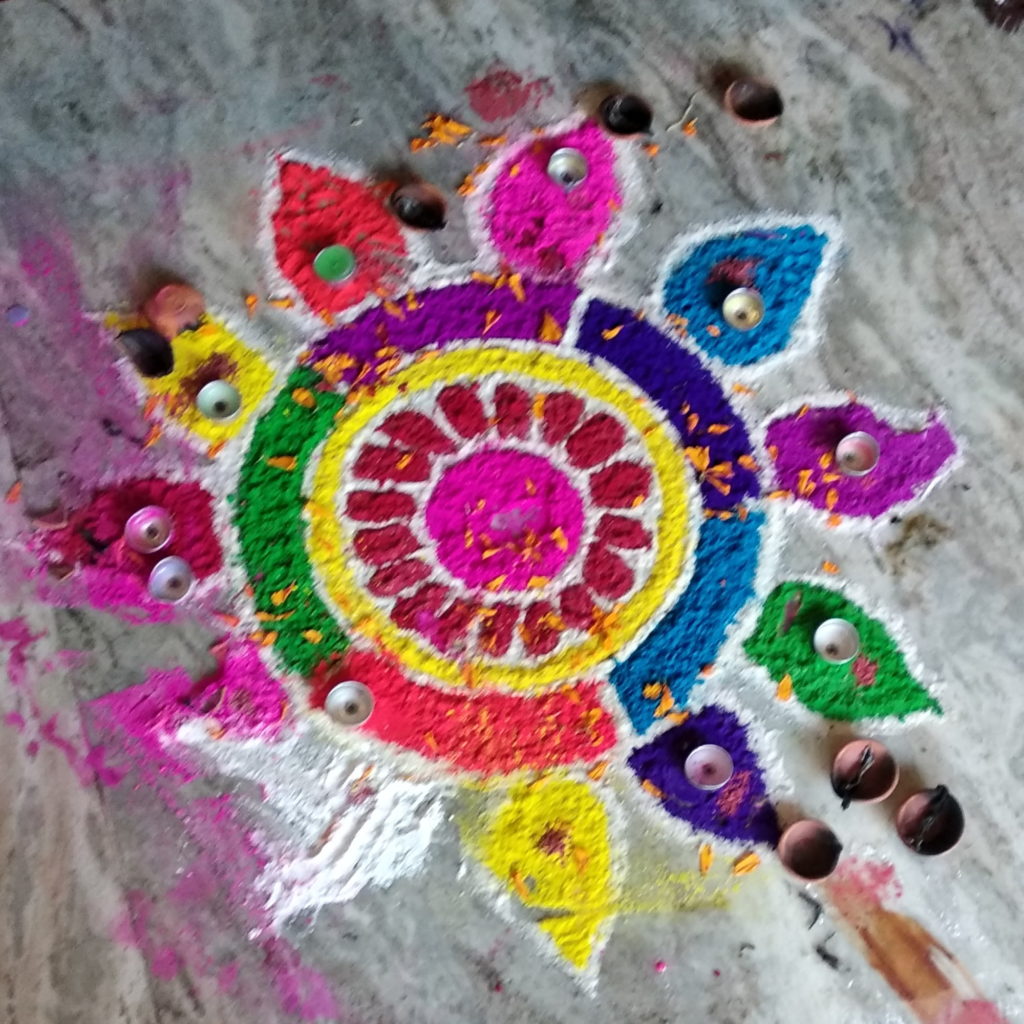 Short Sightseeing
In the evening we took a walk around Thamel district. First, we visited the exchange office which was located close to our hotel to get some Nepalese rupee.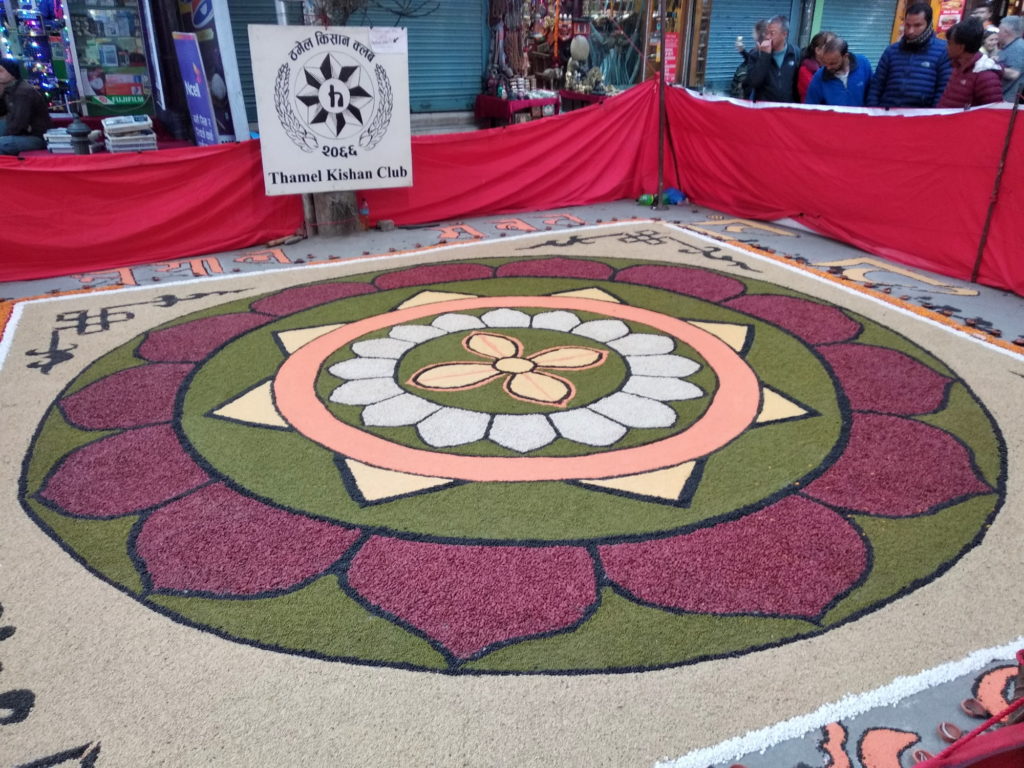 Next, we headed south. During our walk saw multiple signs of the ongoing festival. Also, the area was highly crowded.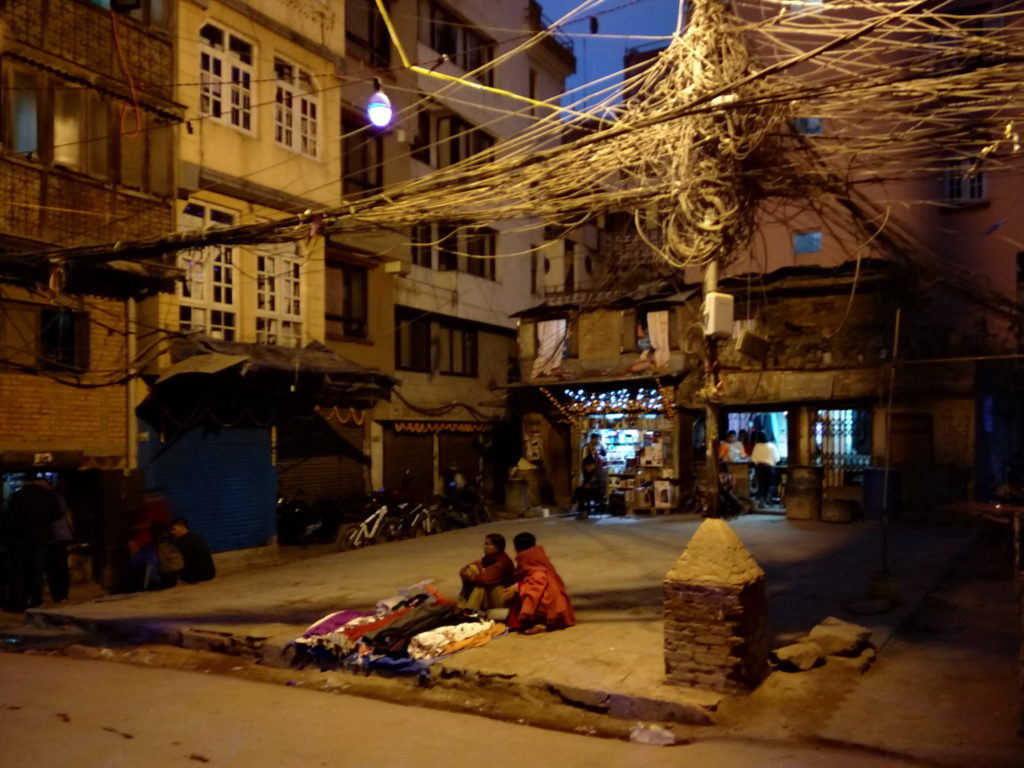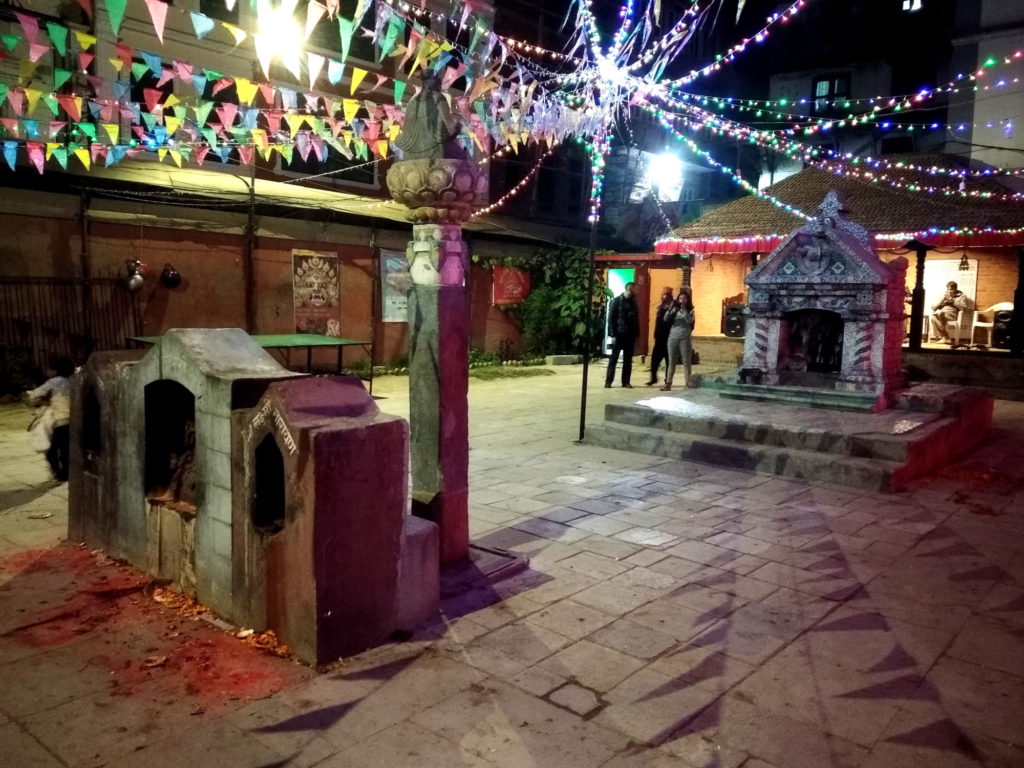 The final point of our short sightseeing was Durban Square. From there we returned to our hotel to take a shower and get some sleep after this nearly 24h journey.
Before falling asleep we have discussed plans for our second day in Kathmandu. By we, I mean me and Zosia, as Szymon felt asleep in all his clothes immediately.
Fast Shopping
After breakfast in the hotel, we went shopping to buy some missing things for our trip. We bought more detailed map of Annapurna Circuit, but the main item was a bag that was bought by Szymon and Zosia. This bag was going to be used by the porter to carry the part of their equipment. During the purchase, they tried to bargain with the seller and they were quite successful.
Long Walk
Our plan for the second day was to visit Patan, which is located south of the Thamel district of Kathmandu. The walk took us about 1.5 hours, including a few shorts stops. During our walk, we didn't see too many tourists. I can say even more, in my opinion, we haven't seen any tourists within an hour of our walk.
At some point we had to cross a high traffic road, looking at our previous experiences, I've suggested going to the nearby zebra crossing. To our surprise, using the crossing didn't make our walk to the other side of the street easier. We still had to maneuver between approaching cars and scooters, and no one cared that we were using a zebra crossing.
Patan
The first sight that we saw on our way was Hiranyavarna Mahavihara, informally called The Golden Temple. We spent about 10 minutes inside, taking photos and shooting videos.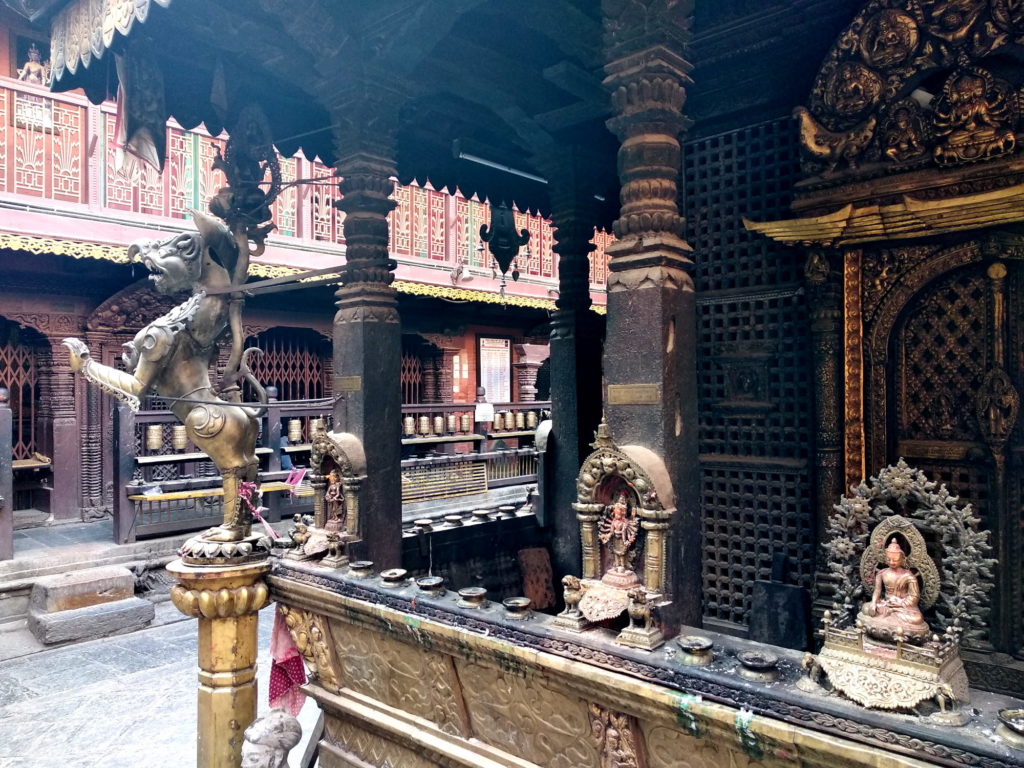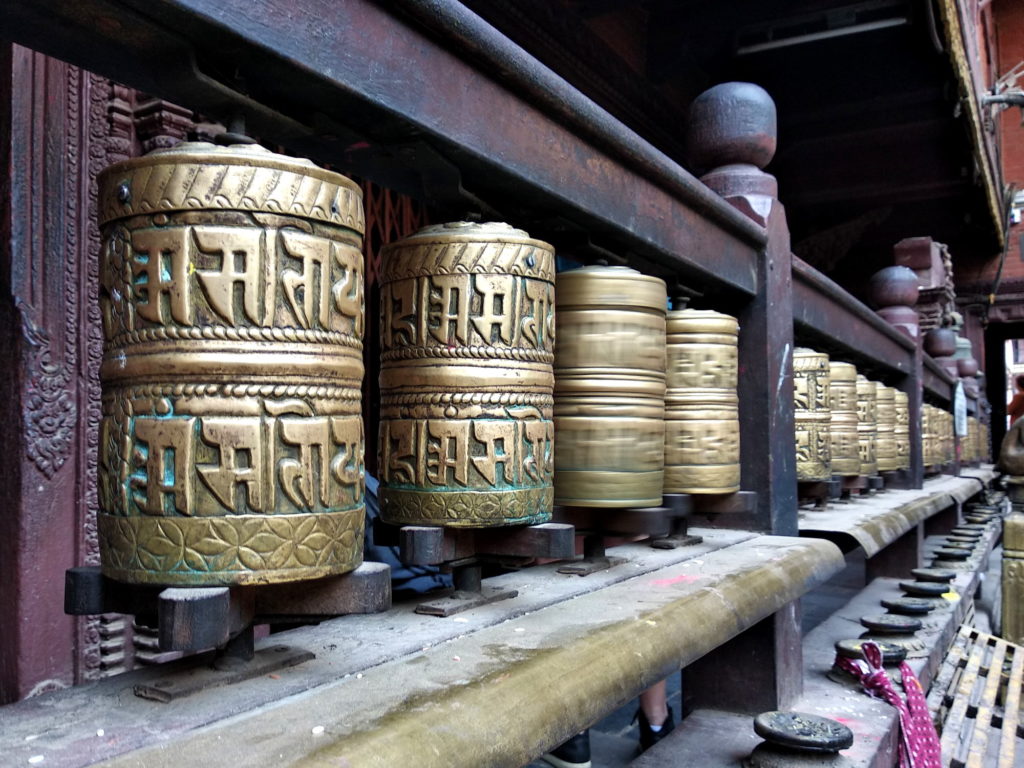 From the temple, we walked to the Patan's Durban Square. Just after entering the square, we were approached by some guard, that asked us if we had the tickets. As we hadn't seen any ticket office on entry, we didn't pay the entry fee. The guard showed us a small kiosk on the other side of the square. We purchased our tickets there. We spent probably about an hour on visiting sights located at the square.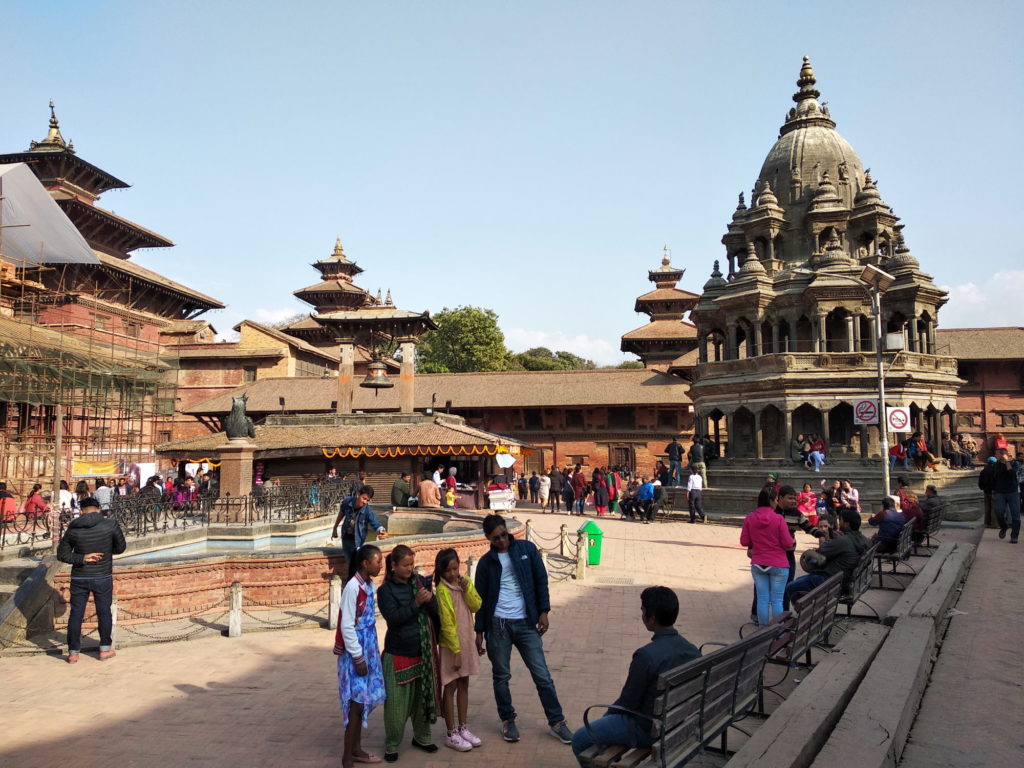 After the Patan square, we visited another two temples: Mahabouddha Temple and Rudra Varna Mahavihar. Later we decided to take a short break for a coffee and think about our what to do next. The break was longer than expected, and it was already 5 p.m.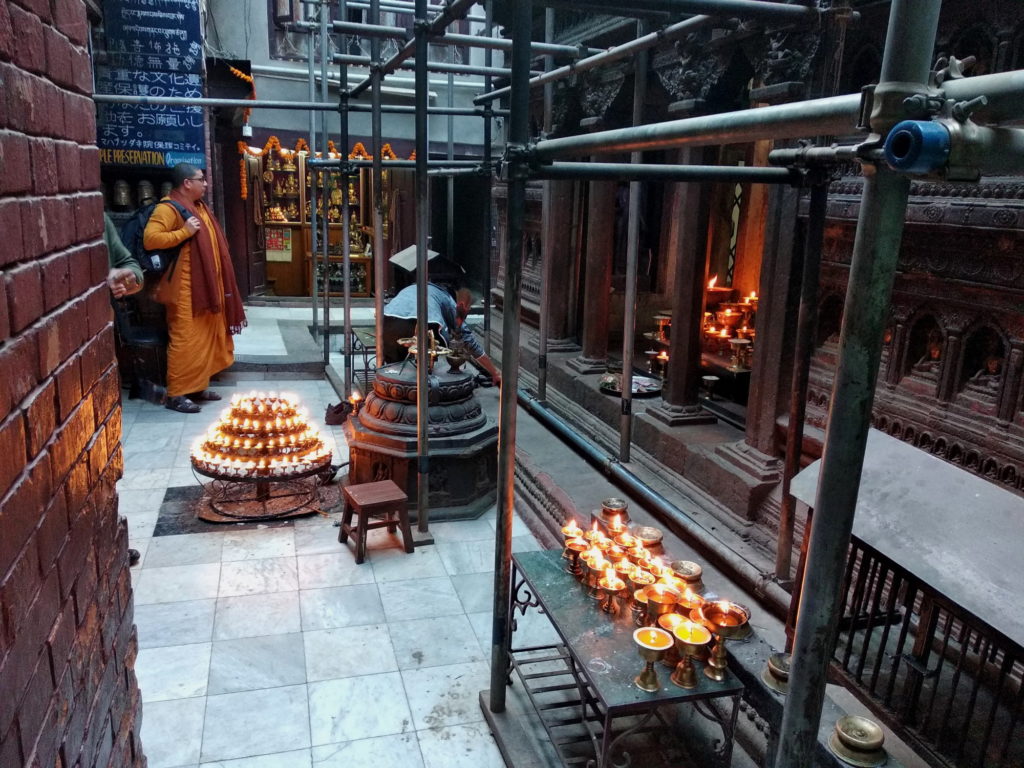 Finally, we have decided to take a taxi back to our hotel. We wanted to negotiate the price, but we did it in a wrong way, offering a too low first bid. I think we even offended the driver with our proposal. In the end, we had to pay 700 rupees for our trip.
The evening
In the evening we prepared for our next day departure. Zosia and Szymon repacked their gear. We (me and Z.) also took a short fitness that we planned to repeat at the end of the trek to compare the results. After this, we went to sleep, as we planned to get up at 5 a.m.