I haven't posted in a long time
I haven't posted for nearly two months, but everything should change now. Last weeks were insane as I was preparing for my Ph.D. thesis defense. I've successfully defended on 13.12, and it's a huge relief. Now let's get back to the interesting stuff…
Beautiful morning
The night was really hard, it was bright inside the tent. I also had a polar bear guard in the middle of the night, and arctic terns caused a lot of problems. I think I slept for about 2-3 hours.
We had to get up at about 7 a.m., exiting a sleeping bag was a real pain as the temperature inside the tent was below 5C. Fortunately, the weather was incredible on this day, it was sunny and the visibility was awesome.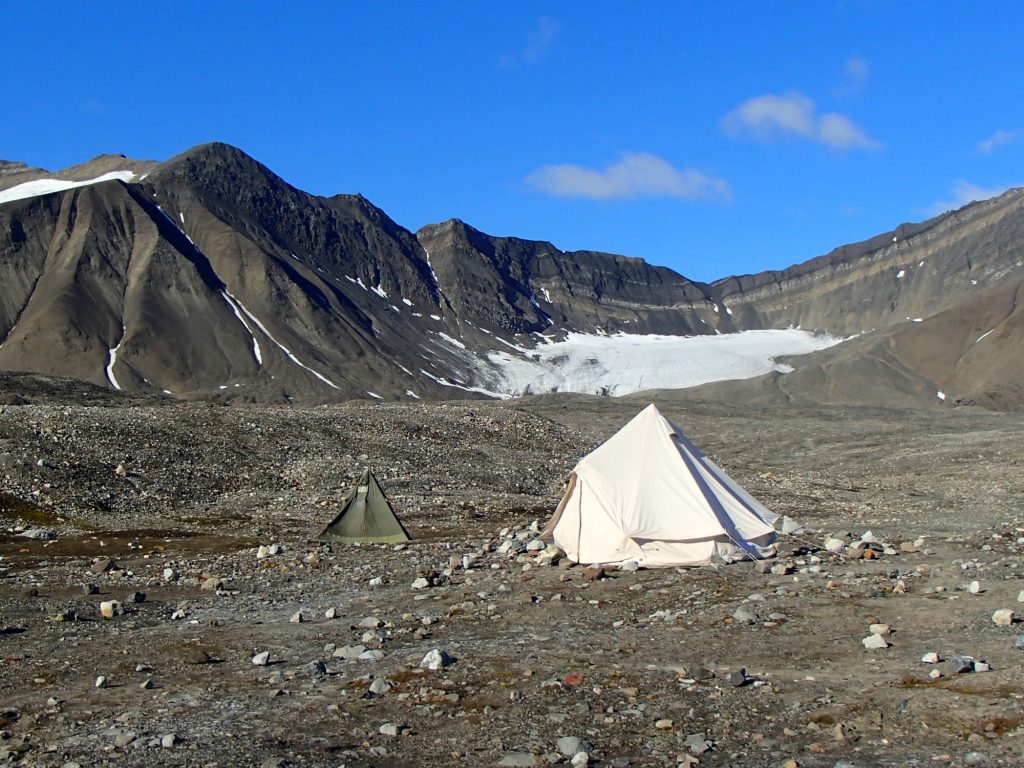 We had a breakfast which was more than tasty, and having a warm coffee was the greatest thing. After the meal, we started preparations for glacier walking.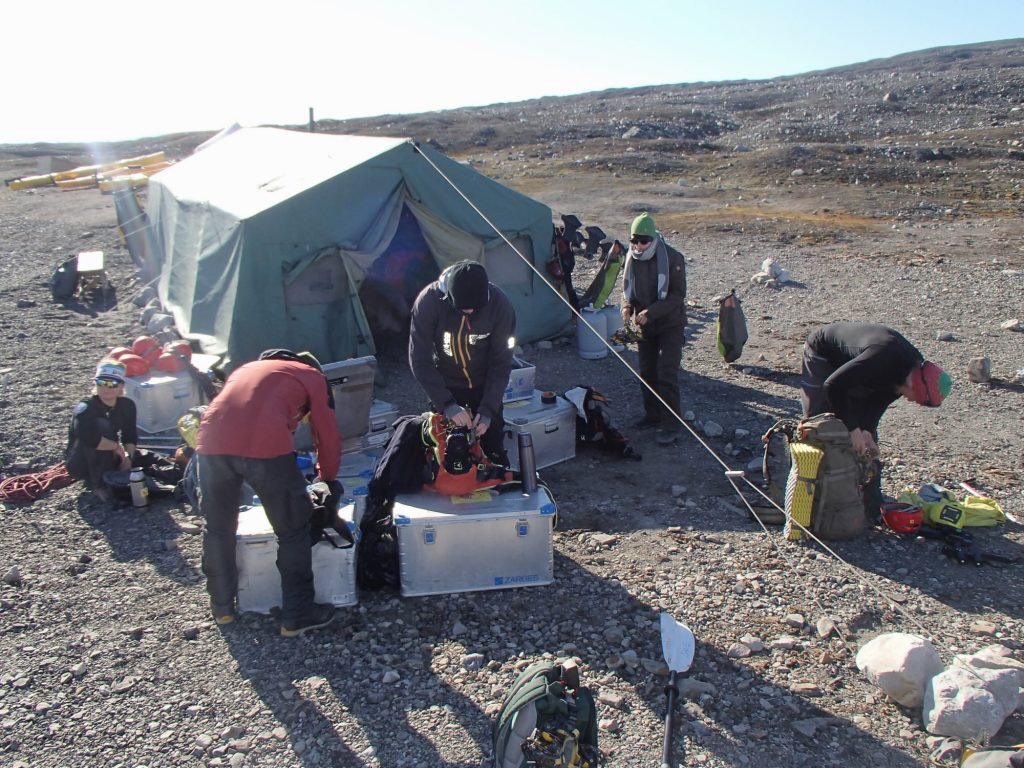 The preparations
First, we were given harnesses, ice axes, helmets, and crampons. We had to adjust the last ones in the camp as it saved us some time at the glacier. Next, we had to attach the gear to our backpacks. This was problematic as I had taken an ordinary city backpack as my second luggage. Fortunately, after some gymnastics, I figured out a way to attach all the gear (I used two carabiners that I carried with me).
Getting to the glacier
We started our hike after everyone has packed its gear, snacks and hot water for a lyophilized meal. It took us about 60 minutes to get to the glacier.  On our way, we had to walk over few small hills created from material that has been pushed by the glacier in the past. It was a great presentation of how the glacier had shrunk through the years.
During our walk, we stopped for a moment, as Reno found an awesome fossil. Then we continued our hike. When we were getting close to the glacier, the ground became muddy. This was caused by water from melting glacier which soaked the soil. This again reminded me that I should have bought a new pair of hiking shoes before the trip.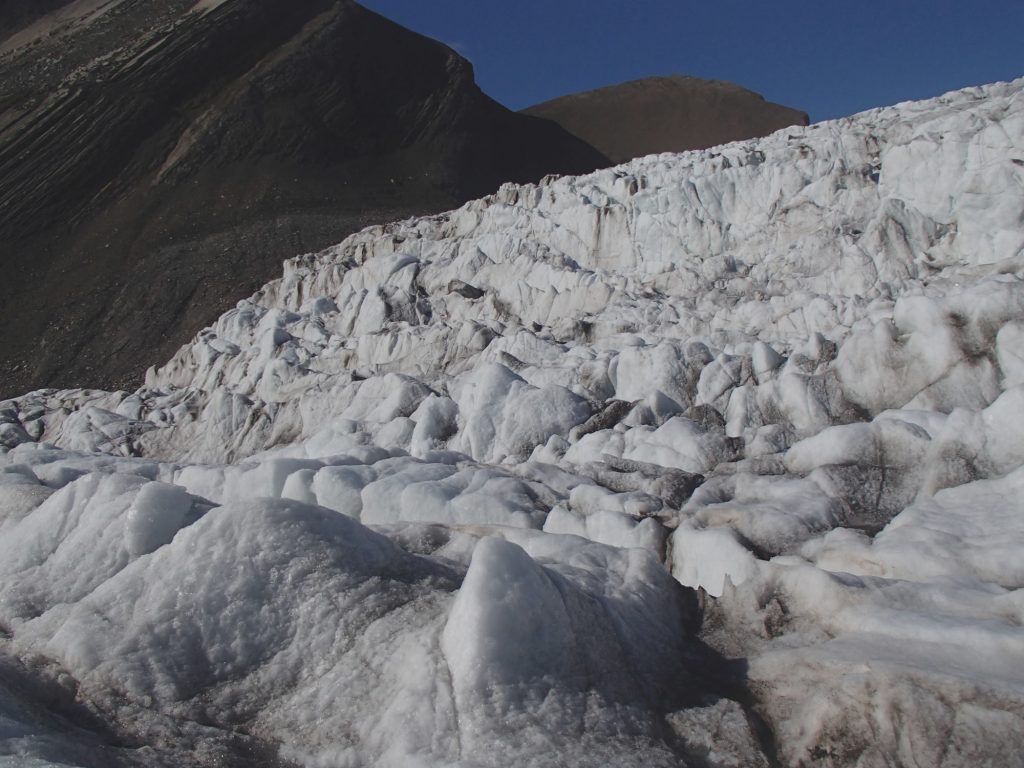 Finally, we reached the frozen ground, and it was time to put on the crampons, harnesses, and helmets. As this was a highly active glacier, cut by many crevasses, we were then given some tips on glacier walking.  Next, we divided ourselves into two groups. Each group member connected a climbing rope to his harness. As I was the last one in my group, I had to put free part of the rope inside my small backpack.
The fun begins
The visit to the glacier was a lot of fun. The views were breathtaking, the sounds of water flowing at the bottom of many of the crevasses were spectacular. There were many holes covered with snow, and if you would throw anything into them you would found it few hundreds of meters further at the glacier front. Falling into any of them without a rope would probably result in nearly certain death.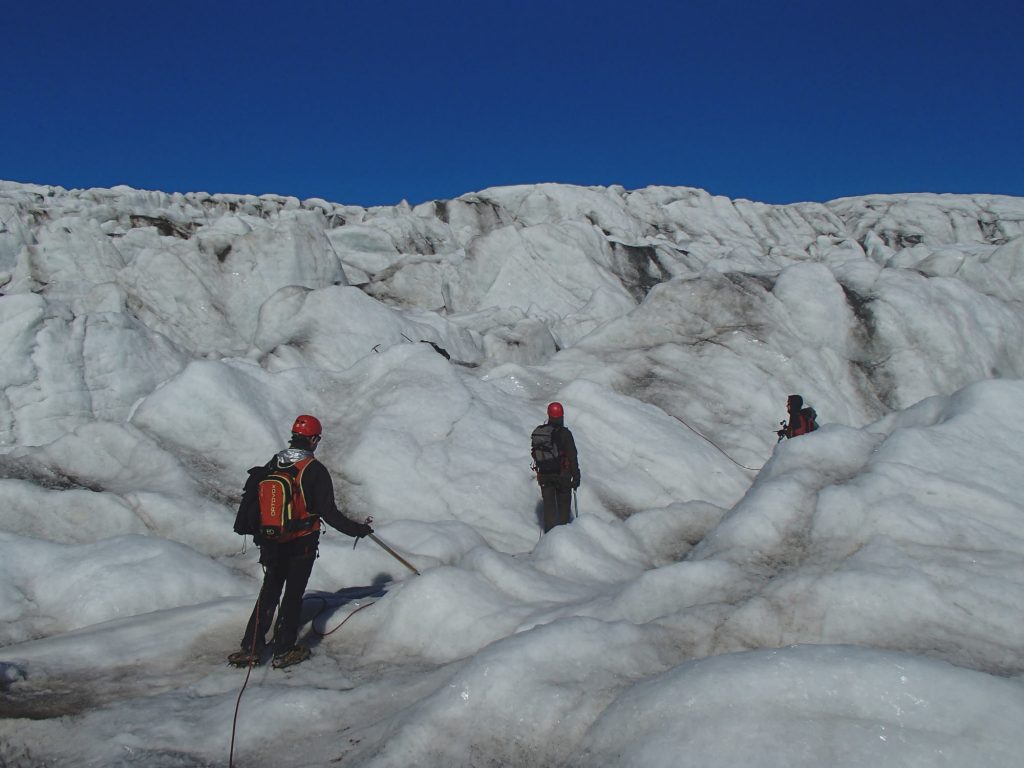 After about two hours, we had a lunch break  We ate our lyophilized food and we also had some cookies. I have to admit, that the Real Turmat meals are the best, but the price is insane from the Polish perspective. After the meal, I used some hot water from my thermal bottle to make a coffee.
The visibility was so incredible, that we were able to see even small details at the mountains nearby Longyearbyen.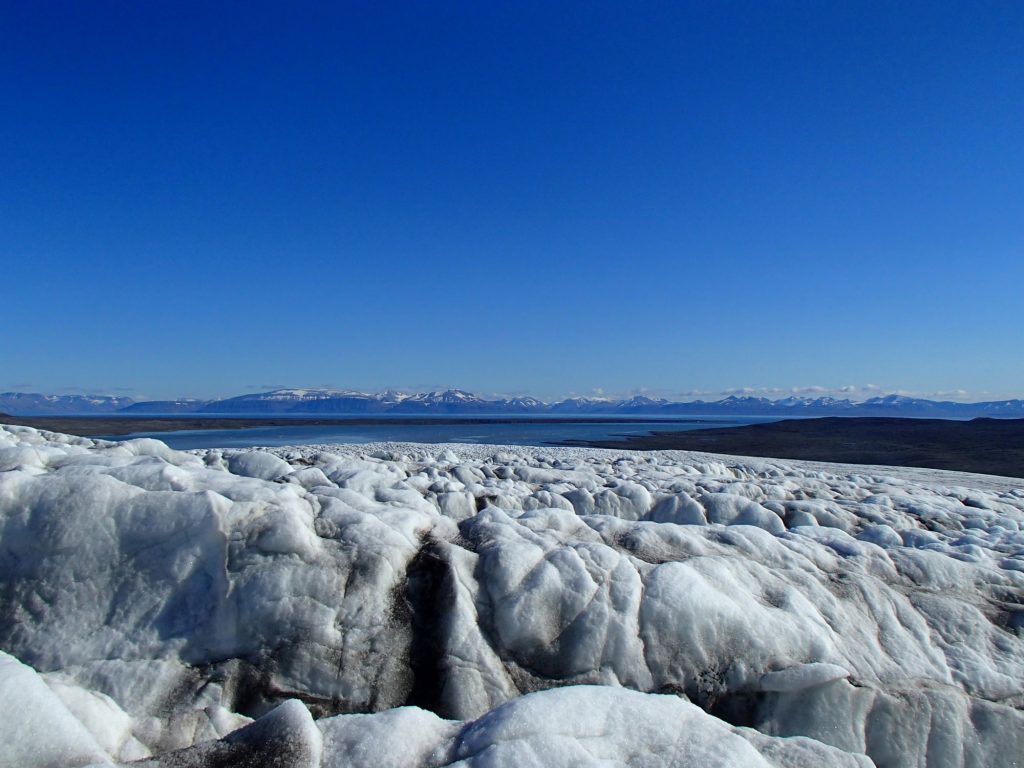 After the break, we continued our walk, for about two hours. Next, we tried some ice climbing from the bottom of one of the crevasses (about 10 meters deep). Saying it felt a little different from climbing a gym wall would be a huge understatement.
Getting back to the camp
After the climbing, our stay on the glacier was coming to an end. We packed the gear, and we started walking back to our camp. On our way back we found some remainings of a seal which had been killed and eaten by a polar bear.
Polar bear guard?
When we got to the camp, we had some free time. I took a nap, as I was exhausted after nearly sleepless night. Later we had a dinner, and it was again time for scheduling the polar bear guard. Again someone was going to be lucky. And guess what happened, I was the lucky one! I even felt sorry for Szymon when he had to go out for the duty (no I hadn't because disturbed my sleep while preparing).

I was born in Warsaw, Poland. I lived there for over 30 years. Since December 2018 my life stretches between my home country and the UK. I hold a Ph.D. in Photonics Engineering. I'm interested in STEM, startups and the proper version of FOOTball
If you spot any grammar errors in the text, please let me know, I will be happy to make corrections.