The morning
On the third day of our trip to Svalbard, we had a hiking trip to Trollsteinen. We were picked by our tour guide from the hostel at about 9:30 pm. It took us about five minutes to get from the hostel to the starting point of our hike. We were given lyophilized meals, large thermal bottles with hot water, crampons and hiking poles (I had my own). Our guide was from the Czech Republic and she was a really kind person. She also had an interesting backpack with a quick release system for the rifle. Before the start of our trip, she gave us also some advice about safety during our trip.
Hike begins
We then started our hike, we passed by an entrance to an old, abandoned mine. A few minutes later we crossed a small river and we walked to moraine of the glacier. On our way we saw other tourists looking for fossils, we also spotted the national flower of Svalbard (The Svalbard Poppy).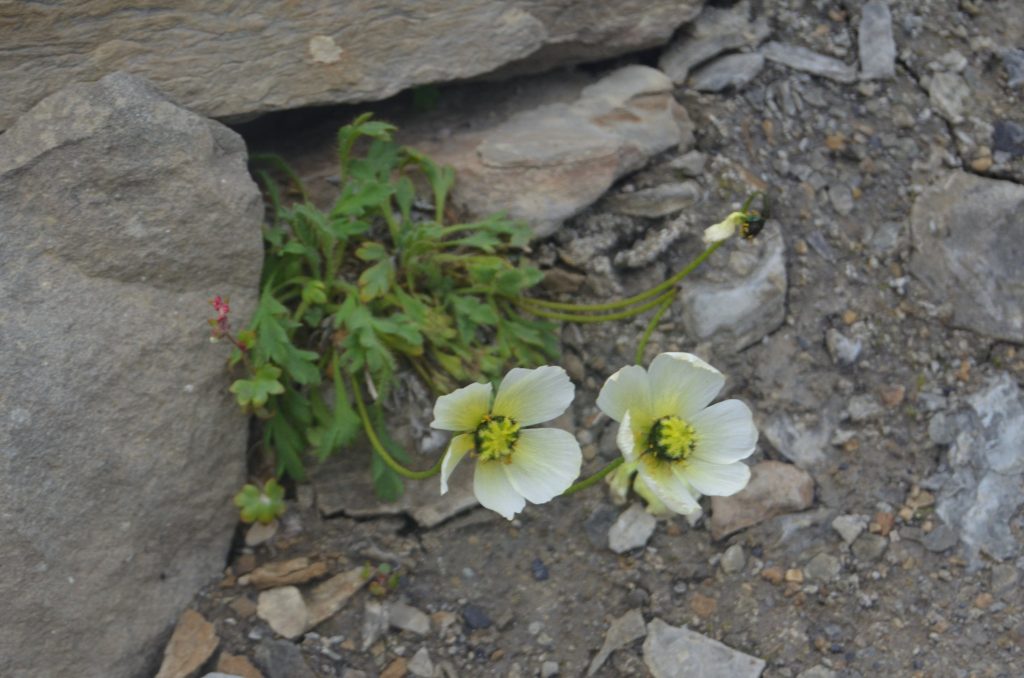 Then it was time for hiking in the snow, it took us a few minutes to get back to rocky terrain. It was a nice preparation for the things waiting for us later on this trip.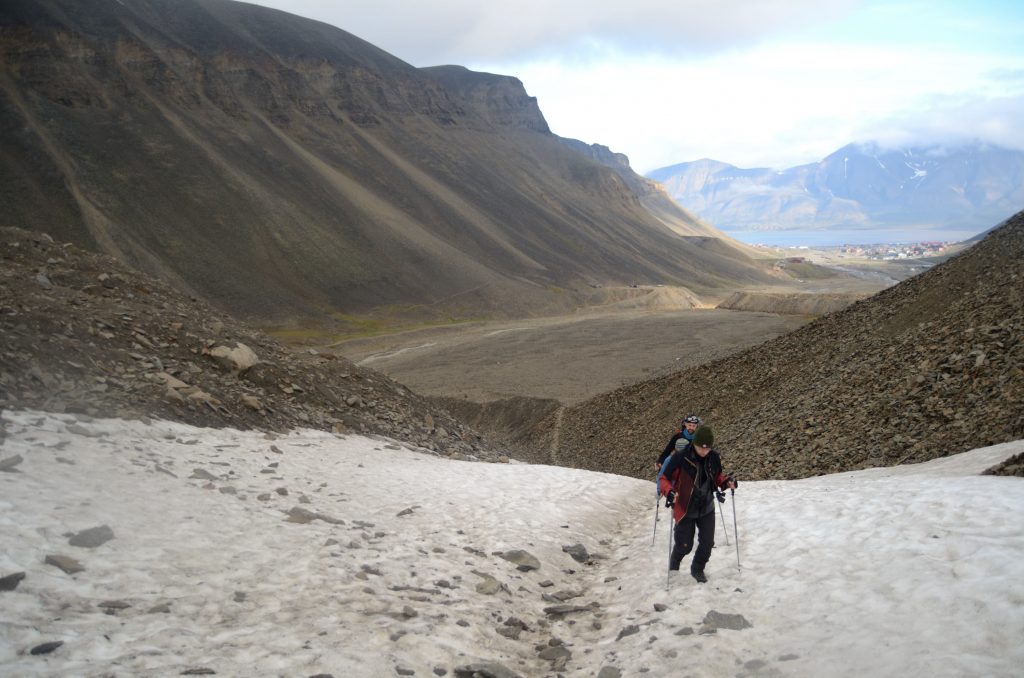 The Glacier
Finally, we reached the glacier. Walking o its surface was easy as it was soft due to high temperature. Therefore crampons were not needed during this part of the trip. The glacier was cut by small streams of water.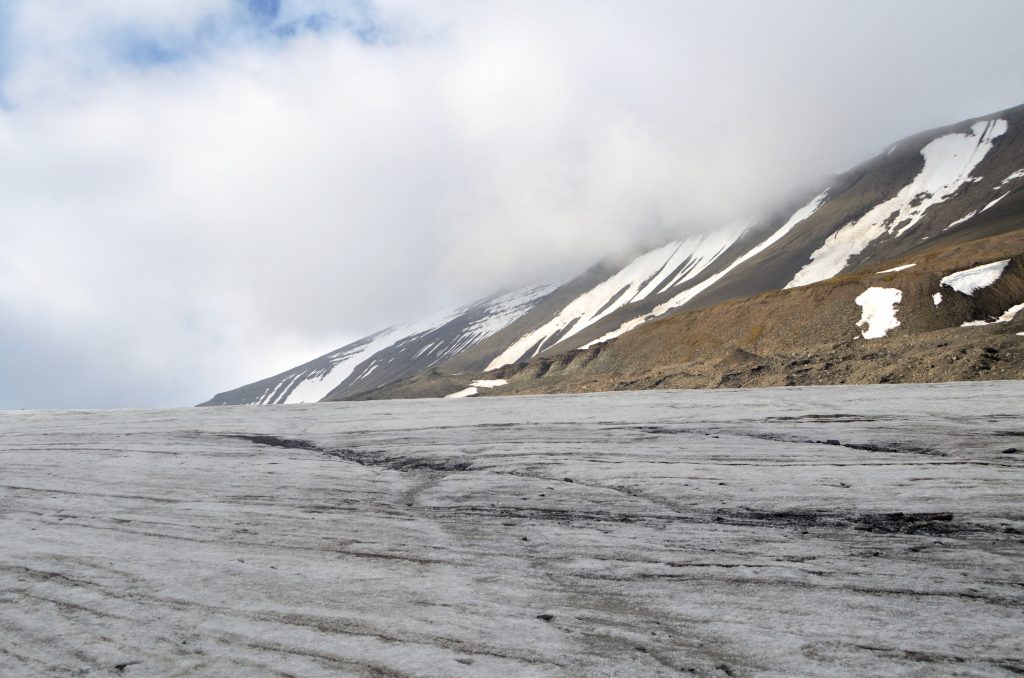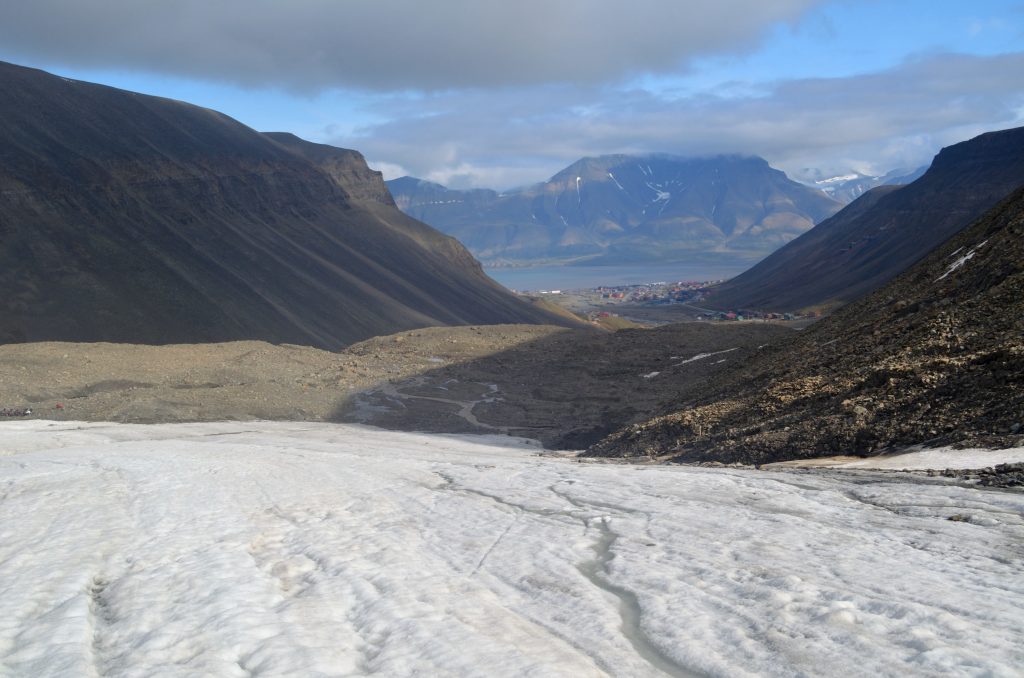 The sun was shining, the weather was simply awesome on that day. Finally, we reached some mix of ice and soil surfaces. Under few centimeters of soil the ground was completely frozen. The terrain was also steep, hence it was easy to slip, and it happened to me. Fortunately, it was nothing serious (at least I thought so back then) and I was able to continue the trip.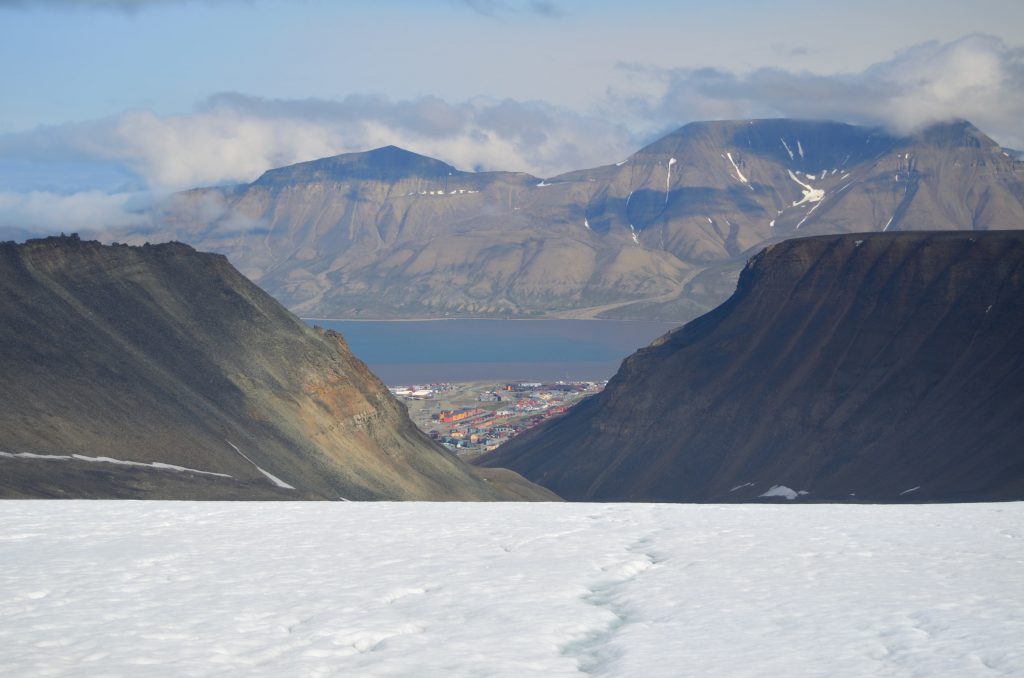 The Second Glacier
After some time we reached the second glacier. This one had a different surface. Our steps created a loud and hard to describe the sound, it was really amazing.
After crossing the glacier we had to climb further. At that moment I wished that I had taken hiking poles provided by our guide. Those had discs at the bottom, which stopped them from digging deep into the snow. The poles that I brought with me were penetrating the snow to the half of their length, therefore it was hard to use them on these part of the hike. Additionally, we had to put on the crampons to avoid slipping on the parts that had solid ice under the snow.
The Trollsteinen
After passing the snow we continued our hike till we reached the mountain top. There we took a group photo and we had a lyophilized lunch. This meal was made by Drytech company from Norway and it was really good (I had a chili con carne). Additionally, we also had some cookies, a coffee and a syrup made from some kind of Norwegian berries.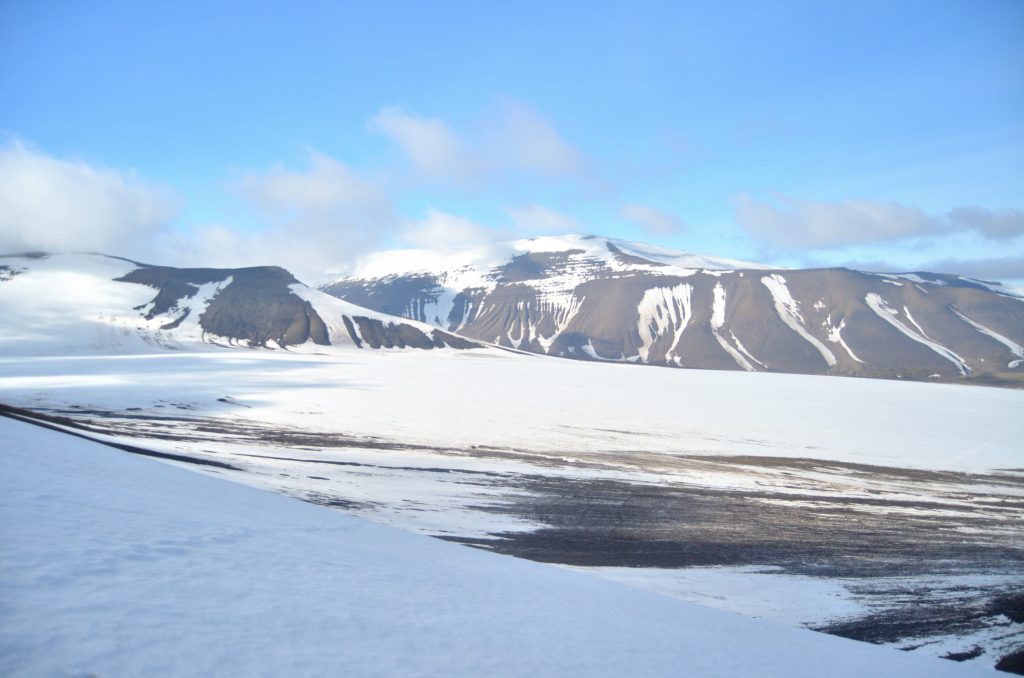 Next, we were joined by other hiking group consisting of three people, they had some questions regarding crossing the glacier. We talked a little and we started our trip down. Walking down the snow covered mountains slope was as challenging as walking up. Then we crossed the first glacier and we took off the crampons.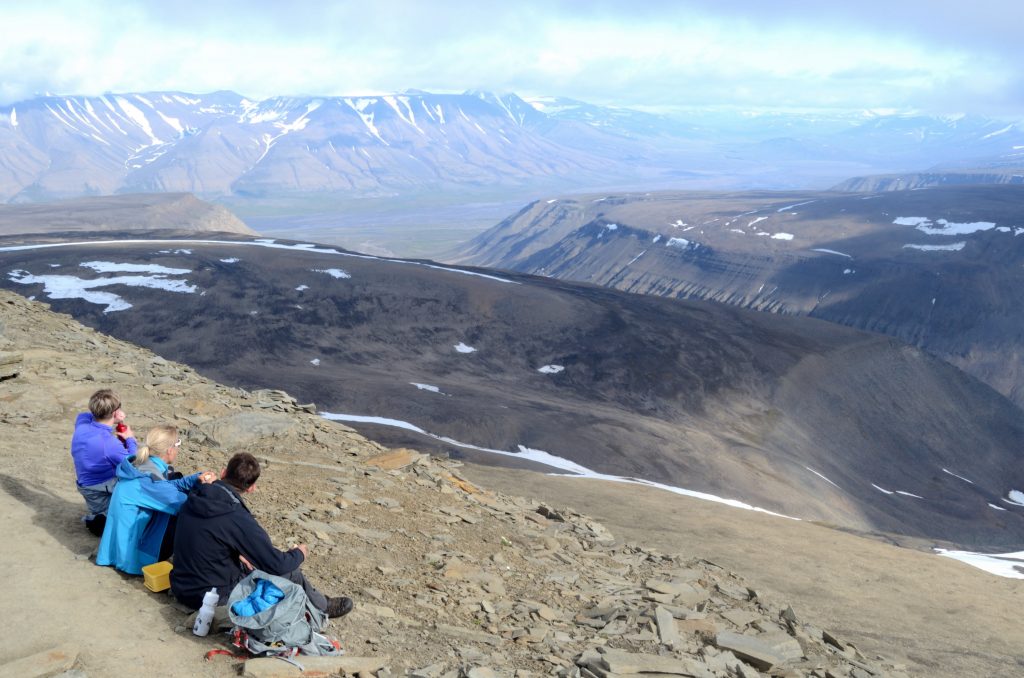 The Fossils
At some point I was walking with a girl from Norway, that was visiting researcher at the University of Svalbard. She was doing research in the field of Arctic navigation. During our walk, she found an awesome fossil, so big that it was too hard to take it and carry it back to the car. If you don't know you are allowed to take the fossils from Svalbard if you find them, and there are many. I also found a few, but those were too large or broken hence I left them for other more interested tourists.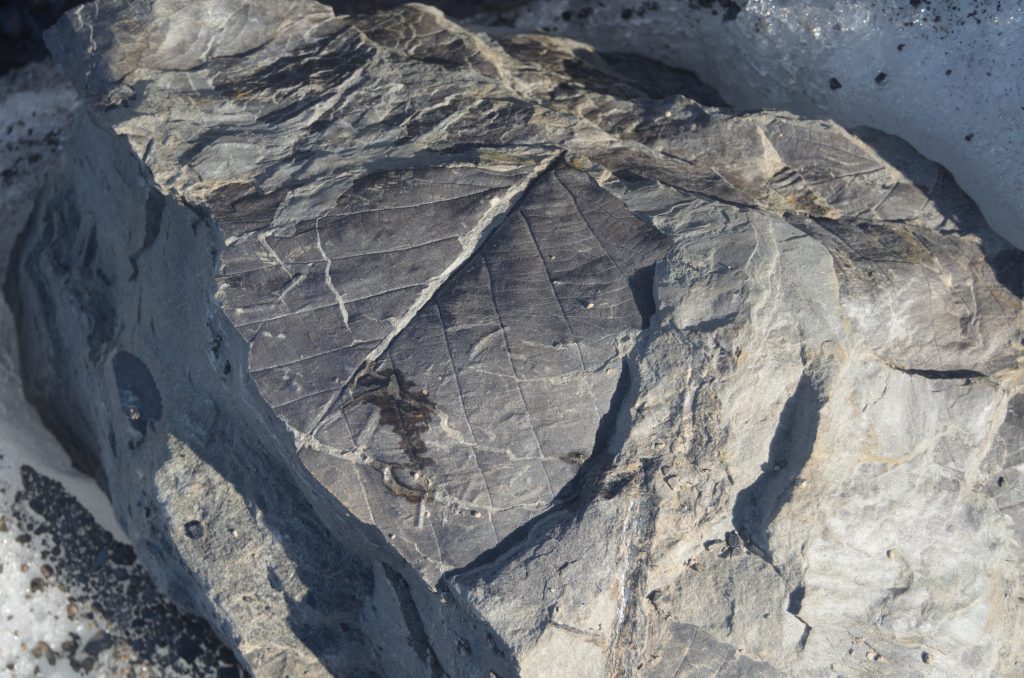 We continued our walk till we reached the second glacier. At its surface, we found a small rocky island at which we had a stop to make a short search for fossils. Then we continued our walk, we left the glacier behind, and we crossed this small bridge again and we reached our car. We were dropped at our hostel, we said goodbye to everyone and entered the hostel.
Back at the hostel
At the reception, we bought two beers made in Longyearbyen brewery and we entered our room. We drank our beers really fast while eating some snacks. Then I had a shower and I started writing down this story.
A lazy day
On the next day, we took a walk around Longyearbyen. Szymon was mostly practicing shooting better videos with his GoPro and a gimbal, I was also making some tests.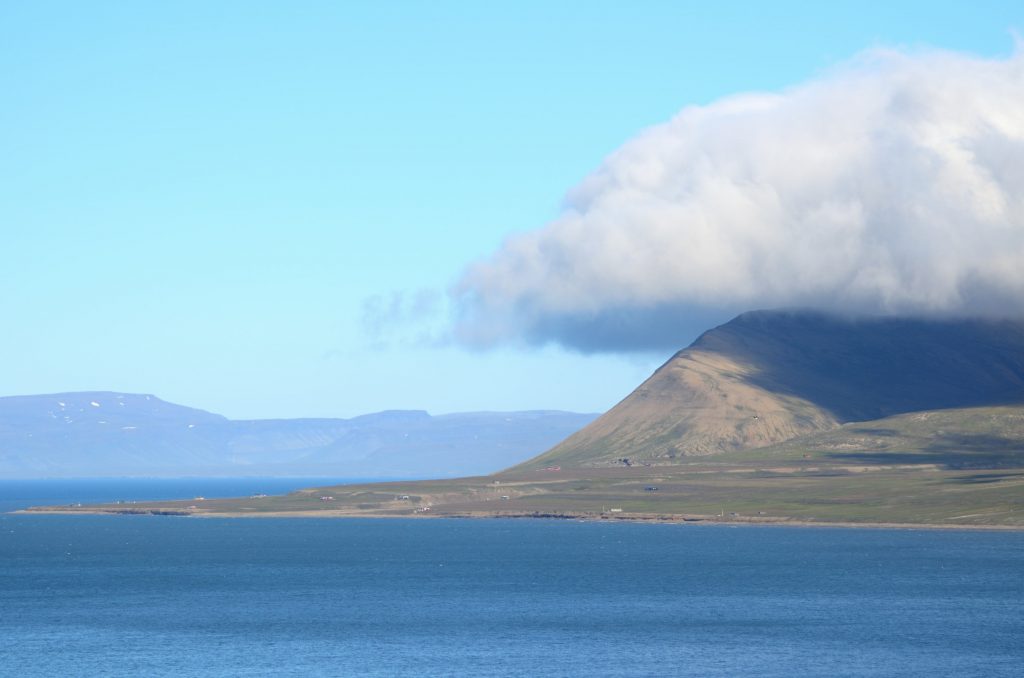 The city was also full of tourists, there were crowds everywhere. The reason for this was a visit of a cruise ship which brought probably more tourists than people living in Longyearbyen.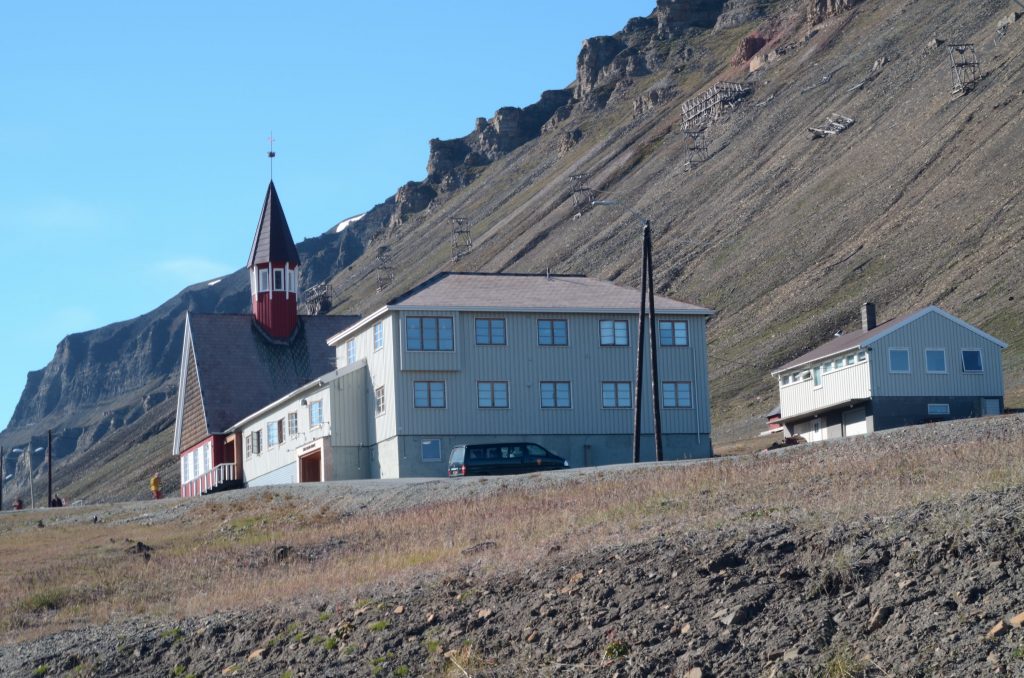 Mine Number 2
Later we visited the area of closed mine which is located between Longyearbyen city center and Guesthouse 102. At the entrance, there is a sign informing the possibility of a collapse of the mine building.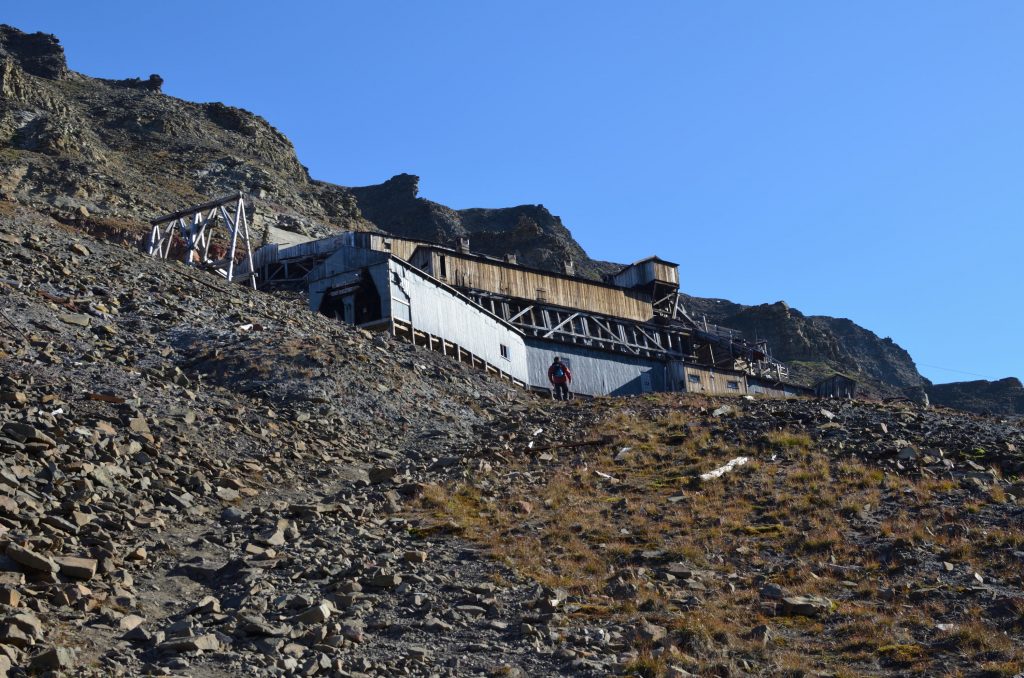 At the entrance to the trail, there was a car parked, and we could see two guys reaching mine building. We then started our hike. It took us like 10 minutes to get to the mine. We took some pictures, and we started walking down. When I walked half the way, I saw a man running down, he passed us entered the car and drove away. At the bottom, we wondered if something had happened to the other guy. Fortunately, we saw him walking in front of the building after a few minutes. We still wondered why the other guy was in such a huge rush.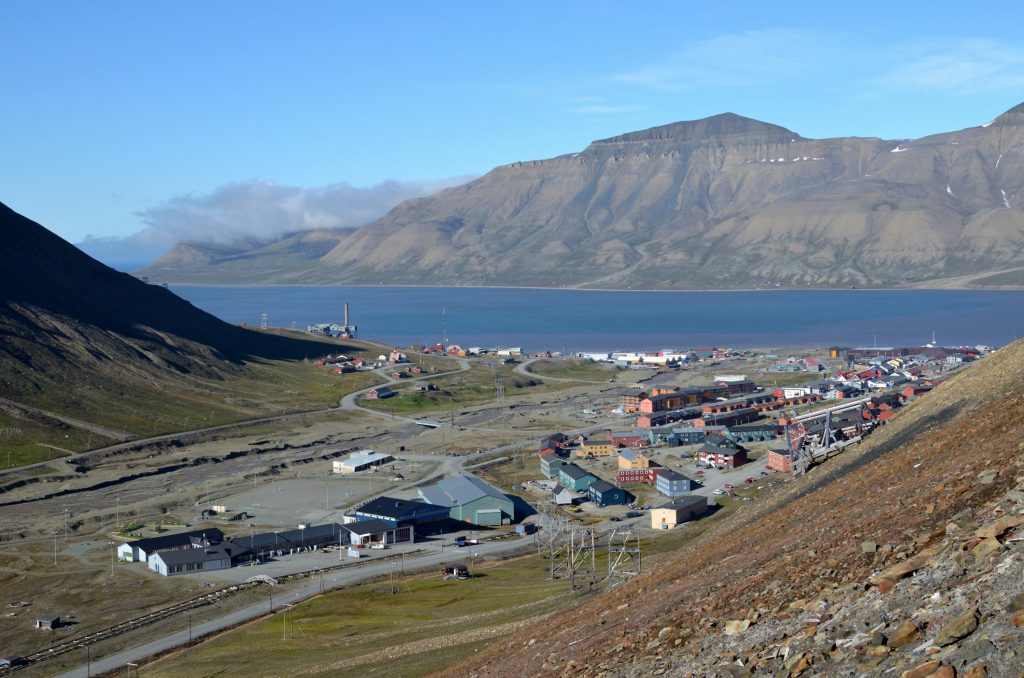 We then returned to the hotel, we had a beer and we started packing our equipment because the main part of our trip was going to start the next day.