Traveling to Oslo
Our trip to Svalbard began in the morning of 28.07.2017. I met with Szymon at the Warsaw Frederic Chopin Airport. Before our departure, we spent about 30 minutes waiting for checking-in and baggage drop.
During the security control, my backpack was stopped and I was informed that there is some metal container inside. I had a short discussion with one of the guards, and finally, he said that there was a mistake. The container was actually in Szymon's backpack and it was a thermos.
After security, we visited one of the shops in the terminal to buy some beverages, and we headed to our gate. For our flight to Oslo, we were given seats near the overwing exits, this resulted in a lot of free leg space and in a very comfortable journey.
At the Oslo Airport
After arriving in Oslo we took a long walk around the airport terminal. We had a lot of free time, as our departure to Longyearbyen was scheduled at 22:30. After the walk, we found a place to take some rest and we had lunch. Later, I tried to buy some Norwegian currency (NOK) from a machine, but there were problems with my credit card.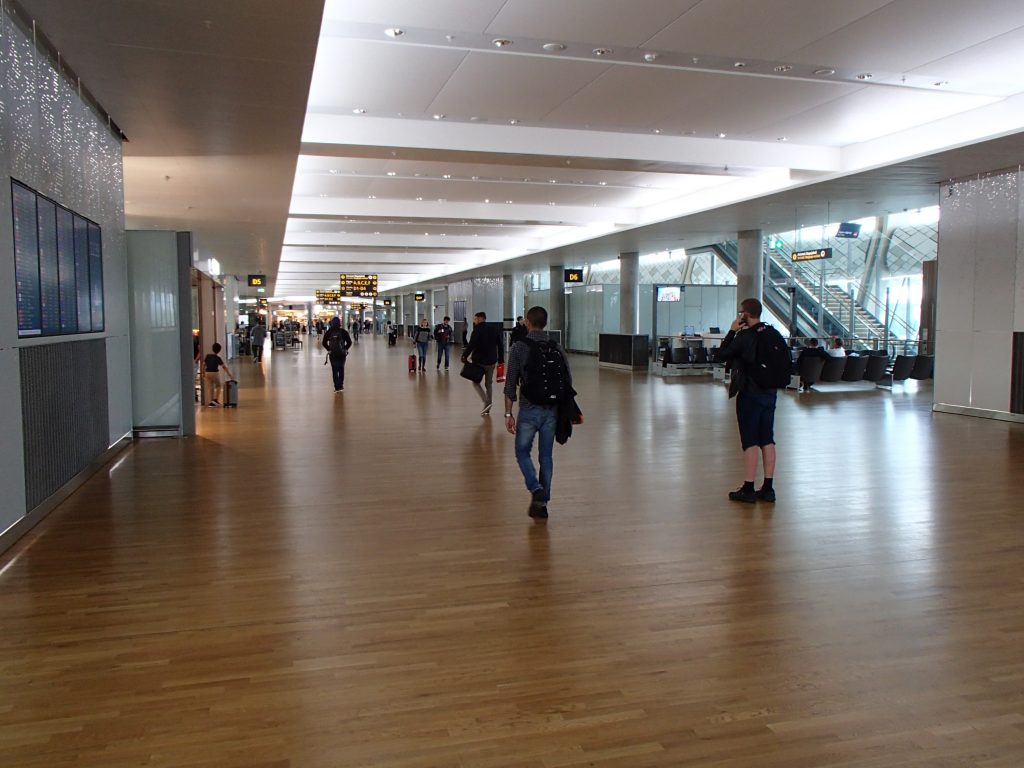 Some time has passed and we decided to find some warm water for our lyophilized food. Unfortunately, we had to pay 25 NOK at some shop to obtain it. My meal was quite good (though I'm not sure about what kind of dish it was).  While we were having dinner, a group of people from France sat near us (we met them later in our hostel in Longyearbyen).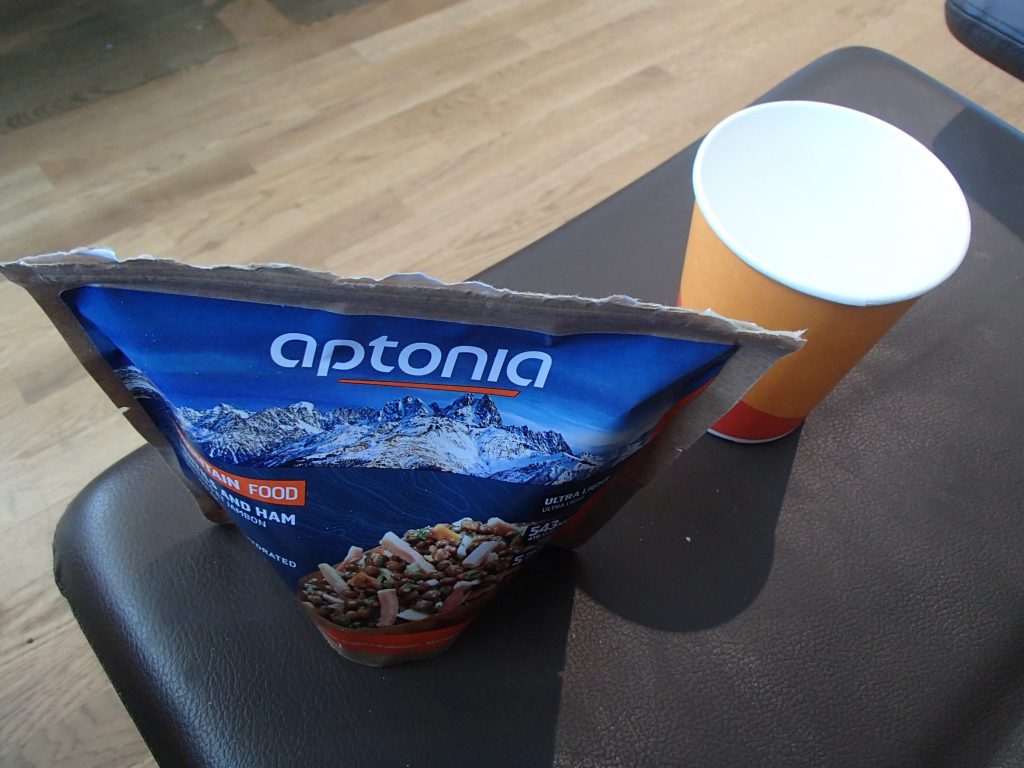 Before our departure, we refilled water bottles from the fountain available at the airport terminal.
Flying to Longyearbyen
The departure was getting nearer, and the crowd started gathering at the gate. The plane was probably full during the flight., Unfortunately, this time we got much less comfortable places, but at least I got a place by the window. After some time I had problems to feel my legs and I tried probably all sitting positions.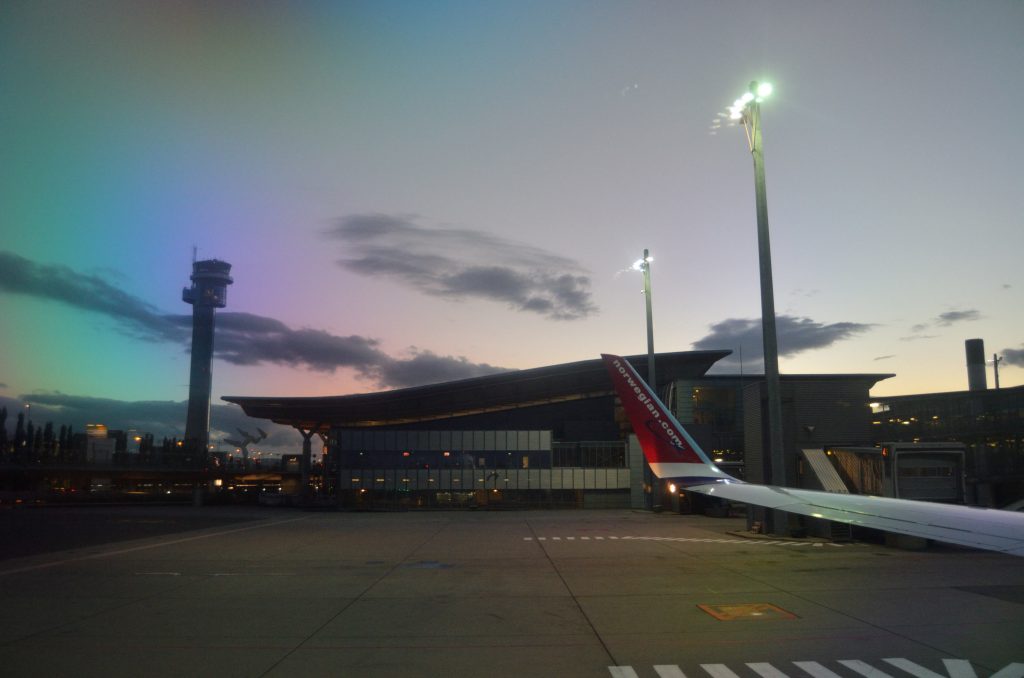 Though the midnight was approaching, it was getting brighter as we were getting nearer to the north pole. Finally, we saw mountain tops covered in snow, it meant we arrived at the destination spot.
After we left the plane, we walked to the terminal. At the luggage pickup point, we were welcomed by a polar bear. While waiting for our luggage we saw a lot of strange looking packs, which probably contained some kind of scientific equipment (there were also some researchers traveling on our plane).
Night at the campground
We left the terminal and we took about 400m walk to the campground. Szymon booked a tent a day before our departure, and I have to say it was a great idea. We paid 280 NOK in total (including sleeping pads and a tent).
When we entered the campground, I spotted our tent quickly, and we started preparing our sleeping equipment. Next, we took some photos of the surroundings. From our tent, we had a great view of the glacier located on the other side of the bay. Finally, we prepared some tea and we put it in our thermal bottles. It was a strange moment, 3 a.m., it was as bright as during the day, and some guy was cooking dinner.
Finally, we were ready to go to sleep. I had a really warm sleeping bag (I've learned a lot from our trip to Gran Canaria), hence I decided to go to sleep only in underwear and a cap. I also put the thermal bottle in my sleeping bag to keep tea warmer. When I was trying to fall asleep, I wished I had taken my own self-inflating mat, as I would get much more comfortable sleep (I felt all rocks in my back).
The morning
We got up just before 9 a.m., after getting out of my sleeping bag, I put some warm clothes as fast as possible as it was cold inside the tent. After putting warm clothes, I had tea that I made at 3 a.m.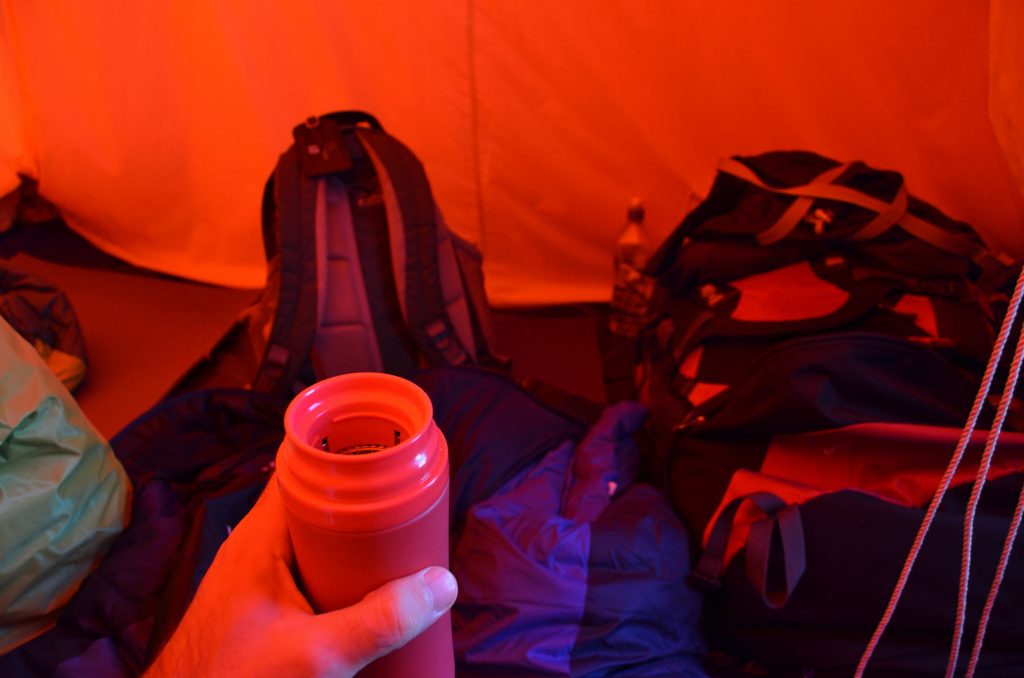 Next, we had breakfast, Szymon went to the campground's facility building to prepare oatmeal. I had beef jerky, polish special crackers, and peanut butter.
After breakfast, I went to the bathroom to wash my teeth and we were ready to take a walk in the campground area. We saw some birds flying over our heads, they were probably protecting their nests. We went back to our tent to have dinner.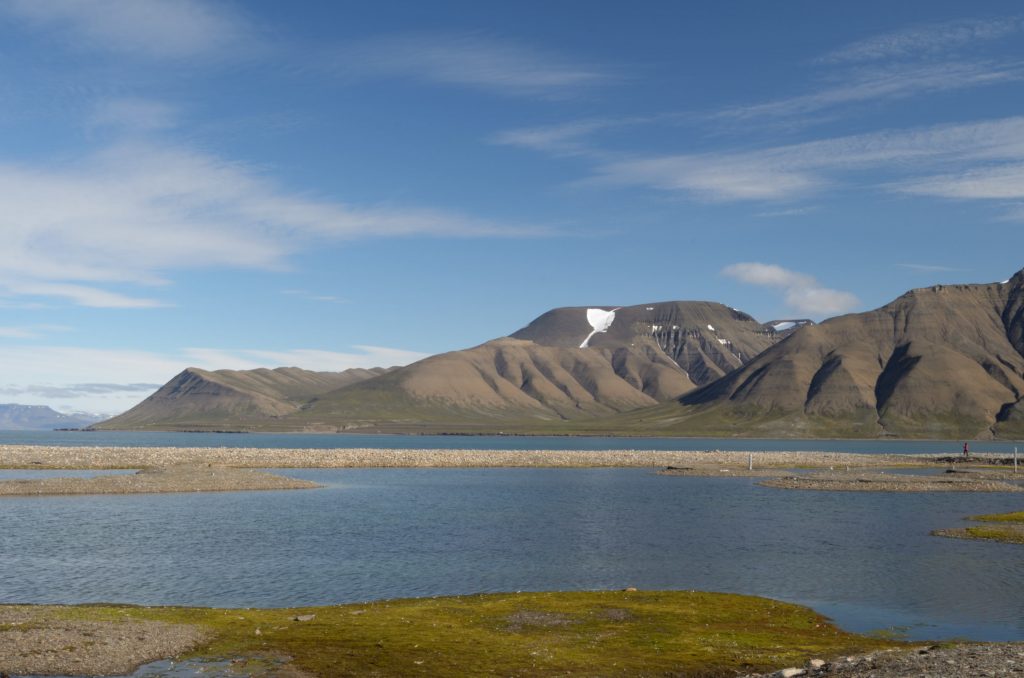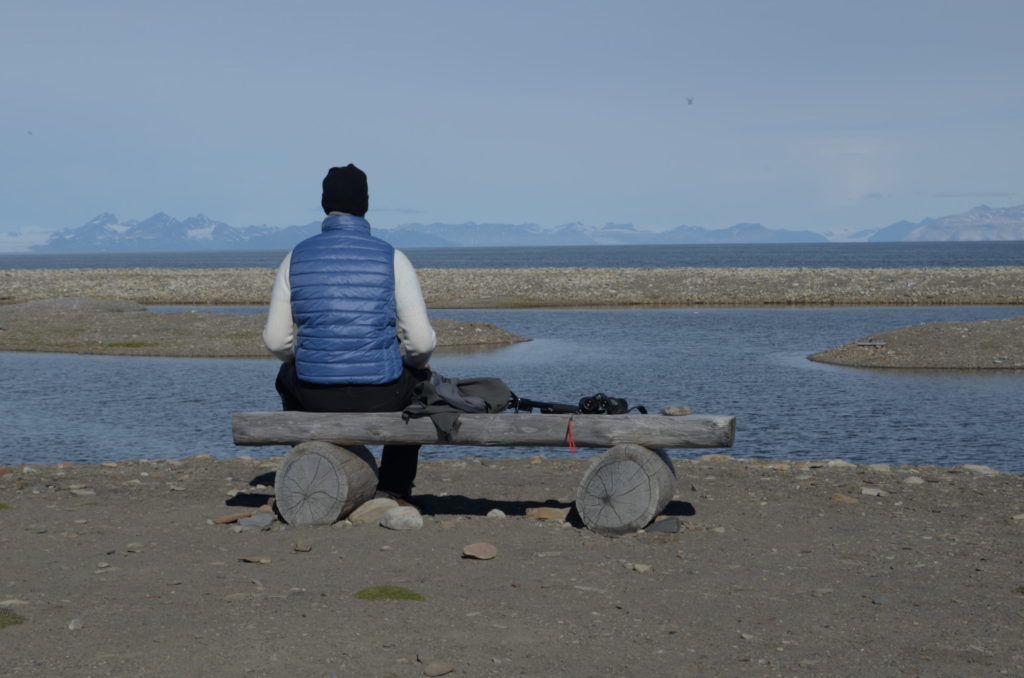 Finally, a time to leave the campground was approaching, we visited the campground building for the last time to make some hot tea.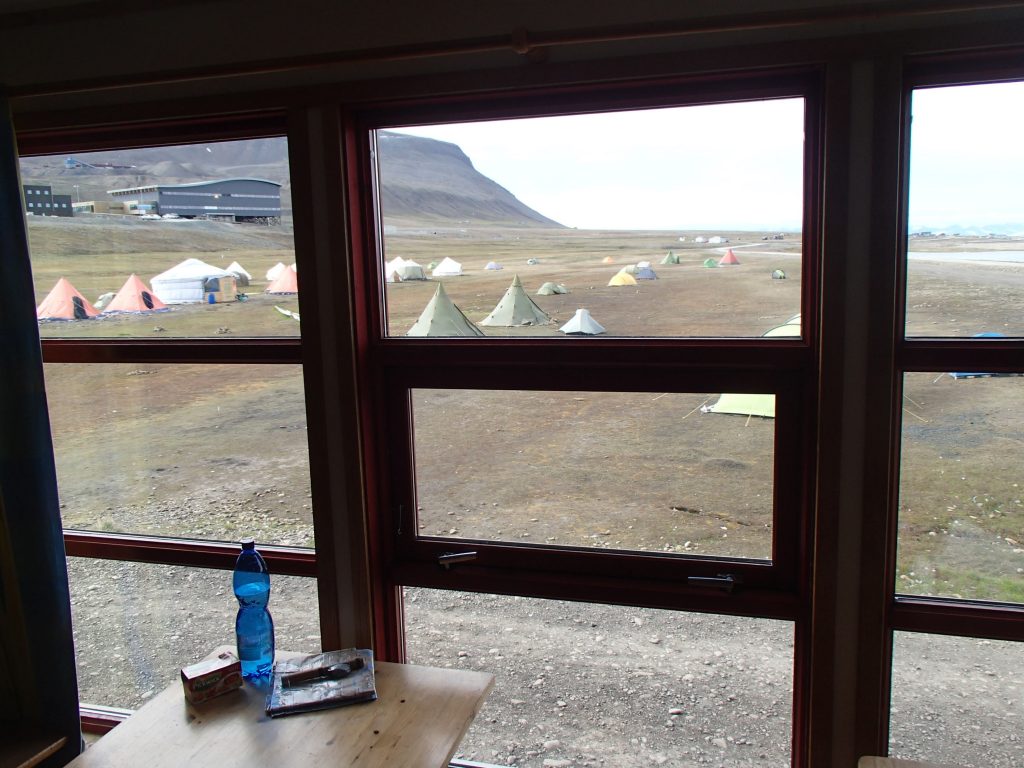 Getting to the hostel
We started walking to the airport terminal to catch a bus and we realized that the buses are probably correlated with the airplanes schedule. Unfortunately, we were right. There was no bus on that day. Happily, there was a taxi number at the bus stop. I called the driver to ask for the price, and to find out how much time it will take for him to pick up us from the airport. Fortunately, he was able to arrive at the airport in 15 minutes. For the trip to our hostel in Longyearbyen (Guesthouse 102), we had to pay only 199 NOK in total. The bus costs about 75 NOK per person.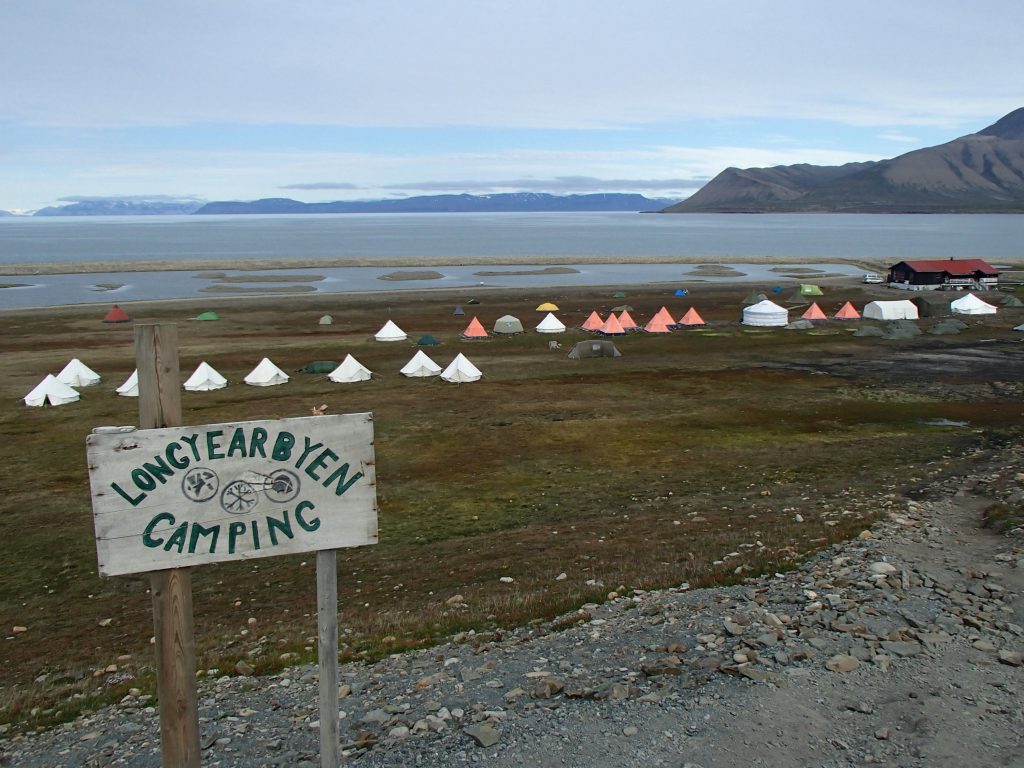 In about ten minutes we were standing in front of the hostel. The hostel was located at the south end fo Longyearbyen, a worlds northernmost city with a population over 1000 permanent residents.
When we were entering the hostel we had to take off our hiking shoes (it's a custom on Svalbard to do so).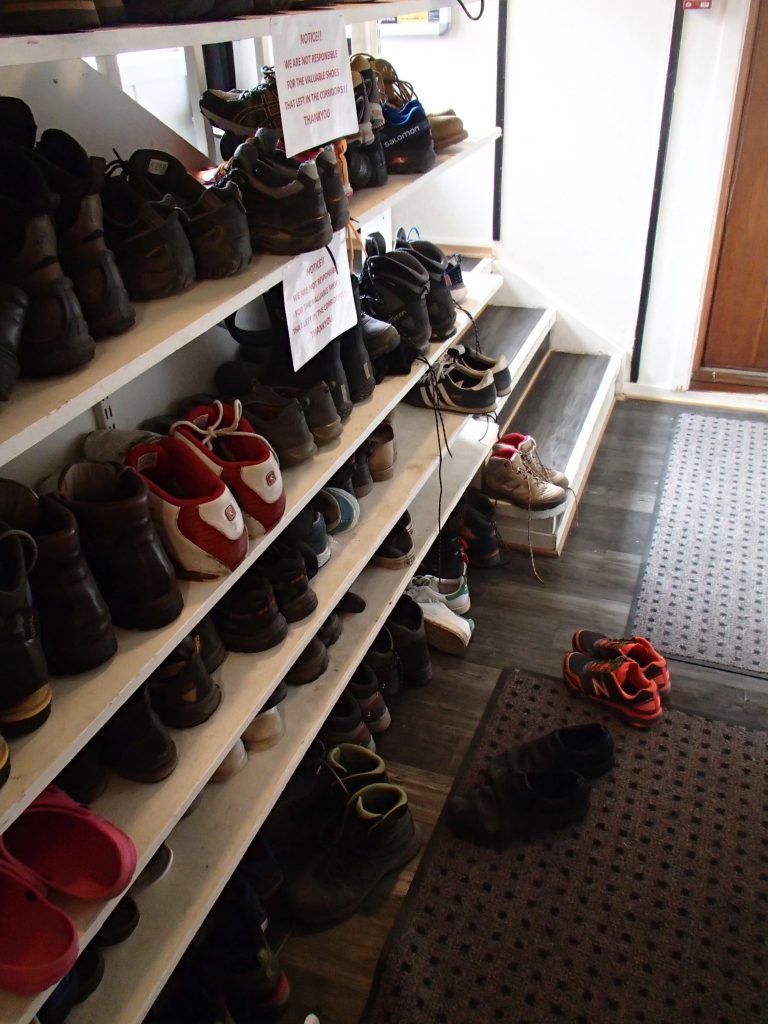 After a short conversation with the receptionist, we were given a key to our room. The room was equipped with two beds, a chair, a small table, a closet, and a washstand. It was completely fine from our perspective and behind the window, we saw reindeer having a feast.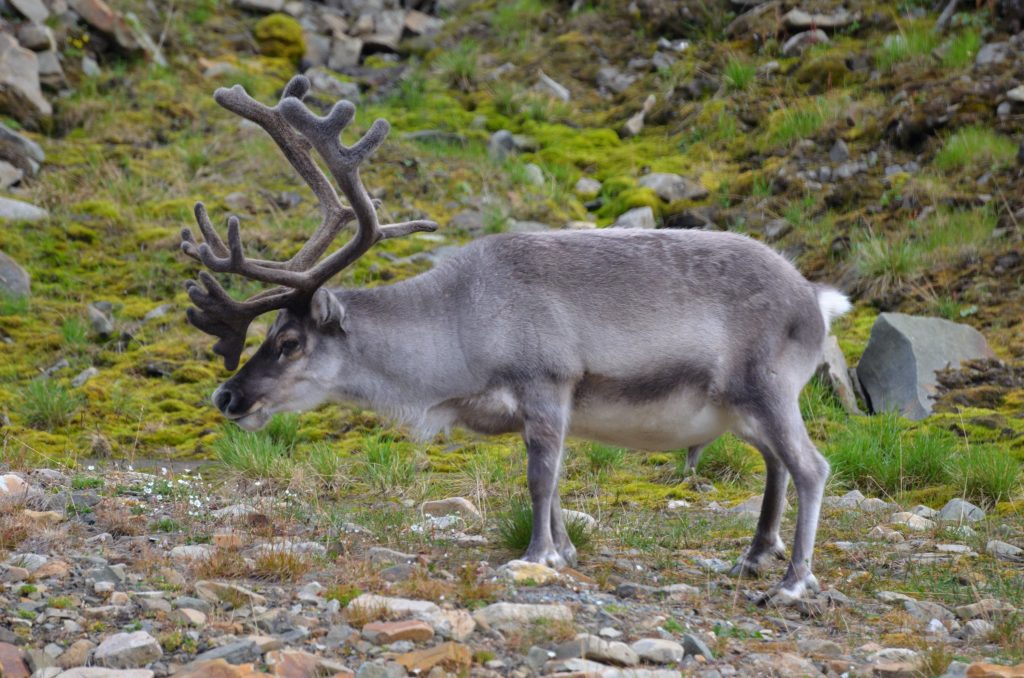 Walking around Longyearbyen
We unpacked our gear and we decided to take a walk around the town. On a way o the city center we passed saw school and kindergarten. We passed nearby construction of new apartments. Finally, we reached the city center. There we entered a large store named COOP to check the prices of food and souvenirs. Depending on the item we checked, the prices were two to five times higher than in Poland.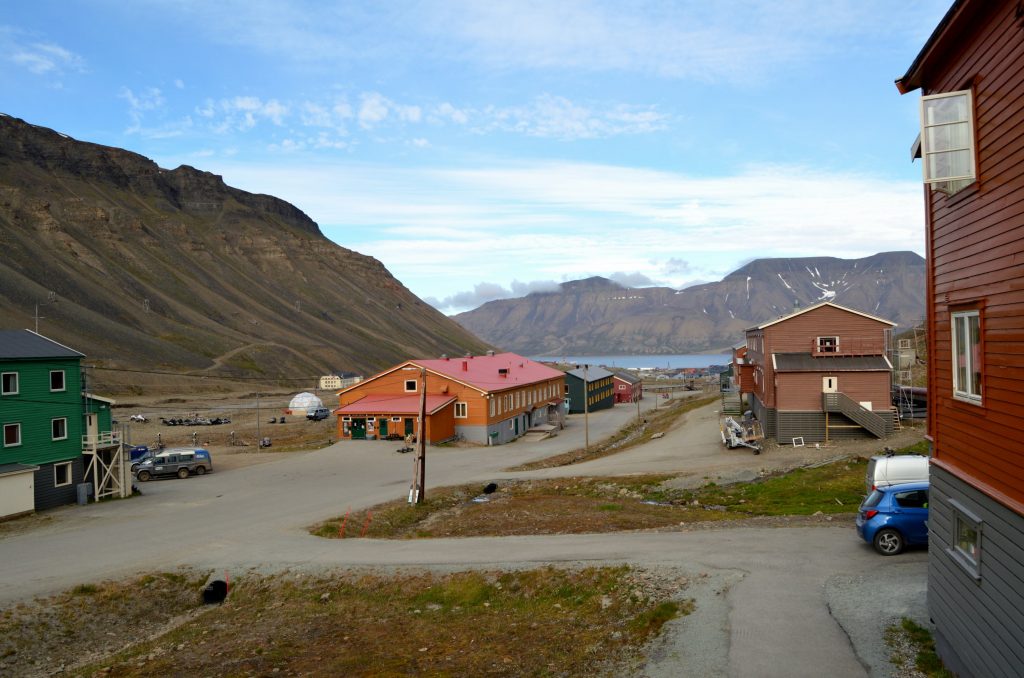 Next, we passed the miner statue and we walked further north. Behind the building of the University of Svalbard, we turned right and we walked in direction of the dog yards.
On our way, we saw some weird looking birds. Then the wind got stronger, and and it got really cold. I was freezing, the weather changed so fast, that we were reminded where we actually are.
Just behind the dog yard, we reached the famous sign, which warns the visitors about the area being inhabited by polar bears. Due to these animals leaving on the Island, you are not allowed to leave towns without a rifle and knowledge on how to use it.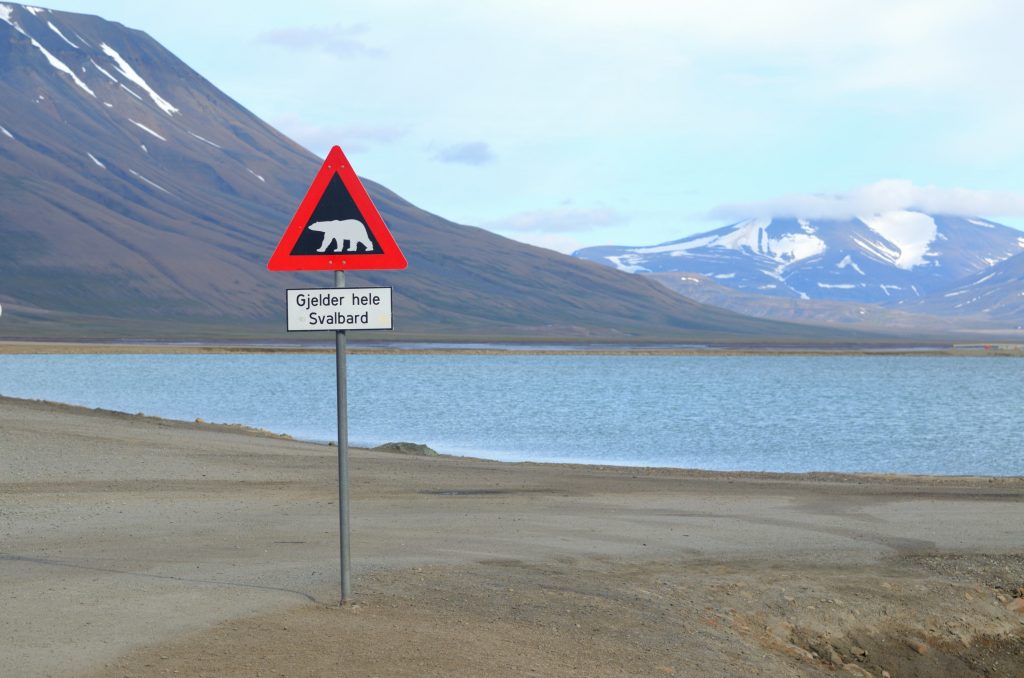 From the sign, we returned to our hostel. The walk took us about one hour. At the hostel, we had a local beer (59Nok for 330ml) and we started preparations for the next day of our trip.