Introduction
In April 2013 we decided to make a family trip to the city of Pula in Croatia. This trip was triggered by really low prices of the airplane tickets. We only had to pay about 130 zlotych (probably about 35 euro at the time) per person. But there was a small catch, we had to spend a night at the Oslo Rygge Airport during our trip to Croatia.
The trip started just a few days after my return from London. I returned on Monday, and we departed on Thursday. It was this great time when I was able to travel a lot, and I could afford it without any problems. Nowadays I had to limit the number of my trips as I have less time. I also have other expenses (like trying to run two startups). Hopefully, I will be able to bring back these beautiful old days soon.
Traveling to Oslo
Our departure from Chopin Airport to Oslo was scheduled at 9 p.m. I met with other family members at the airport, as I was traveling directly from my faculty (I had lab works with my students between 4 and 6 p.m.).
The flight was smooth, but I got really irritated by all advertisements and lights turned on to the max. I know that you have to expect this kind of things when traveling with low-cost airlines. But in late hours it was really irritating, as I wanted to take a nap. I guess I will take earplugs next time.
Night at the Oslo-Rygge Airport
We arrived at the airport at about 11p.m. This was probably the worst airport I've spent a night at (along with Rome Ciampino). The terminal was small and crowded, and during the night it got really cold. The prices at the airport were also mind-boggling $10 for a small espresso or chocolate bar.
The night passed, and our departure was approaching. While waiting for it, we were able to watch a beautiful sunrise from the airport's terminal.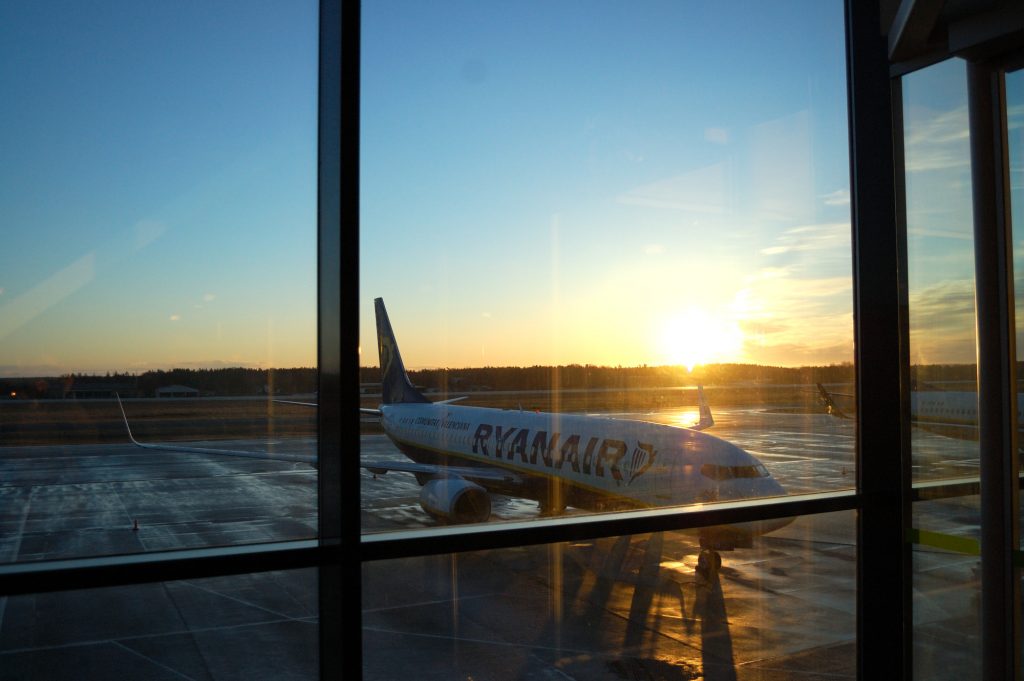 Traveling to Pula
Finally, we were allowed to go through passport control and board the plane. The plane stood the whole night at the airport, hence it was really cold inside before the heating system was turned on.
We arrived at Pula airport without delays. We left the terminal and I made another mistake in my trip planning. I decided that we should take a walk to our hotel, as it would allow us to see some parts of the city on our way. The problem was, that for a long part, we had to walk along high traffic road, which had no sidewalk.
The city of Pula
Pula is the largest city in Istria County, Croatia and the eighth largest city in the country. The city is located at the southern tip of the Istria peninsula. The city has been Istria's administrative center since ancient Roman times.
Due to its connection to the Roman Empire, the city offers beautiful ancient sights. On our way to the hotel, we were able to see two of them.
The first one was an ancient amphitheater – The Pula Arena. It is the only remaining Roman amphitheater to have four side towers and with all three Roman architectural orders entirely preserved. I've seen the Colosseum and the arena in Pula was as impressive.
This slideshow requires JavaScript.
The second sight was the Arch of the Sergii – a Roma triumphal arc, which was constructed approximately in 29-27 BC.
The hotel
After over 2 hours we finally reached our hotel. The booking cost was 117 euro after the taxes for three nights (7,8 per person/night). We booked a cheaper room with a garden view, but probably due to low season, we were given a room with a nice balcony and a sea view. It was a great and nice surprise.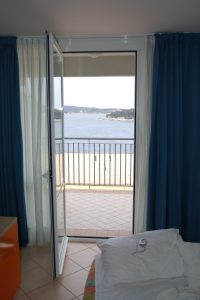 Our room was really clean and spacious. It was a studio with an additional bedroom. There was only one drawback that I can remember – it was getting quite cold at night inside the room.
The coast and beautiful streets
If you are hoping to see beautiful beaches, with white sand you will be disappointed. The shore is rocky and the beaches I saw were made of gravel. As I'm not a fan of this type of coastal scenery, I preferred walking along the shore, especially as there was a nice trail.
On the other side, the streets of the city have this beautiful mediterranean look. The buildings are colorful and climatic.
This slideshow requires JavaScript.
The city of Pula is located on hills, hence the visitors can enjoy a beautiful panoramic view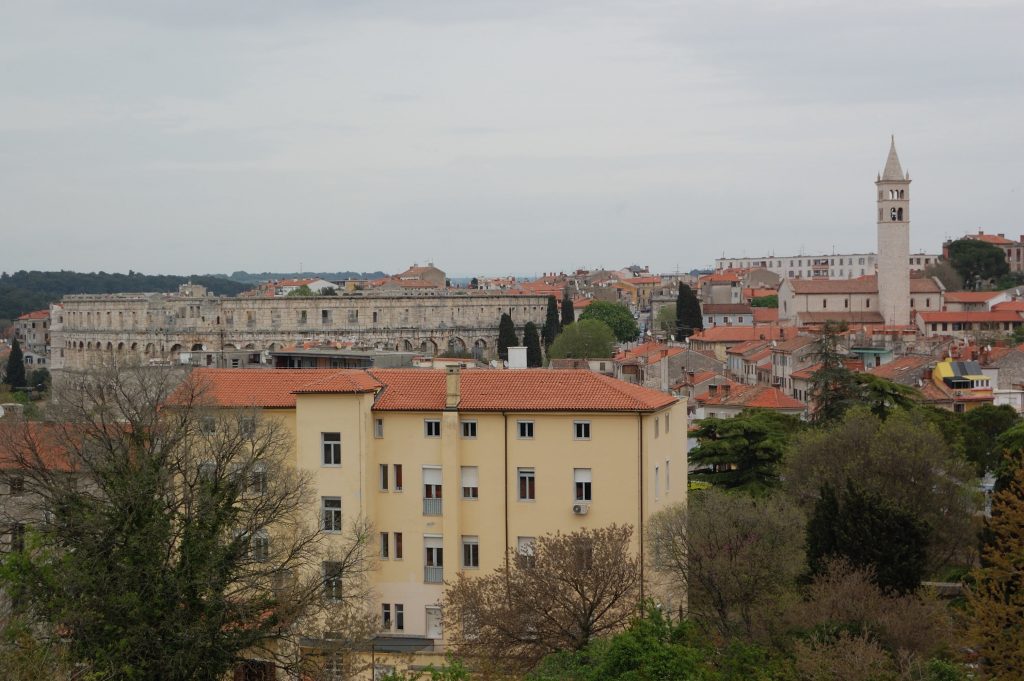 During our visit to the city, we've accidentally visited a Naval Cemetery. This place is really well maintained and climatic.
This slideshow requires JavaScript.
Trip summary
I really enjoyed this trip, and at the cost below 60 euro, it was a great occasion. Of course, I'm not counting my food expenses (I would also need to eat if I had stayed in Poland).