Trip Introduction
I visited the city of Dublin in September 2013. I traveled there from the Warsaw Chopin Airport with Ryanair. These were the great times before the airline moved the flights to Modlin Airport (it has happened just a few days after my return).
For this trip, I packed only underwear, a toothbrush, cosmetics, and a point-and-shoot camera.
Getting to the hostel
I arrived in Dublin airport at 11 p.m., from there I took a bus to the city center. After disembarking the bus, I walked to the Jacobs Inn hostel. I had booked only my first night there, as there were no free beds available for the weekend. I checked-in at the hostel after midnight. When I entered my room, I realized that some people all already asleep, hence I decided to not turn on the lights. I took the shower and I went to bed.
I got up early in the morning, and I checked out, as I wanted to start my sightseeing tour as early as possible. Hence I cannot give any opinions on the hostel or a staff. But everything seemed fine, and this place has a high rating on booking.com (8.2 at the time of writing this post).
Sightseeing in the morning
I left the hostel before 9 a.m., and I started my sightseeing tour. I had no exact plan, the two goals for this day were to visit the Saint Patrick's Cathedral and the Guinness Storehouse.
The light wasn't great during my visit, hence I wish I had taken my DSLR instead of point-and-shoot camera, as a lot of images came out blurry. During my walk, I visited the Parliament Square of the Trinity College. A the time of my visit, the student's organizations were preparing stands for some kind of event. From there I headed to the cathedral.
This slideshow requires JavaScript.
Saint Patrick's Cathedral
Visiting the cathedral was one of the most important points of my journey. I love old sacral buildings, as they bring something special, you can feel a connection between history and faith in these places.
Saint Patrick was a missionary in Ireland during the second part of a fifth century. Very little definitive information is known about his life. However, according to legend, he used a well somewhere in the general area of the Cathedral to baptise new converts to Christianity.
Saint Patrick, known also as the "Apostle of Ireland", and he is a patron of Ireland. The date of Saint Patrick's death (17-th of March) is celebrated around the world as a Saint Patrick's Day.
This slideshow requires JavaScript.
The Guinness Storehouse
Next, it was a time for the second most important point of my visit – the Guinness Storehouse. I walked there from the Saint Patrick's Cathedral. The walking distance is just about 1,2km, hence it took me under 15 minutes to get there.
The building has seven floors. On the highest floor, there is a bar with a 360-degree view of Dublin. Bellow, there is a dining hall, a floor dedicated to the history of Guinness and a large store with souvenirs.
After learning the history of one of my favorite beers, I decided to visit the dining hall. I ordered an Irish stew with mashed potatoes and Guinness beer. After the meal, I visited the seventh floor to enjoy a beautiful view of Dublin and another pint of beer. Finally, I visited the store to buy some souvenirs. I've bought two types of beer glasses. The glasses were, appropriately packed at the store hence I was able to transport them to Poland without any problems.
This slideshow requires JavaScript.
The evening
I got really tired after all this sightseeing, hence I decided to head to the hostel. I booked two nights in Isaacs Hostel, which also has awesome ratings at booking.com. After checking-in, I took a shower followed by a short nap.
Later, I watched a movie (Cloverfield) in hostel's basement with two guys from India. We had huge problems to watch this movie without laughing.
Buying some gifts
In the morning I took a walk to the Carrolls Irish Gift store to buy a gift for my parents. The selection of souvenirs was huge, so It took mi some time to make a decision. Finally, I've decided to buy a cooking gloves with drawings of main sights of Dublin.
After shopping, I walked to St Stephen's Green. It is a public park, which was opened in 1880. I've spent some time there before returning to the hostel.
Visiting the Irish Pub
In the afternoon I was starving, hence I decided to visit a climatic Irish Pub. I went to a pub located near the Isaacs Hostel – The Celt. Inside I ordered an Irish stew with mashed potatoes and a glass of Guinness beer. The food was tasty, and the pub interior had this beautiful traditional design…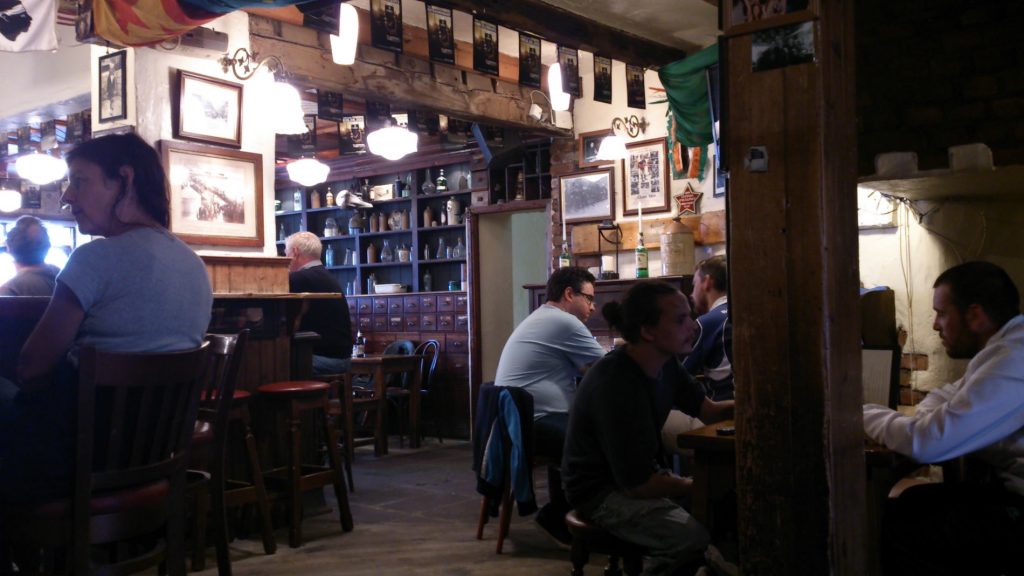 Some time ago I've seen this pub on one of the most popular cooking/travel shows on the Polish television.  You can watch this episode here, The Celt pub is presented at the end of this video.
Short walk in the evening
In the evening, I did a short walk along banks of the River Liffey, which was followed by a visit to Temple Bar area.
This slideshow requires JavaScript.
Traveling back home
The Isaacs Hostel was awesome, and I can highly recommend it, but it was time to leave. I checked-out and I took a short walk in the area.
On my way back to the airport I have seen a huge number of sports fans. The internet search at home revealed to me that the All-Ireland Senior Football Championship Final took place on that day.

I was born in Warsaw, Poland. I lived there for over 30 years. Since December 2018 my life stretches between my home country and the UK. I hold a Ph.D. in Photonics Engineering. I'm interested in STEM, startups and the proper version of FOOTball
If you spot any grammar errors in the text, please let me know, I will be happy to make corrections.