Trip Background
It was my second traveling-solo experience. Before New Year's Eve of 2012, I spent a lot of time on Ryanair's website looking for a good travel deal from Warsaw. Finally, I spotted the possibility of making a round trip to Barcelona for about $50. I made a booking without further consideration. Later I checked climate data for the average temperatures in the city at the beginning of February. The temperatures were lower than I expected. This was bad, as I hoped to synthesize some vitamin D to lower the risk of depression ;).
Fortunately, I came up with an idea of visiting one of the islands of Canary archipelago. As I was limited by dates of flights and my budget, hence I selected the island of Fuerteventura. This selection allowed me to spend a day sightseeing in Barcelona. Other days allowed me to recharge batteries in full sun. Also, the ticket price for a round trip from Barcelona to Fuerteventura was about $40, a complete bargain.
Flying to Barcelona
For my trip, I packed some t-shirts, flip-flops, cosmetics, toothbrush, boardshorts, a point-and-shoot camera, and a sleeping bag. The last item was needed as I planned to spend two nights at the airport in Barcelona.
At the Warsaw Chopin Airport, I met an old friend – Kasia (this was a huge surprise). She was also flying to Barcelona, so at least flight was much more interesting than I expected it to be. Our plane departed from the Warsaw Chopin Airport at 10 a.m. After l arrived at El Prat airport, I took a train to the city center. I had spent about 8 hours walking in the area before I returned to the Airport.
Short sightseeing in the city of Barcelona
At the start of my sightseeing, I randomly stumbled upon buildings designed by famous Antoni Gaudi. The buildings are named Casa Batllo and Casa Mila, and It's hard to compare them to anything that I have ever seen.
This slideshow requires JavaScript.
Next, I walked to see probably the most famous building in Barcelona (besides Camp Nou) – Sagrada Familia. After admiring Gaudi's masterpiece and taking some photos, I took a break. At the square near Sagrada Familia, I eat a lunch which I bought in a nearby grocery store. It wasn't anything spectacular just a French loaf, cheese, cookies, and a diet coke.
This slideshow requires JavaScript.
My sightseeing ended with a visit to Park de la Ciutadella.
This slideshow requires JavaScript.
Night at the airport
I returned to the airport at about 10 p.m., I was not allowed to enter through security until probably 2 a.m. (I not completely sure). After the airport staff had allowed me to enter through security I visited a toilet and I cleaned my teeth. Then I took out my sleeping bag and I found a bench. It wasn't a comfortable place to sleep, as there was no easy way to lay down on the bench (I wasn't aware that there was a much better place in the other part of the terminal). I haven't set an alarm clock, as my departure was scheduled at 10 a.m.
During my flight, I saw the Sahara Desert and the Atlas Mountains. Additionally, I'm not sure but I think we were also flying over the city of Marrakesh.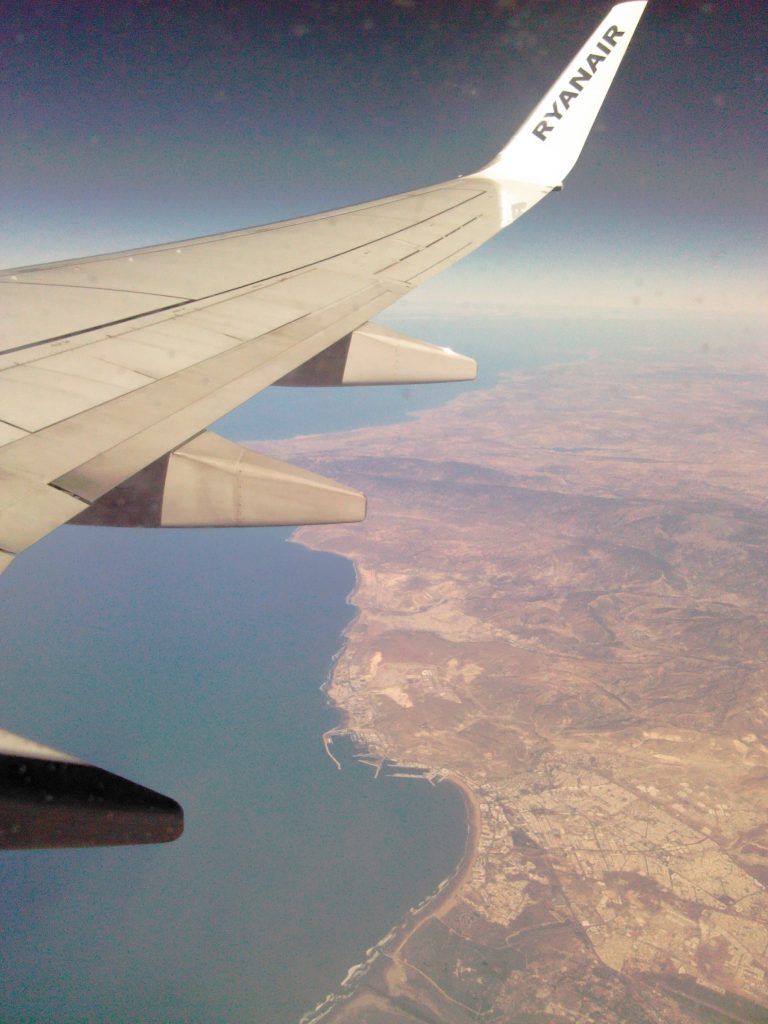 Getting to Corralejo
After my arrival, I changed my clothes to short sleeved t-shirt and shorts. Then I took a bus to Perto del Rosario. From there I traveled to Corralejo. I had disembarked the bus, and I already knew it was a good choice to travel to Fuerteventura. The temperature was about 25C (about 30C higher than in Warsaw) and the sky was clear. I walked to my hotel, and after checking in, I entered my apartment. I've paid about $160 for five nights. This was a bargain price, it was a studio apartment for 3 people, equipped with all cooking gear, flat screen TV, balcony and more.
The Corralejo
 Corralejo is a small town at the north tip of Fuerteventura Island. Once a fishing village, Corralejo has grown into one of the largest tourist resorts on the island. In spite of this, the town wasn't crowded during my visit.
As for my experiences, the beach located near the city is awesome, it is over 11km long and composed of fine sand. There are also great dunes, which are a major tourist attraction and are designated as a nature reserve. The only downside is a strong wind which might become irritating after some time if you are not interested in water sports like windsurfing or kitesurfing.
This slideshow requires JavaScript.
Additionally, I don't know if the situation has changed since my visit, but footprints of the financial crisis were clearly visible back then. I saw a lot of unfinished housing estates which looked like ghost towns straight out of horror movie.
The desert
During one day of my trip, I decided to take a long walk along the island's shore. It was a day with the worst weather I have experienced on the island. It was cloudy, the winds were really strong, and there was even a small rainfall.  During my walk, I've seen a volcanic landscape largely differing from what I saw on the island of Oahu (Hawaii).
This slideshow requires JavaScript.
There were no trees, there were no bushes,  I saw only rocks, sand, and some red-brown grass.
A day in El Cotillo
After a few days, I had seen most of the attraction in the area of Corralejo, and I had also recharged my batteries. Therefore, I decided to make a day trip to the village of El Cotillo. When I arrived, I saw even fewer people than in Corralejo.
This slideshow requires JavaScript.
In the village, you can rent a buggy or a quad. There are also some restaurants. The landscape in the area was resembling Mars' surface even more than it did in Corralejo. In the village, I saw black volcanic rocks and black sand, which are great reminders of the geological history of the island.
This slideshow requires JavaScript.
Nearby the village of Corralejo there is a beautiful beach, which is surrounded by cliffs from north and south. Although the water was cold, I saw some surfers at the beach and in the Ocean.
This slideshow requires JavaScript.
Traveling back to Barcelona
In the morning I've left my hotel, and I walked to the bus station. I took a bus to Puerto del Rosario, and from there I traveled to the airport. My plane departed from the island at 1:25 p.m. and I arrived in Barcelona at about 5:40 p.m.  After my arrival, I ate dinner at the airport and I took out my kindle. I had a lot of free time as my departure was scheduled at 9 a.m.
Second night at the Airport
When 10 p.m. was approaching, I decided to go to sleep. This time I had set my alarm clock. At about 1 a.m. I was approached by a woman from the airport staff. She informed me that there is a much better place to sleep at the airport. I took my sleeping bag and I walked to the recommended place. She was right, I was able to lay down completely on the bench there. This allowed me to take some sleep.
Meeting Ula
I woke up at about 4 a.m., I took a short walk and I spotted a woman reading a Polish book about the Spanish language. I decided to talk to her, and it was a great choice, at least time passed much faster. Her name was Ula, and she was an exchange student at the University of Valencia. Her exchange program had ended and she was traveling back to Poland.
In the meantime I became hungry,  hence I visited the airport's restaurant, and I bought a coffee and some muffins.
Returning to Warsaw
The time of our departure was approaching. I told Ula, that there is no way, that her luggage will be allowed on board due to exceeding the airline policies. We decided to repack some of her stuff to my backpack. It was a good decision, as it allowed her to squeeze her bag into Ryanair's measurement basket.
The flight was smooth, but I was completely exhausted. I still remember a beautiful view of the snow-covered Alps…