Introduction
In October 2013 we flew to Mallorca (me, Kamil and Pawel), to walk a beautiful trail – GR221 (Dry Stone Route). The trail is located on Mallorca's north shore, and it represents a great connection between mountain scenery and sea. While walking GR221, you will see mountain walls entering the Balearic Sea and staggering rocky landscapes. All of this in a silent, and peaceful environment, as you will meet little tourists (at least in October). In this blog, I will describe one of our backpacking days on this beautiful road.
Our trekking on that day started from Port de Soller, and you probably want to ask, why is this story called "Mission: LLuc (Refuge Son Amer)"? On our trip we were short on time, therefore we have decided to combine some elements of two parts of GR221 trail in one day. I resulted in over 30km long walk through mountains, while carrying all our gear. We started our trip at 7 a.m., and we reached destination spot at about 9 p.m.
Getting to the Cúber reservoir
After we left Port de Soller, we walked to the town of Soller. There we've spent some time sightseeing and taking pictures.
This slideshow requires JavaScript.
From Soller, we hiked to Cúber reservoir through Biniaraix. From the mountain passage we saw the staggering landscape, here we met more tourists than in other parts of the GR221. Most of them were part of bus trips that were making small hikes alongside the reservoir, which then continued down to Biniaraix (this allowed for avoiding large elevation gain).
This slideshow requires JavaScript.
While we were walking through the valley we took some pictures, we have also seen some red colored sheep.
A short break
After passing by the first reservoir we came to a nice eating area, there were multiple tables with benches on both sides. We decided to get some rest there, and we also ate our lunch. In the meantime, Pawel caught up with us (he was unexpectedly having a slower pace on this day).
Continuing our walk
After recharging our strengths with food, we proceeded with our trip. Soon we were walking alongside an aqueduct, and seeing the valley and reservoirs from a new, different perspective.
Next, there was a part of our walk which I cannot recover from my memory, partially because I wasn't taking any pictures.
Finally, we arrived at a beautiful mountain pass. Kamil got there a few minutes before me. Then we waited for Pawel. In the meantime, I took some photos.
This slideshow requires JavaScript.
Finding the Lluc
When Pawel joined us, we proceeded with our walk to the Lluc. It was getting late, and the sun was setting behind the horizon. On our way down we had a beautiful view of the moon shining over the mountains.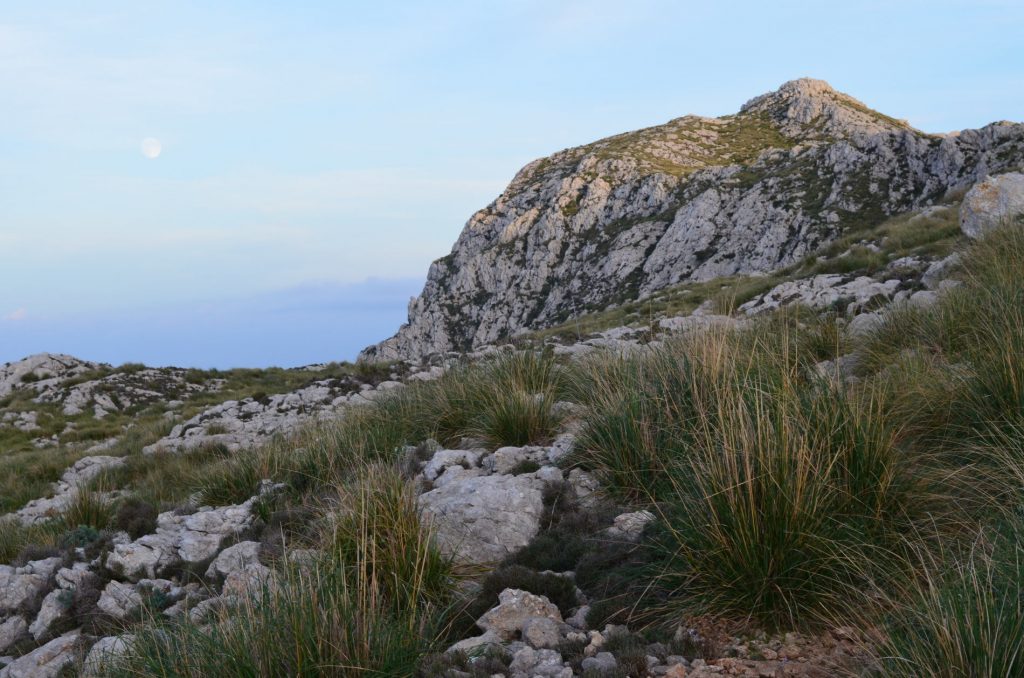 While walking down we saw a man, who was preparing for camping. He pitched a tent and set a fireplace. He also had exactly the same backpack as I did.
When we got to the main road it was already dark, and only I had a flashlight. We had no idea which way we should go to get to the refuge. Fortunately, Pawel had been learning Spanish in the past, therefore he was able to ask one of the locals for the directions.
With this little help, we found the refuge. We checked in, left our backpacks in the room, and started looking for some food…