About our trip
In August 2013, we (me and Kamil) traveled to southeast Poland, to do some backpacking in the Bieszczady Mountains. Here, I will describe the first 48 hours of our trip.
The temperature in Poland on the day of our departure was at year's highest, reaching even 36 degrees Celsius. The day before the departure I packed all my gear. Due to high temperatures, I decided to go with a lighter backpack (Osprey Kestrel 48) and less equipment. I also decided to leave my DSLR and all lenses at home, and I packed a point-and-shoot camera. I also took my lightest sleeping bag, weighing only about 600 grams.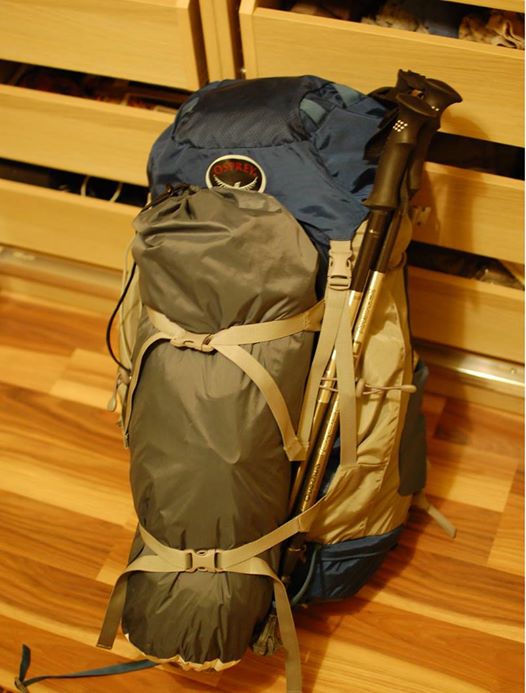 Getting to Ustrzyki Gorne
We decided to meet at the bus stop at about 4 a.m., the bus took us to the Warsaw Central Railway Station. From there we traveled by train to Cracow, the journey took us about 2.5 hours. We spent some time at the shopping center near the Cracow's main railway station, and we've caught a train to the city of Rzeszow. From there we hopped on the local bus to the city of Sanok. We had arrived in Sanok, just five minutes before the departure of the last bus to the village of Ustrzyki Gorne. It was just pure luck, as we were not planning our trip with a bus schedule.
Nightmare on the bus
The bus was old, there was no air-condition and the temperatures were hitting 36deg C. I was completely exhausted after having only 2 hours of sleep during the night before departure, so this bus ride was a great 'fun.' I was constantly falling asleep and hitting the glass window with my head to wake up for a moment. Finally, we arrived in Ustrzyki Gorne, and we checked-in at the campground. We put up our tent and went to find something to eat. As there was a nice restaurant near the campground we decided to eat there. Also having a cold beer was a nice reward for suffering on the bus.
Night at the campground
After refilling our stomachs with great and highly caloric food, we went back to the campground. We took showers (the campground had high-quality facilities), and we went to sleep. During the night, the temperatures dropped to about 6 degrees C. It was little too cold for me, to sleep comfortably. During this night I wished, I hadn't been saving these 300 grams on the sleeping bag. Fortunately, the temperatures were higher during other nights of our trip.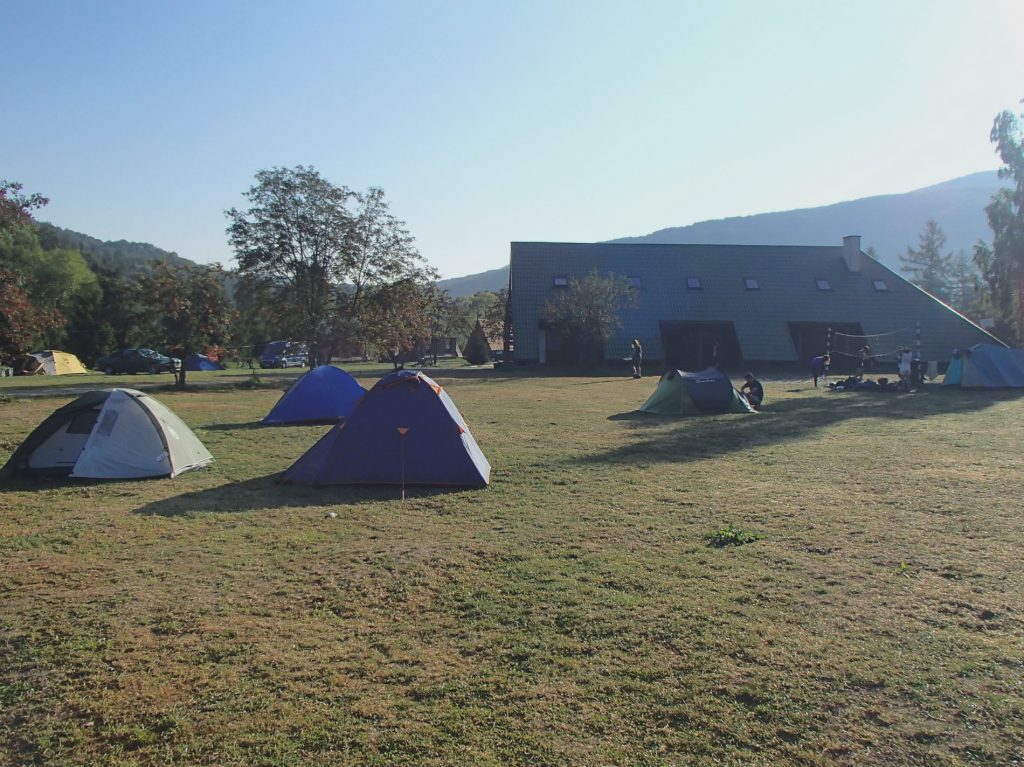 Hiking to the top of Tarnica Mountain
In the morning we were yet unsure if we are going to spend another night in Ustrzyki Gorne. Therefore, we packed all our gear, we checked out from the campground. Then we started our hike to the top of Tarnica Mountain (highest peak of the Polish part of Bieszczady Mountains, 1346 m). From Tarnica we wanted to get to the village of Wolosate. The whole hike was over 3h long (excluding rest stops), with a sum of elevation gains of about 750 m.
On our way up, we passed a father and son, who were going in the same direction. The father's comment about us being professional tourists (due to carried gear), gave us a lot of laughs, and we were making fun of ourselves many times later on this trip.
Getting back to Ustrzyki Gorne
After getting to the top of Tarnica, we took a few pictures, recorded a short video, and we had some snacks. Next, we hiked down to the village of Wolosate, this walk took us about one hour.
Wolosate is the southernmost village in Poland, with only about 45 permanent residents, but before the first World War, the village's population was over 1000. In Wolosate we decided that we will spend another night in Ustrzyki Gorne, and caught the bus to get there. After arrival, we again checked-in at the campsite and we have put up the tent. On this day the temperatures were year's highest, but the weather breakdown was expected the next day. The weather really got worse, but that is another story…
Backpacking in Bieszczady Mountains: Part Two (link coming soon)