The trip idea
I love backpacking and camping, in my opinion sleeping inside the tent is one of the greatest experiences you can get while traveling. In 2015 my love for backpacking returned with the idea that it would be great to do some backpacking in Gran Canaria, as it is a warm and pleasant place even in January. I have convinced my friend (Szymon) that it will be great fun and he joined me on this adventure.
We departed from Warsaw Fryderic Chopin Airport on 27 of January. After over 4 hours of flight, we arrived at Gran Canaria Airport in the late evening, and we took a bus to the Las Palmas, where we' had booked our first night of stay on the island. It was a quiet and warm evening with temperatures around 20 degrees C, and it was a nice change from the unpleasant weather in Warsaw.
Camping permit
Next day we woke up about 8 a.m. and our first full day of backpacking trip began. First, we went to a city office (OIAC – Oficina de Información y Atención Ciudadana) to collect our camping permits, which we had reserved through the internet before our trip. It's required if you want to spend a night on one of the island's campgrounds. Obtaining a permit took us about 15 minutes, and we headed to Las Palmas central bus station. From there we took the bus to Vega de San Mateo.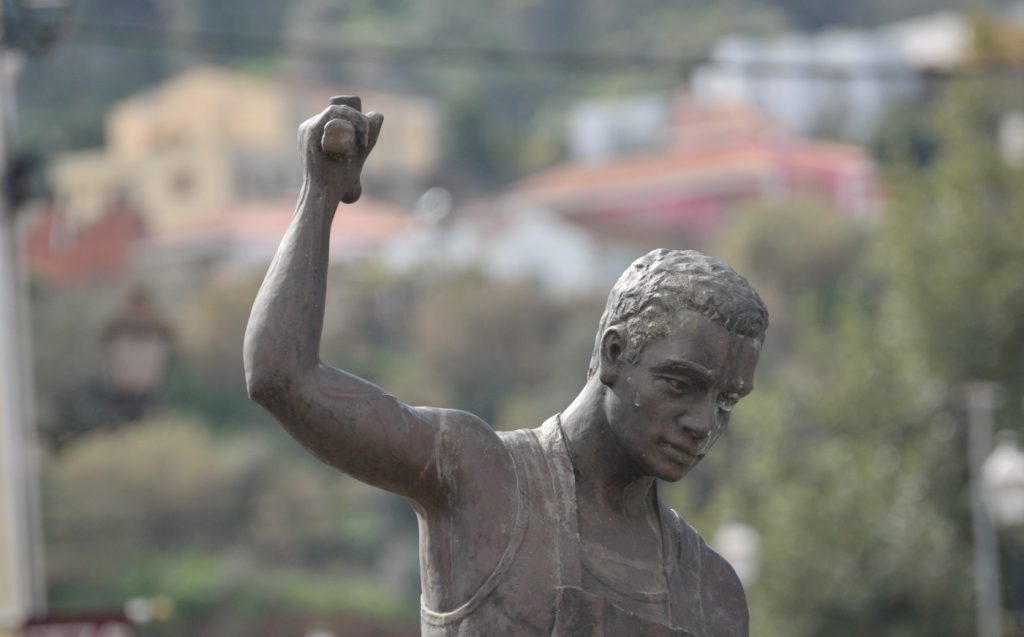 After arriving at the town, we bought some food and water required for two days of trekking, we took some pictures of blacksmith monument and we started our first ascent. The target was a campground – Campamento el Garañón, located at the altitude of 1700m. To get there, we had to hike to the other side of the Pico de Las Nieves (1949m, the highest point on the island). Though I was carrying nearly 20kg of gear on my back, the ascent was smooth at the beginning.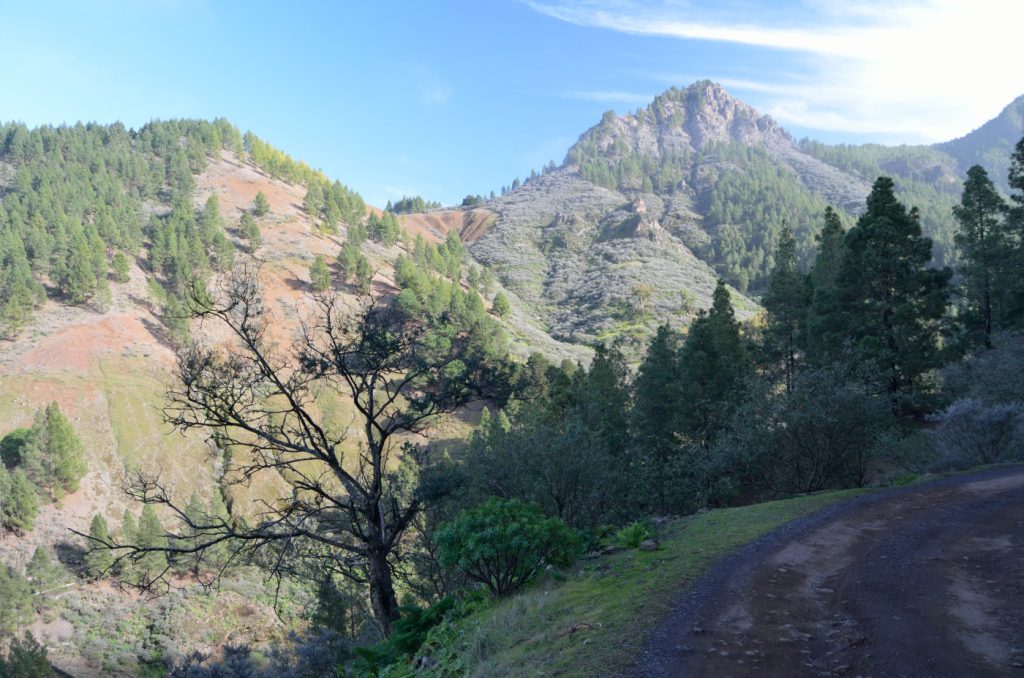 Where are we?
The problems started in the afternoon when we lost our trail (we actually went back from the appropriate route, and we took the wrong one!!). While going the wrong way we met a couple from Austria. We had an important and interesting conversation with them. They told us about our mistake and informed us that if we follow this path, we will get to the top of the Pico de Las Nieves. That was terrible news for us, as it became apparent that we will be looking for the campground in absolute darkness. We decided to proceed with our ascent as fast as possible.
Beautiful Landscapes
The hiking trail became moody and slippery, but after few minutes we saw something much worse – ice!! I quickly realized that we will be spending an unpleasant night due to temperatures being lower than expected. On the bright side, we were seeing spectacular views while looking back.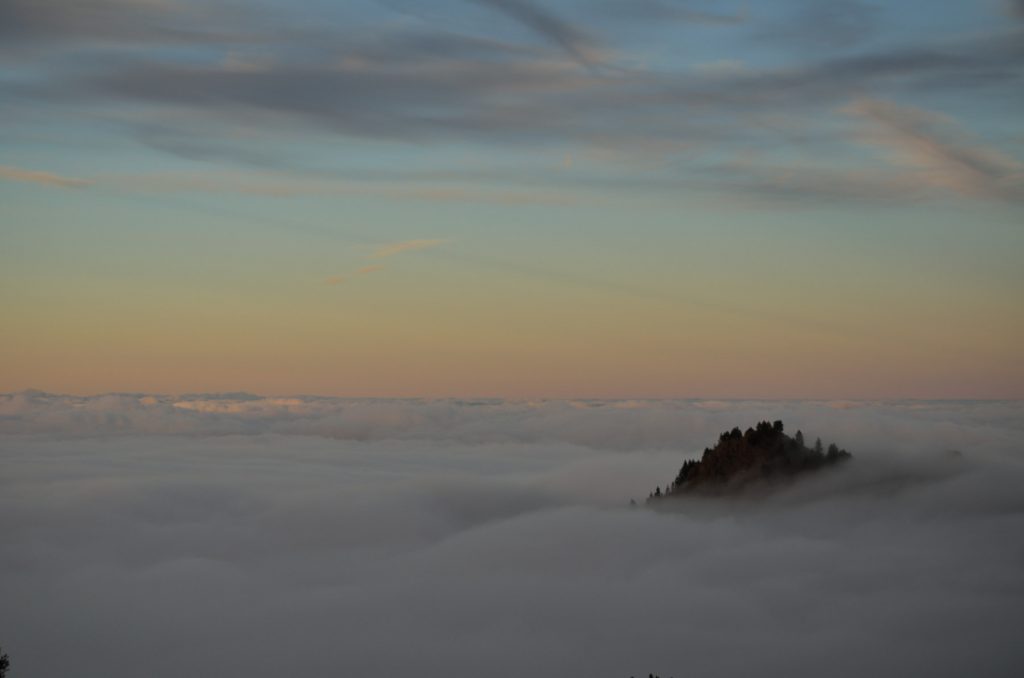 Further on our way, we saw something beautiful, it was one of the best views I've seen in my entire life – a sunset over the Mount Teide (3718, the highest mountain of Tenerife Island). The view was breathtaking, but it also reminds me of how exhausted psychically and physically we were at the moment. Usually, I would set my tripod and camera to take the pictures, but not this time. It was getting dark and freezing, and we were unsure how to get to our campground.
Looking for the campsite
After wandering in complete darkness (including crossing the construction ground of someone's house) we reached our campsite at about 10:30 pm. The view was unexpected, it was completely dark, and no other people were camping, and we realized that we had passed campsite twice before finding its location. But now, when we look at google street view, we realize that we probably would have missed it even during the day.
Night at the campsite
We proceeded with pitching the tent as fast as possible, as we were shaking due to low temperature. We have thrown all our gear inside, and we jumped into the tent. Unfortunately for this kind of temperatures, my tent was equipped with large venting areas, which allowed for easy air exchange.
I was sleeping on a Thermarest Prolite self-inflating mattress, and it kept me well insulated from the ground, but the problem was my sleeping bag. After less than one hour, both of us have started taking clothes from the backpacks and putting them on, we have also put our towels inside our sleeping bags. It helped a little, therefore after some time I've decided to put my legs inside my backpack. As I was carrying a huge backpack (Deuter AirContact Pro 70+15), I was able to cover my whole legs (from the waist to my feet). Szymon copied my idea and this way we were able to wait for the sunrise.
I have no idea how for how long I was sleeping, but probably less than two hours. But I clearly remember happiness, occurring to me, when we were woken up by an officer wanting to see our camping permit (don't forget to have one!!).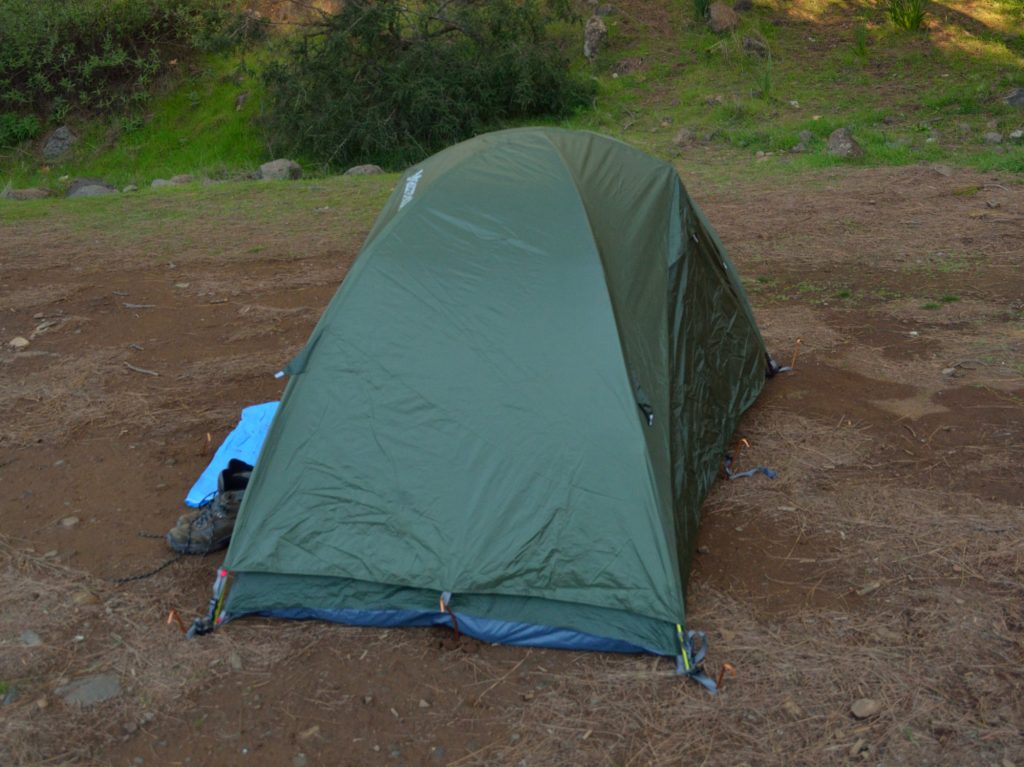 Summary
It was a great trip with great memories and beautiful landscapes, but the lesson I've learned on this journey. Always be appropriately prepared if camping in mountains, even if you are doing it in "friendly climate".